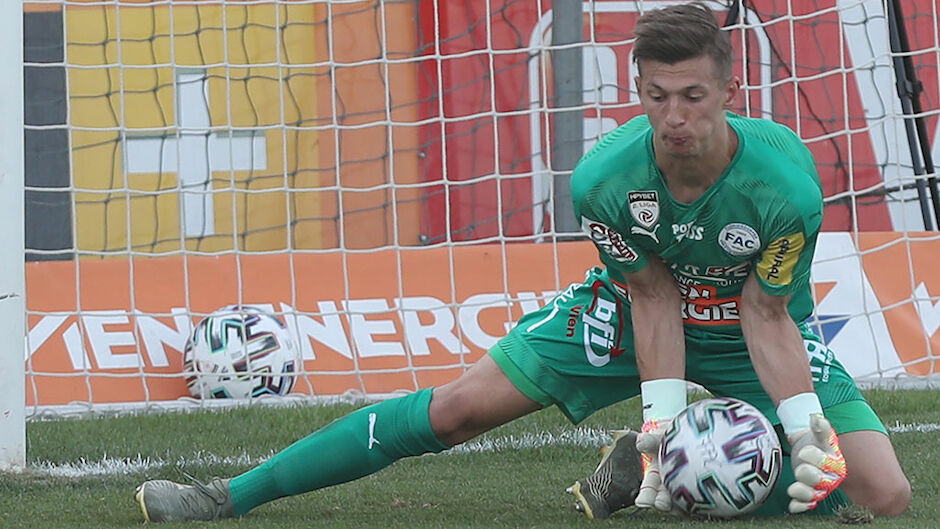 Photo: © GEPA
Vienna – Wednesday, July 15th, 2020, 11:14 a.m.

The FAC can also count on goalkeeper Belmin Jenciragic in the coming season. The 20-year-old goalkeeper extends his contract with Floridsdorfer for another year.
"We brought Belmin from the Regionalliga to the FAC in summer 2018 and in the two years he has developed into a seasoned second division goalkeeper who regularly repays our trust with good performances. I am proud that we are now developing Belmin for another year and be allowed to accompany. This is also an important sign of our continuous work in the club", Lukas Fischer, Sport Manager at FAC, is happy about the first contract extension this summer.
Jenciragic has been guarding the FAC goal since the 2018/19 season and is about to start its 50th competitive game. In his 49 appearances for Floridsdorfer so far, the young Lower Austrian has played thirteen times to zero.
"I am glad that the club has given me confidence again and that I can gain another year of practice and experience at the FAC. I feel good here and I want to help the team with good performances in the coming season", said the former U19 national team goalkeeper.


Text: © LAOLA1.at
Scandal at Pucher-Bank: SV Mattersburg in existence problems?
to the top » COMMENT_COUNT Comments
Legal Notice:
User comments do not necessarily reflect the opinion of the LAOLA1 editorial team. LAOLA1 reserves the right to delete comments without giving a reason, especially if they violate criminal or civil law standards, contradict good manners or otherwise run counter to LAOLA1's reputation. We refer in this context in particular to our Terms of Use. In such cases, the user cannot make any claims. Furthermore, Sportradar Media Services GmbH reserves the right to make claims for damages and to report criminally relevant facts.