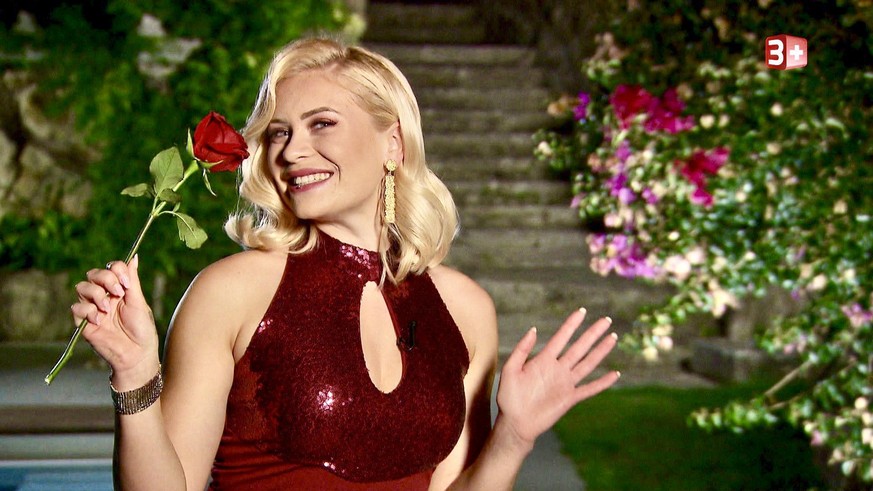 From our series "The most curious pictures in TV history" today: Bachelor Alan, a traditionally dressed fisherman's wife, tables with fish and petticoats. And everything in the sand. Image: chmedia
Review
"You are so dirty!" Two ladies from Kreuzlingen drive the Bachelor into double delirium
Strange but true! In episode 7 of this year's season, Fabienne and Veronika prove that Lake Constance is something like an aphrodisiac inland sea.
Kreuzlingen, people! Kreuzlingen hijacks the damn dreamdates! Okay, you will now ask: What is Kreuzlingen? What are dream dates? So, «der Kreuzling», in the dative plural «den Kreuzlingen», is a very religious amphibian. Just imagine a salamander carrying a cross.
And just as amphibians do, they live on land and in water. A bit like the Bachelor and his ladies. The only lady who was clearly just a country lady and who was afraid of jumping into the water was Mia, and then, logically, the Bachelor amphibian Alan no longer liked.
That, dear ones, is rain falling into a pool. Nice isn't it? But of course not in any pool, but exactly on July 23, 2009 in a Kreuzlingen pool. PICTURED: KEYSTONE
But we were at Kreuzlingen! In the very distant and much-cited Middle Ages, which is said to have been dark, dirty and damp, a kind of slurry hole under the ages (although, who knows that exactly!), A host of salamanders carrying crosses settled on the shores of the lovely Lake Constance and quickly founded a settlement. And because the salamanders were called Kreuzlinge, they called their settlement "the place that belongs to the Kreuzlingen". And this, dear ones, is the whole and true story of how Kreuzlingen came into being. No fake!
Nasty, right? He will sit down with four women one after the other at nicely laid tables and lie in freshly made beds and try all the women and see which one he likes better. The dream dates will only be shown next time, but it is already clear that 50 percent of them belong to Kreuzlingen. Because two of the four dream women come from the medieval salamander settlement on lovely Lake Constance. Namely the dog-loving nurse Fabienne, 22, and Veronika, 28, the flight attendant with conjunctivitis.
Alan definitely has no heart for the left: Mandy and Angie have to leave, Francesca, Xenia, Fabienne and Veronika (from left) are pushed to the dream dates. Image: chmedia
Sorry? You haven't checked that yet? There was already everything to be read about the double coup in the "Kreuzlinger Zeitung" and the "Weinfelder Nachrichten" in October! About the fact that Fabienne once did YouTube make-up tutorials, for which she is now ashamed, and is more into men with beards than Alan smooth cheek. And that Veronika describes the atmosphere between the ladies like this: "You could call them four seasons, a mixture of warm, cold, stormy and blooming."
Above the roofs of Lisbon you just can't help it: Alan and Veronika dedicate themselves to each other. Image: chmedia
According to Alan, Veronika has "For the Bluet". And because this Füür gets him going, the two of them sing our dialogue duet of the week:
Alan: «What could be nicer? Nice Wii, nice old town … »
Veronika: "Nice man!"
Alan: «Beautiful woman !! You are very sexy. "
Veronika: "You don't even want to know what I think of you."
Alan: "You have a great sense of humor, really."
(Smooch)
Alan: «Oh my God, ey, you bit so dirty, ey,
but you like that! "
Veronika: "So I'm just uff d'Welt cho, dirty."
Alan: «I want everything! I want din Chärn! I know a hundred percent! "
Veronika: "I'm kai a Schpilbrett or some öppis. I am a woman with many values. "
We learn: Alan loves blood that has been heated on the fire ("I can never be öppis afää mitere woman, where chalt isch") and dirty things. Which is why at this point we fast-forward a bit, several childish pranks (pack Mandy's suitcase and put it in front of the door; pour water on Veronika) behind us and the somewhat traditional Portuguese challenge, in which the ladies first put on seven petticoats and then remove a fish and on the fish head «süggele» (Alan) have to show in the picture.
1. The fisher woman. Image: chmedia
2. The ladies have to put on seven of these petticoats on top of each other. Because that's what the fishermen's wives used to do – a petticoat for every day their men spent at sea. There was no other way to remember it. Image: chmedia
3. It follows: eviscerate and vacuum the fish. You can do it. But you only have to do the "Bachelor". Image: chmedia
So let's zoom in to the last social get-together of Mandy, Angie, Francesca, Fabienne, Veronika and Xenia, before the "Night of the Rose" tears them apart like the great Kreuzlingen spring tide of the poor salamanders. So you're sitting around a tea table, Fabienne is like the porcelain jug that stands in front of her, and Alan wants to know from each one of them why she earned a dream date. Three of them emphasize their animal character:
Veronika: "I'm a horny pig, bitchy dirty, I'm a woman for everything." (But still no «Schpilbrett or öppis».)
Angie: "Of course I'll bring the whole package with me. One always says: Visually a lady, in bed a bastard. "
Alan: "Wow, so muess jedi Frau sii."
Fabienne: "Dirty with em, I think I'll overtake them both."
Alan: «That's how I do it! Excessive, sälbscht-conscious and marked. "
Fabienne pretends to be having tea with the Windsors. But just: she's just pretending. Image: chmedia
Three dirty is one too many, Alan may have said to himself. He's sending Angie home. But what is right for him, after all, her motherly feelings are also stronger than her alan feelings. And Mandy has to go too, even though she was the only one who groped the fish's head. Hm.
Guys, shall we bet? Which lady will win the race? My prediction salamander says he likes Francesca best, but the famous Kreuzlinger fortune telling pig stumbles between Fabienne and Veronika, while the blue chilp in front of my window votes like crazy for Xenia. I do not have a clue either. But that Lisbon is a really beautiful city, that became clear once again in this episode.
THANK YOU FOR THE ♥
Would you like to support watson and journalism? Learn more
(You will be redirected to complete the payment)
Ugly Christmas decorations that you don't need – or do you?
This is what your Christmas dinner with the boss will look like this year
You might also be interested in:
Subscribe to our newsletter


Source link
https://www.watson.ch/leben/review/911841575-bachelor-schweiz-zwei-ladys-aus-kreuzlingen-treiben-alan-ins-delirium