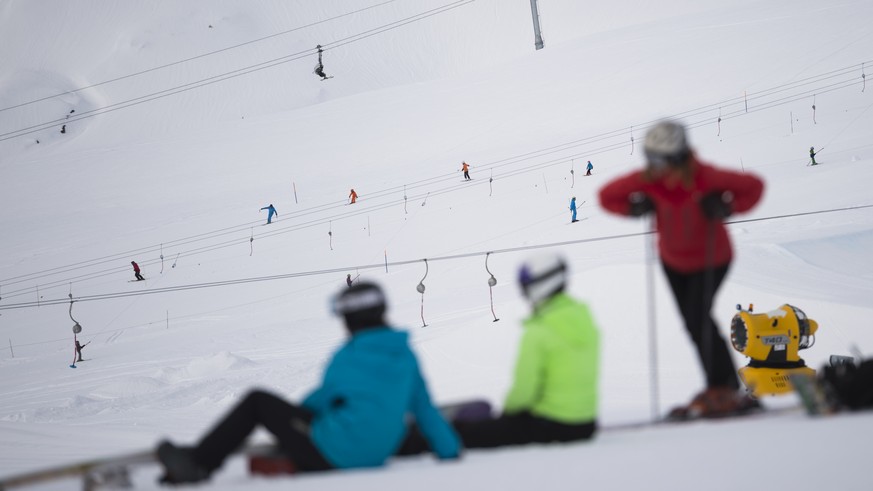 Dangerous source of viruses or safe thanks to the protection concept? There is a dispute over skiing in Europe. PICTURED: KEYSTONE
European politicians want to close ski areas: is Switzerland threatened with "enormous damage"?
Italy, France and Germany want to delay the start of the winter season by weeks due to Corona. Austria is fighting back – and Swiss politicians are warning of "irreparable" damage.
The "ski war" has broken out – at least according to the German "Bild" newspaper. It all started with a request from the Italian Prime Minister Giuseppe Conte. He wants to postpone the start of the winter season at European level – until at least mid-January. «It is not possible to allow a winter vacation. We can't afford that, "he told the broadcaster" La 7 "on Monday.
The French President Emmanuel Macron agreed with him: It was "impossible" to open the ski resorts over the holidays. Various media reports that Italy, France and Germany want to set up a coordinated European timetable.
Bavaria's Prime Minister Markus Söder had already signaled support: Anyone who goes skiing in risk areas must be in quarantine for ten days, he said. He would prefer a uniform agreement: "No ski lifts open anywhere or no vacation anywhere".
The federal government looks abroad
Such an approach would also affect the Alpine countries. Austria's Chancellor Sebastian Kurz opposed this on Wednesday: His country would decide independently on the opening.
Austria wants to decide for itself about its ski tourism: Federal Chancellor Sebastian Kurz on November 25, 2020. Image: keystone
In talks with the EU Council President and the Commission, he agreed that this is "not a matter in which the EU should interfere," he said. Finance Minister Gernort Blümel had previously demanded billions in compensation from the EU if the ski lifts were to stand still at Christmas.
Official Switzerland is still waiting. The Federal Office of Public Health has been in contact with various countries for a long time on this issue and is currently maintaining these contacts, says a spokesman. Follow the development carefully. "At the moment" there are no plans to close the ski areas.
Graubünden warns of bankruptcies
Marcus Caduff, the economics director of the canton of Graubünden, speaks out against the plans. He warns: If the ski areas actually close at Christmas, "the damage would be enormous and often irreparable".
In side valleys in particular, the economic consequences could no longer be reversed, said Caduff. "I assume that a large number of mountain railways would go bankrupt."
The days from Christmas to New Year would make up around a third of the annual turnover of mountain railways and mountain restaurants. Caduff doubts whether closing the ski areas would help against the virus. People wanted to get out of the cities and into the mountains in winter anyway.
If the masses are not allowed to ski, there would be crowds in shops and villages. "That would not help anyone." They have very good protection concepts that are currently being tested on the glaciers and with which one has "very good experiences".
"Switzerland is an independent country"
Jürg Schmid, President of Graubünden Ferien, suggests the same thing: "It would not be justified not to let the season take place," he says. Safe operation is possible, also thanks to strict protection concepts on the slopes and mountain railways. That is why there is little to be gained from Italian ideas.
Schmid does not believe that Switzerland could come under pressure if the start of the season is postponed around them. "Switzerland is an independent country." The Federal Office of Public Health must and will decide independently. "The Grisons winter tourism will strictly adhere to it."
"People go skiing in Valais"
Valais politicians had already found strong tones. State Councilor Christophe Darbellay (CVP) told the "Walliser Bote": "In Valais, people ski over the festive season and eat in restaurants, no matter what Italy does." Switzerland is not in the EU and therefore not affected. The corona situation in Valais is getting better day by day. Not everything will be possible, but the Valais will be able to offer guests a minimal program. "The winter season will start in an orderly fashion."
Markus Häsler, CEO of Zermatt Bergbahnen, told the newspaper that the Italian advance was a "pure air bubble". The EU could do what it wanted, but Switzerland would "never, ever go along". Whether Switzerland could oppose a coordinated European approach, however, seems open in view of the still above-average number of corona cases.
If Swiss ski areas were the only ones open, they would have a unique selling point. However, European countries could issue travel warnings for Switzerland or impose a quarantine requirement – with a sensitive impact on the number of foreign tourists. For once, Swiss tourism professionals have to hope that Austria will prevail. (bzbasel.ch)
The most beautiful pictures of the Ski World Cup in Are 2007
How to ski in the Titlis-Engelberg ski area despite Corona
You might also be interested in:
Subscribe to our newsletter


Source link
https://www.watson.ch/schweiz/international/469680858-europaeische-politiker-wollen-skigebiete-schliessen-folgen-fuer-kantone