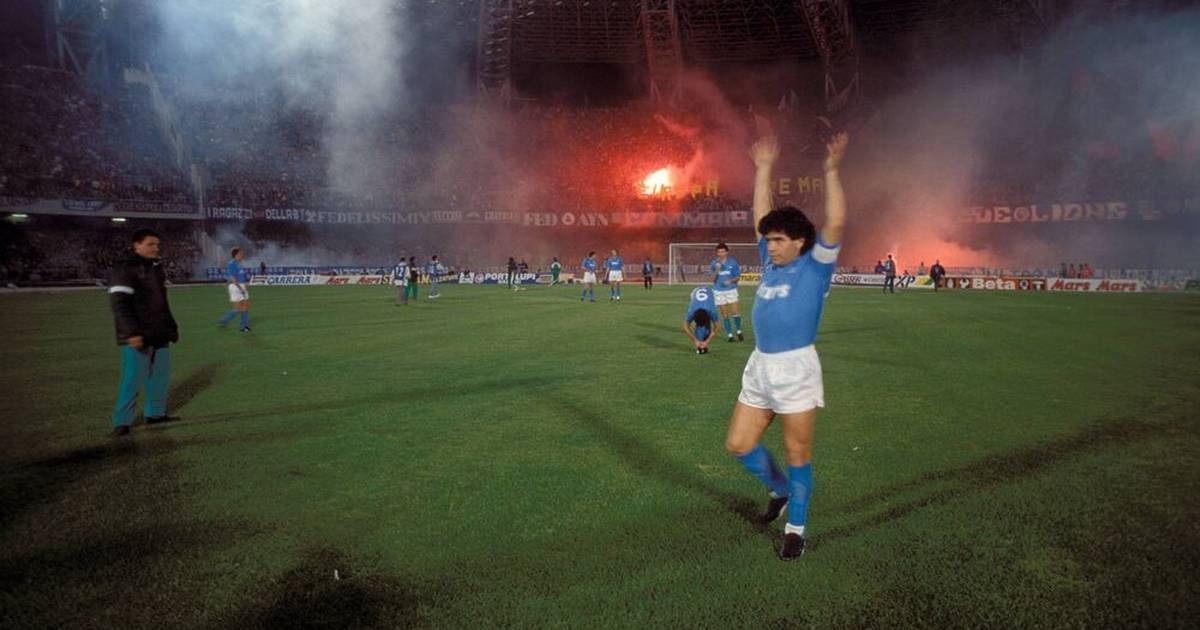 My name is Giovanni Cosentino. I was born in Naples in 1965. And my life would have been different without Diego Maradona.
I grew up in an apartment in the Fuorigrotta district, just two hundred meters from the famous Curva B of the San Paolo stadium. We always played football on the square in front of the fan stand, right in front of the entrance to the professional changing rooms.
It was not uncommon for us to be visited by a couple of bad guys who stole the ball from us, and sometimes we were also beaten by them. Not only did that come to an abrupt end in 1984.
Maradona united the city
I was 19 when the Napoli SSC signed Maradona. When he drove up to practice, nothing else mattered. We stopped kicking, the bad guys had better things to do than annoy us.
Together we ran after Maradona's car. He drove a Ferrari Testa Nera, everyone in town knew this car. You could hear him while Maradona was still on the highway.
The admiration for this player, who played for Napoli until 1991 and thus spent the best years of his career with us, united the city in a miraculous way.
Maradona makes Naples the top team
The San Paolo stadium is an urban one with a running track around the football field. It's hard to imagine today, but my athletics club, Amatori Atletica Napoli, was one of the clubs that shared the stadium with the SSC.
So while I was trying to improve my time over 2000 meters – the five laps in the stadium were my best route back then – the professionals were training on the grass in the middle. And nobody was bothered by it.
With Maradona, our club suddenly became a top Italian team that everyone wanted to see. My father gave me a season ticket for Curva B as a child. But just because I still had them didn't mean I was always in the same place. Forget it!
The stadium is bursting at the seams because of Maradona
On Sundays – in Italy all games took place at 3 p.m. – you had to be in the stadium up to four hours before kick-off to secure a good seat. Sometimes 90,000 or even 100,000 spectators crowded in, although it was approved for a maximum of 87,000.
Today it only holds 55,000 people. Since the Sunday lunch – with us classic lasagna or macaroni al forno – is indispensable for Neapolitans, people simply brought it to the stadium, where we ate together and sang for hours.
"Ho visto Maradona" ("I saw Maradona") was just as popular as "El Porompompero", a rumba by the Spanish singer Manolo Escobar from 1962. We were then banned at some point.
Test DAZN for free and experience international football highlights live & on demand | DISPLAY
When the whole stadium thundered the piece fervently, it wasn't just the grandstand that vibrated. Windows actually broke in the surrounding houses. Napoli had the undisputed best audience at the time.
There was never any violence in the stadium, there was one great togetherness. Naples was a city with many problems. But Diego Maradona and his team made them forget.
Napoli wins championship thanks to Maradona
When he actually brought the Scudetto into town the year after the World Cup triumph with Argentina, we celebrated on the streets for a week and didn't know what to do with our luck. Finally we, it was Naples, were important in Italy. And the most famous footballer, oh well, the most famous person on the planet, was one of us.
At that time I was working as a waiter during my studies in order to top up my budget. The Ciro a Mergellina was and is still today a luxury restaurant in the tourist port of Naples, one of the most beautiful places in the city. I often met the SSC players here, and Maradona and his wife were also frequent guests.
He was an extroverted guy, people loved that. When he brought us the UEFA Cup victory in 1989, he was finally godlike.
Maradona impressed by Gaudino at UEFA Cup triumph
In the final, after a 2: 1 there and a 3: 3 in the second leg of VfB Stuttgart, Jürgen Klinsmann, among others, was left behind.
But Maradona was impressed by another player. I found out when I was allowed to go to an interview with Maradona as a cameraman after the finals. He did boxing training in a VfB jersey with the number eleven.
Maurizio Gaudino had given Stuttgart the lead in the first leg with a long-range shot from almost 40 meters. After our 2-1 win, Maradona went to him and said: "We won, but you were by far the best player on the pitch. I would like to have your shirt." What an honor for Gaudino!
Maradona becomes Italy's hateful figure in the World Cup final
After winning the European Cup, Maradona let it slide a little. He was now so popular that he could not leave his house during the day without a spontaneous following of a thousand people around him. He could only get out at night. But apart from that there were only shady characters and discos. He almost inevitably ended up with the wrong people.
All the more astonishing that in the spring of 1990 – with the World Cup in Italy already in view – he rose to another fantastic form, which brought the SSC the second championship title of its time. Everyone loved Diego – until July 3, 1990, when the World Cup semi-finals between Italy and Argentina rose in San Paolo. Maradona's team prevailed after a thriller 5-4 on penalties against a very strong Squadra Azzurra.
And all of Italy hated Naples. They reproached us for keeping not with Italy but with Maradona. And yes, I was for Diego. In Italy they say "Il cuore non si comanda" – you can not command anything to the heart. This is not only the case in love. At that time I was with Maradona with my heart.
Maradona crash after the 1990 World Cup final
As a result, he became the Italian enemy, in the final against Germany the whole country was on the side of the Germans. Maradona has not recovered from this deprivation of love in Naples not only sportily. Substance abuse, connections to the Camorra, infidelities, constant police operations at his house followed. At the time, Maradona was a major telenovela, before being banned from doping for 15 months worldwide in 1991 after cocaine was found in his urine and left Naples.
A year later I came to Munich, and since 1993 I have been reporting first for DSF and then for SPORT1 from Serie A. It would not have happened without Diego Maradona. He didn't always take the straight path, but he had a good heart. As a Neapolitan, I am proud and happy that the whole world of football is paying tribute to him and the hatred of 1990 has been forgotten. He made our city shine.


Source link
https://www.sport1.de/fussball/2020/11/diego-maradona-wie-er-neapel-einte-und-die-ssc-napoli-zum-ruhm-fuehrte