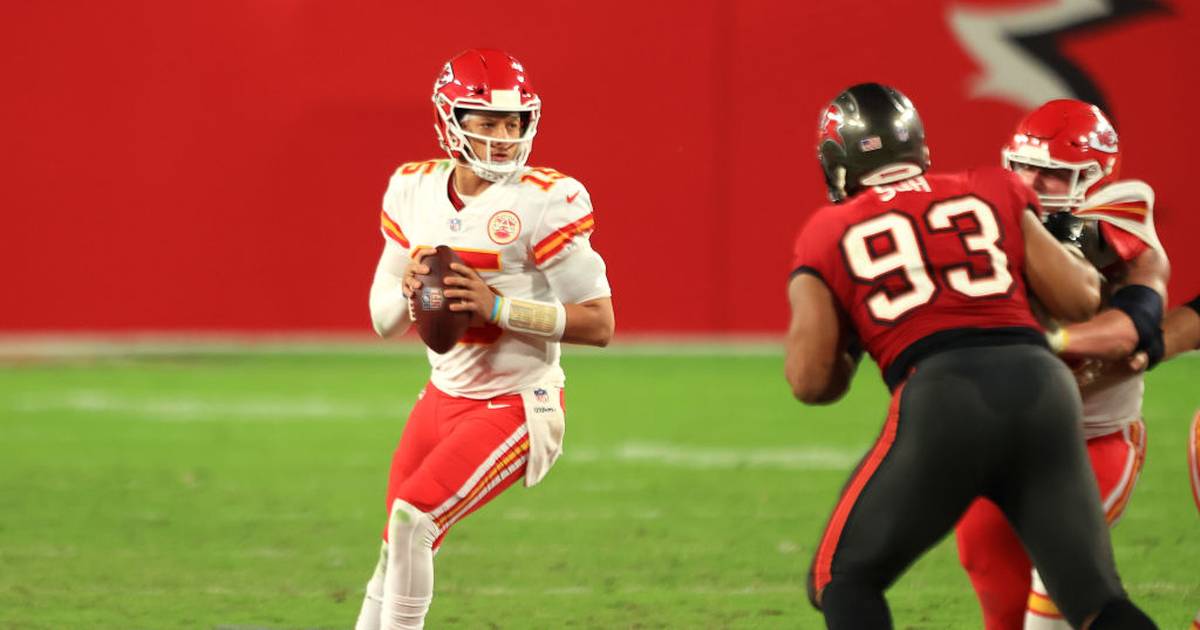 Thanks to historic achievements by Patrick Mahomes and Tyreek Hill, the Kansas City Chiefs prevailed against the Tampa Bay Buccaneers.
Hill was only the fifth receiver in history to reach 260 yards (269) and three touchdowns, the defending champion defeated Tom Brady's team with 27:24 (Service: NFL results).
While it was the tenth win in the eleventh game for Kansas City, the season of the Bucs remains changeable. After twelve games Tampa Bay has seven wins and five losses to the account (The NFL table).
Star quarterback Mahomes won the eagerly anticipated duel with Brady. While Mahomes made 37 of 49 passes for 462 yards (three touchdowns), Brady 27/41 for 345 yards and three touchdowns. However, the veteran also made two interceptions.
Brady is only three interceptions short of his career negative record of 14 (2002). Mahomes only has two interceptions on 30 touchdowns – it would be the best relationship in NFL history.
Hill and Mahomes historically
Hills touchdowns after passes from Mahomes were over 75, 44 and 20 yards. In the first quarter he already had 203 yards and two touchdowns on the account. Since 1980 had loud ESPN only Qadry Ismail (210 in the third quarter in December 1999) and Lee Evans (205 in the first quarter in November 2006) catches over 200 yards in a quarter.
In the season, the wide receiver has already cracked the magic mark of 1000 yards.
Test DAZN for free and experience the NFL live & on demand | DISPLAY
Mahomes threw for 359 yards in the first half – no one else had managed that much in the first two quarters in the past 20 years.
The Chiefs were dominant for a long time and went into the final quarter with a 17-point lead before Brady found Mike Evans twice. However, Mahomes retained possession for the last ten minutes to bring victory over time.
Mahomes and Brady have now won two of four direct duels.
Broncos without a quarterback have no chance
Meanwhile, the New England Patriots (5-6) celebrated an important 20-17 win against the Arizona Cardinals (6-5) despite a poor performance from Cam Newton (84 yards, two interceptions).
The Denver Broncos, who competed without a real quarterback because of the Corona regulations, did not stand a chance against the New Orleans Saints at 3:31. Wide receiver Kendall Hinton, who stood in as quarterback, only brought a pass of nine for 13 yards to the man in the entire game and also made two interceptions.
The outstanding Aaron Rodgers (4 touchdowns, 211 yards) meanwhile led the Green Bay Packers to 41:25 against the Chicago Bears, who have now lost five games in a row after a strong 5-1 start to the season.


Source link
https://www.sport1.de/us-sport/nfl/2020/11/nfl-patrick-mahomes-schlaegt-mit-chiefs-tom-brady-und-tampa-bay