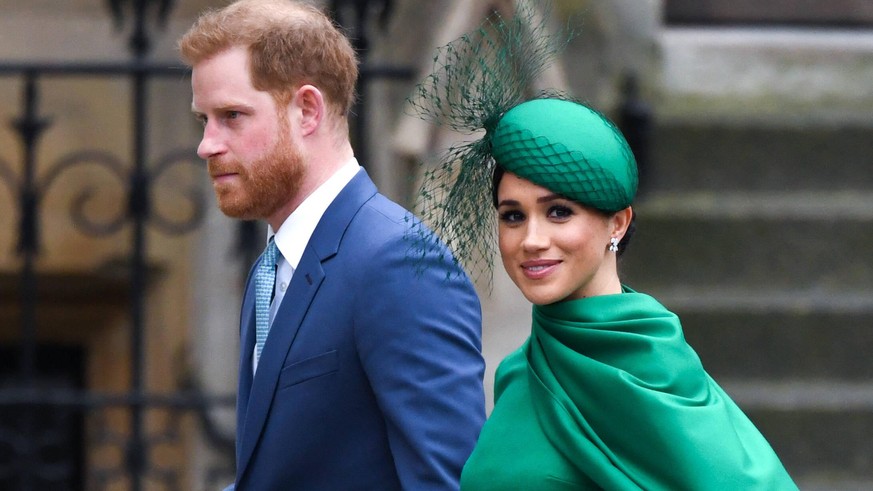 Harry and Meghan: The two of them have built a new life in the USA. Bild: imago images/ PA Images
Interview
"Meghan wants to be a do-gooder": That's why the Royal expert sees her revelation critical
The rumor mill recently boiled violently that Meghan would expect offspring again. A person close to the former actress recently told Hollywood Life: "With Archie, they had a lot of pressure to get the news out with the public. Being private they can now keep their lives to themselves if they want to." But now the shock followed, because Meghan shared a terrible event that happened to her: She suffered a miscarriage.
In a moving essay in the "New York Times", the mother of a son describes very emotionally how she and Harry deal with the stroke of fate. Finally, the 39-year-old writes: "Losing a child means having to endure an almost unbearable grief that many people experience, but which few speak about." Those affected should therefore share their suffering so that they can be healed of their grief.
Read more: After Meghan's miscarriage, Prince Harry sought consolation – of all people he stood by him
The renowned aristocracy expert Jürgen Worlitz explains in an interview with watson why Meghan chose this point in time to reveal the miscarriage and why it is no surprise that a Royal member speaks about such a tragic experience. Worlitz also states what role the royal family plays and what Meghan's new home could have to do with the announcement.
Jürgen Worlitz: The Royal expert is critical of Meghan's role. Image: Jürgen Worlitz
watson: After Meghan's public announcement, the palace remains silent on request. Why?
Jürgen Worlitz: That the palace is silent is completely natural, because what Meghan experienced there is a personal event. She processed that very emotionally, almost literarily. It may be the case that the palace has known this for a long time and has supported Meghan and Harry accordingly. There are those who say there was every support for both of them when that happened. If that is the case, then Meghan should perhaps have mentioned it emotionally with gratitude.
What do you think Meghan chose the public route?
I see it very critically because I can only see one purpose from it: Meghan wants to go public again. Of course, the good aspect cannot be denied by saying that you help others by talking about it. The second effect is that she catapults herself back into the media, knowing full well that miscarriages were definitely an issue in the royal family. Meghan wants to be a do-gooder under all circumstances and you seldom come up against a do-gooder. Why also: He does good, so you let him do good. On this fine line, Meghan moves cleverly upwards.
Why did Meghan choose this time to talk about the miscarriage?
I think the timing was chosen with Meghan because at the moment the issues are against her. We have other worries than taking care of Meghan and Harry. Everyone in the world has to admit that. Things are going far less well in Hollywood than either of them imagined. In concrete terms, you only ever hear of a setting of a Disney film and the rest is a dream of the future. It's like with possible documentaries. Millions are thrown around. Actually, any film actor in America can tell you, if he's honest: Millions are happy to be quoted, but rarely paid.
The Netflix deal was valued at over 100 million.
I would like to wait for the Netflix deal with over 100 million dollars. We shall see whether it comes like this and what conditions may be attached to it. It may also be that they only try out test formats. They like to do that in America and if it doesn't work then the program goes out again very quickly.
This year Meghan was particularly under pressure.
The time of the miscarriage is also important. Archie just turned one year old in May. If you assume that Meghan's miscarriage did not happen after three days, then she must have sought a pregnancy again very quickly after the first baby year, which is understandable at her age. Add to that the whole hustle and bustle of moving from Canada to LA. That would have been the time when Meghan took on a lot of stress. That would explain why they then moved to Montecito. They may not have endured in this environment where something so terrible happened to them.
Will Meghan announce another pregnancy in the future?
Meghan will soon be over 40. It may be that there will be another big hit and she will then take care of her career. Of course, it is also interesting how the marriage endures the drama. Harry is always said to follow her like a little dog, that he is totally fixated on her, does everything she says. And of course the question remains: How long can the prince endure this? Such a terrible incident can add stress to a marriage and become a problem for the future.
How did the royal family respond to the proclamation?
How the royal family thinks about it is speculation. I could imagine, however, that the reaction was: Not again! So not another Meghan story that somehow raises itself to the sky and throws discredit on the royal family, true to the motto: There are again the bad guys who do not immediately after the topic was spread in public, to open. I believe that at Meghan, competition still plays a role with regard to the model family that William and Kate exemplify. Meghan also wants to set an example for women, women's rights and women's suffering.
Would such a handling of the miscarriage have been possible if she had still been Senior Royal?
Miscarriages have already been discussed and were not a taboo subject. It's actually very unfair to say that they did that too, but they weren't as important as Meghan because they weren't that much of a focus. That is actually a devaluation, if you will. It's been 20 years for Sophie of Wessex. At that time, a life-threatening ectopic pregnancy with blood poisoning was diagnosed. It was primarily a matter of life and death.
Could the Senior Royals have written an essay about their miscarriage too?
The media landscape has changed completely today. Back then there was no Twitter, no social networks. At that time only the yellow press pounced on it and then the serious newspaper landscape got involved because they couldn't get past the topic.
Will Meghan's popularity be rated differently as a result of this courageous step?
I think Meghan is always looking at Diana and she needs a tragic sideline in her life. Tragedy is something that shapes people and what makes them freeze in a certain awe. Then you don't dare to criticize. This in turn leads to a taboo subject because she has experienced something terrible. The question is whether a miscarriage is something that should make people rethink or actually count as a private event.
Princess Eugenie has now moved into Harry's house. What's behind it?
I suspect something very banal behind this, namely that you want to use a property that has been renovated. It is right not to leave it empty. The period chosen for the handover is also interesting, because Christmas is just around the corner. This may also distract from speculation as to whether Meghan and Harry are coming or not.
The assumption is that Meghan and Harry will not come back.
That's true. However, one has to consider that the house is not the property of the two of them. It's still a royal property. You have only limited entitlement to it. But of course they still belong to the royal family. This must not be forgotten. They do not belong to the royal family, but still belong to the royal family.


Source link
https://www.watson.de/unterhaltung/interview/703645219-royals-experte-enthuellt-wahre-absicht-hinter-meghan-fehlgeburts-offenbarung