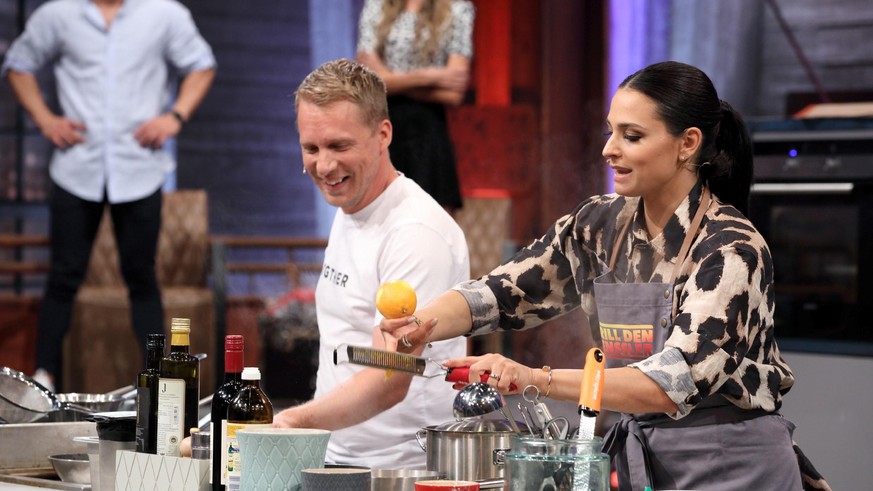 Oliver and Amira Pocher competed with Sandy Meyer-Wölden at "Grill den Henssler". Photo: TVNOW / Frank W. Hempel
Oliver-Pocher-Ex reveals at "Grill den Henssler": She only talks to Amira
It's no secret that things haven't always been harmonious since Oliver Pocher and Alessandra Meyer-Wölden split up. But the critical times are a thing of the past – thanks to Amira Pocher. In the meantime, the ex-spouses get along so well that they were able to compete at "Grill den Henssler" together. So Steffen Henssler got to do with the concentrated Pocher power on Sunday: Oli, Amira and Alessandra formed the celebrity team together with ex "Love Island" candidate Tobias Wegener and wanted to grill the TV chef.
Only he slowly found his way back to his old form after several defeats and did not make it easy for the challengers. Amira and Oli also noticed this when it was their turn for the main course. But strictly speaking, cooking that evening quickly became a minor matter, because what was really interesting was what was going on next to the stove. The Pochers reported fairly openly and honestly about their blended family life.
Pocher jokes about Laura Müller
When Amira and Oli wanted to serve roasted venison with celery and wild broccoli, presenter Laura Wontorra pounded both of them. Oli Pocher reported once again that it was not difficult for either of them to keep their relationship under wraps for the first few years. But he also admitted that Amira had burdened the secrecy.
Amira and Oli Pocher at "Gill den Henssler". Photo: TVNOW / Frank W. Hempel
Laura also asked if they were afraid that the relationship might somehow turn out differently now that they are both in public. Pocher joked that he was very scared and would need a younger girl. He couldn't help a Wendler swipe: "Until then, Laura Müller will be free again"he jokes.
Shortly afterwards, he couldn't help making a nasty aside in the direction of his ex. When Laura Wontorra wanted to know whether the love story with Amira was basically the Cinderella story, he teased: "With Sandy it was more like 'Pretty Woman'." Autsch.
Sandy annoyed Henssler with a vegan brownie
In addition to all the gags and chats, Henssler had an easy time this time, he decided each dish for himself – until it was the turn of the cookbook author and five-time mom Alessandra for dessert.
Sandy Meyer-Wölden was responsible for dessert. Photo: TVNOW / Frank W. Hempel
Sandy dared to try a vegan sweet potato brownie with avocado chocolate mousse – to the chagrin of the Henssler. Because he is known to be neither into preparing cakes nor vegan. But he had no choice. How good that Sandy also had to face the host's countless questions while the TV chef had time to work.
At dessert, it turned out that Sandy was also a good cook in her relationship with Oli Pocher. Only now the comedian couldn't help but poke a side note and teased, Sandy should maybe eat now. Sandy could only shake her head with a smile.
Communication only runs through Amira
Then it got really exciting. Moderator Laura Wontorra wanted to know how the large blended family works. After all, you know that it wasn't always easy between Sandy and Oli. Alessandra Meyer-Wölden confessed quite frankly:
Whoever took the first step towards reconciliation, the moderator asked and got a very honest answer from Pocher: "Because of the children you are always connected to each other. So one cannot do without the other come together. "
And Amira also threw in that she was now forever connected to Sandy. Sandy said a good way had also been found to keep family life going across two continents. And what is communication like at Pocher-Meyer-Wölden? It would only run through Amira, Sandy revealed. "There is no group chat between Amira, Oli and me. I only talk to Amira!", explained Sandy Meyer-Wölden.
Laura Wontorra pestered the blended family with questions. Photo: TVNOW / Frank W. Hempel
Amira about Sandy: "We get along great!"
In the meantime, something like a friendship has evidently developed between the two women. "We get along great! Unfortunately, it took a while to find out that you are similar in certain things. A lot is easier when you talk to each other. I am really happy," said Amira and continued:
"I can't deal with a war anyway. If we had talked from the start, it would never have gotten that far. But you learn from it. Sandy and I have been linked our lives through our children, because they are now siblings. You also want them to see each other regularly and have contact with one another.
And while the blended family was still telling stories, Henssler used the time to trick Sandy at the stove. Because according to the description of the dish, only the brownie has to be vegan. The mousse, however, was never mentioned. So he enriched it generously with eggs and cream. That wasn't what Sandy wanted, of course – but it really wasn't against the rule.
In the end, Henssler won the duel. Photo: TVNOW / Frank W. Hempel
And in the end, this mousse from juror Reiner Calmund actually earned him extra points. It wasn't enough for Henssler to win this gear, but it was enough for overall victory. He beat the blended family team with Tobi Wegener as an appendix with 109: 100 and finally achieved another victory.
(if)


Source link
https://www.watson.de/unterhaltung/prominente/605421340-sie-spricht-nur-noch-mit-amira-pocher-ex-mit-aussage-bei-grill-den-henssler