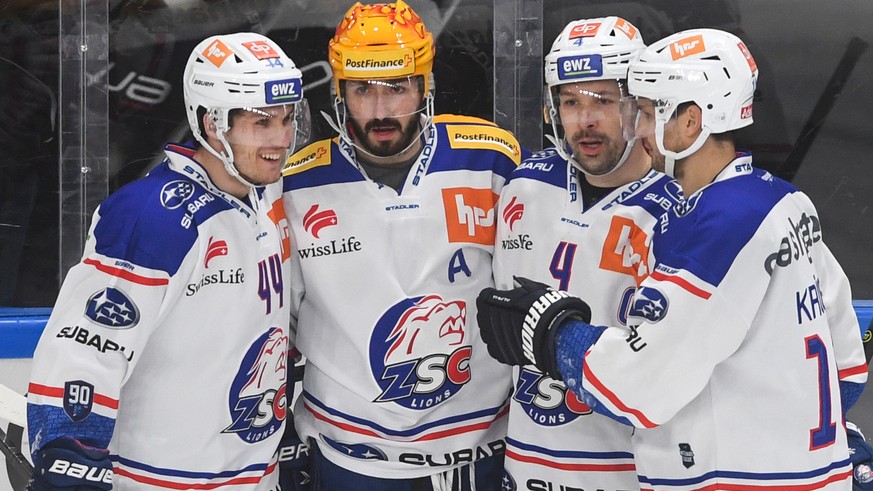 Clear victory at the historic rival: The ZSC Lions cheer in the Resega. Image: keystone
Top teams ZSC and Lausanne win – a dozen goals in Rapperswil
The ZSC Lions successfully defended their lead in the National League with a 5-1 victory in Lugano. In the chase duel, Lausanne sat 2-1 at Friborg-Gottéron.
HC Lugano – ZSC Lions 1:5
Since the three defeats in a row with a goal difference of 7:19, the ZSC Lions can no longer be stopped. In Lugano they laid the foundation for their fifth victory in a row early on. Denis Hollenstein and Raphael Prassl gave the guests a 2-0 lead in the third minute with a double strike within 35 seconds. In the 7th minute, Marcus Krüger increased to 3-0.
ZSC top scorer Hollenstein hits and hits. Image: keystone
Shortly before the end of the second period, the guests were able to play twice over for 1:43 minutes, but they missed this big chance to make it 4-0. 4.2 seconds before the second break, Raphael Herburger scored 1: 3 with his first goal of the season. But there was no more tension. Simon Bodenmann brought Zurich back in the 45th minute with his first goal of the season again with three goals before Hollenstein was successful in the power play for the second time that evening (51st). The latter has already reached ten goals this season.
Meanwhile, the Luganesi conceded no fewer than eleven goals in the last two games – on Friday the Bianconeri had lost 4: 6 in Biel – after conceding an average of only two goals in the first ten championship games.
Lugano – ZSC Lions 1:5 (0:3, 1:0, 0:2)
30 spectators. – SR Hebeisen / Piechaczek (GER), Schlegel / Steenstra (CAN).
Tore: 3. (2:10) Hollenstein (Bodenmann) 0: 1. 3. (2:45) Prassl (Marti, Noreau) 0: 2. 7. Krüger (Marti, Noreau) 0: 3. 40. (39:56) Herburger (Fazzini, Chiesa) 1: 3. 45. Bodenmann (Pius Suter, Morant) 1: 4. 51. Hollenstein (Pius Suter, Krüger / Powerplaytor) 1: 5.
Punish: 4 times 2 minutes against Lugano, 2 times 2 minutes against ZSC Lions.
Lugano: Schlegel; Heed, Riva; Loeffel, Wellinger; Chiesa, Wolf; Antonietti, Romanenghi; Bodker, Arcobello, Bertaggia; Fazzini, Kurashev, Lammer; Bürgler, Lajunen, Suri; Walker, Sannitz, Herburger.
ZSC Lions: Flueler; Noreau, Marti; Phil Baltisberger, Geering; Trutmann, Berni; Morant; Chris Baltisberger, Roe, Andrighetto; Pettersson, Kruger, Sigrist; Bodenmann, Pius Suter, Hollenstein; Pedretti, Prassl, Wick; Schäppi.
Remarks: Lugano without Nodari (sick), Morini and Zurkirchen (both injured), ZSC Lions without Blindenbacher, Capaul, Diem (all injured) and Rossi (sick).
Friborg-Gottéron – Lausanne 1: 2
Nothing seems to be able to stop Lausanne at the moment. The Vaudois defeated Friborg-Gottéron 2-1 and celebrated their seventh win in a row. The LHC played against Friborg for the third time in a row. If he had won 6: 1 twice at home, he showed much more trouble away. That was logical in so far as Gottéron had won the first five home games in the current championship.
Despite 26 shots on goal in the first period (14:12 for Lausanne, total 41:33), it took until the 30th minute before the first goal of the game was scored. Cory Conacher was responsible for this. The pass gave Ronalds Kenins, who scored in the fifth game in a row. In the 43rd minute Tim Bozon increased to 2-0 after taking over the puck in the neutral zone. Although the Freiburg captain Julien Sprunger managed the connecting gate only 48 seconds later, Gottéron did not manage to do more. The Lausanne win was okay. Friborg had previously won five times in a row against Lausanne at home.
Conacher scores to make it 1-0 in Lausanne. Image: keystone
Friborg-Gottéron – Lausanne 1: 2 (0: 0, 0: 1, 1: 1)
1 viewer. – SR Wiegand / Hungerbühler, Obwegeser / Burgy.
Tore: 30. Conacher (Kenins, Marti) 0: 1. 43. (42:10) Bozon 0: 2. 43. (42:58) Sprunger (Bykov, Marchon) 1: 2.
Punish: 3 times 2 minutes against Friborg-Gottéron, 2 times 2 minutes against Lausanne.
Friborg-Gottéron: Berra; Sutter, Jecker; Gunderson, Chavaillaz; Aebischer, Abplanalp; Marchon, Kamerzin; Brodin, Desharnais, gentlemen; Stalberg, Schmid, Mottet; Rossi, Walser, Jörg; Sprunger, Bykov, Bougro.
Lausanne: Stephan; Genazzi, Barberio; Heldner, Frick; Grossmann, Marti; Krueger, Froidevaux; Gibbons, Malgin, Hudon; Bertschy, Conacher, Kenins; Bozon, Jooris, Almond; Jäger, Maillard, Douay.
Remarks: Friborg-Gottéron without DiDomenico, Furrer and Jobin (all injured). Friborg-Gottéron from 59:22 without a goalkeeper.
SC Rapperswil-Jona Lakers – HC Davos 5:7
HC Davos returned from quarantine with a 7-5 win at the Rapperswil-Jona Lakers. The Graubünden team overwhelmed St.Gallen, who lost 1-0 in Geneva the night before, time after time with their pace. Andres Ambühl and Fabrice Herzog respectively scored the 4: 2 (27th) and 5: 2 (28th) within 38 seconds, each outnumbered. It was the fourth time since September 13, 2017 that Davos had two shorthanders with the same penalty.
Ambühl seems to have inexhaustible energy reserves, the 1: 1 by Sven Jung (3rd), which fell just 41 seconds after the 0: 1 by Kevin Clark, he prepares just as magistrally as the 3: 1 by Luca Hischier (24. ). Ambühl had already shone in the 9-2 win in the first duel of the season against the Lakers – at that time he scored three goals and one assist. The 41-year-old NHL star Joe Thornton excelled at HCD as a double-goal scorer.
Rappi goalie Nyffeler is served. Image: keystone
At the back, however, the guests revealed some weaknesses, so that the 50 spectators could enjoy a goal spectacle. While the Davos, who had to do without ten players due to injuries or illness, celebrated their third win in their ninth game of the season, the Rapperswil suffered their third defeat in a row and the ninth in the last ten duels against the record champions.
Rapperswil-Jona Lakers – Davos 5: 7 (1: 2, 3: 4, 1: 1)
50 spectators. – SR Stolc (SVK) / Staudenmann, Ambrosetti / Stalder.
Tore: 2. (2:00) Clark (Randegger) 1-0. 3. (2:41) Jung (Ambühl) 1: 1. 5. Turunen (Baumgartner) 1: 2. 24. (23:25) Hischier (Ambühl) 1: 3. 25. (24:40) Eggenberger (Lehmann) 2: 3. 27. (26:57) Ambühl (Duke / Unterzahlor!) 2: 4. 28. (27:35) Duke (underpaid gate!) 2: 5. 30. Lhotak 3: 5. 35. Thornton (Herzog, Hischier / Powerplaytor) 3: 6. 39 Schweri (Loosli, Cervenka) 4: 6. 53. Thornton (Marc Wieser, Hischier) 4: 7. 55.Dünner (Eggenberger) 5: 7.
Punish: 5 times 2 minutes against Rapperswil-Jona Lakers, 3 times 2 minutes against Davos.
Rapperswil-Jona Lakers: Nyffeler; Sataric, Maier; Vukovic, Dufner; Dominik Egli, Randegger; Lehmann, Dünner, Eggenberger; Wick, Rowe, Moses; Clark, Cervenka, Loosli; Lhotak, Ness, Schweri.
Davos: Mayer; Nygren, Jung; Guerra, Paschoud; Kienzle, Heinen; Buchli; Ambühl, Marc Aeschlimann, Herzog; Meyer, Baumgartner, Turunen; Marc Wieser, Thornton, Hischier; Lutz, Canova, Knak.
Remarks: Rapperswil-Jona Lakers without Payr and Wetter (both injured), Davos without Du Bois, Palushaj, Rubanik, Stoop, Dino Wieser (all injured), Sandro Aeschlimann, Barandun, Corvi, Chris Egli, Frehner and Lindgren (all sick). (ram / sda)
The charts
The table by points / game:
table: sihf
Things that you don't need but still want to have
You can't skate in a wheelchair? But! This guy proves it and is discovered by Tony Hawk
You might also be interested in:
Subscribe to our newsletter


Source link
https://www.watson.ch/sport/eishockey/668432105-spitzenteams-zsc-und-lausanne-siegen-ein-dutzend-tore-in-rapperswil