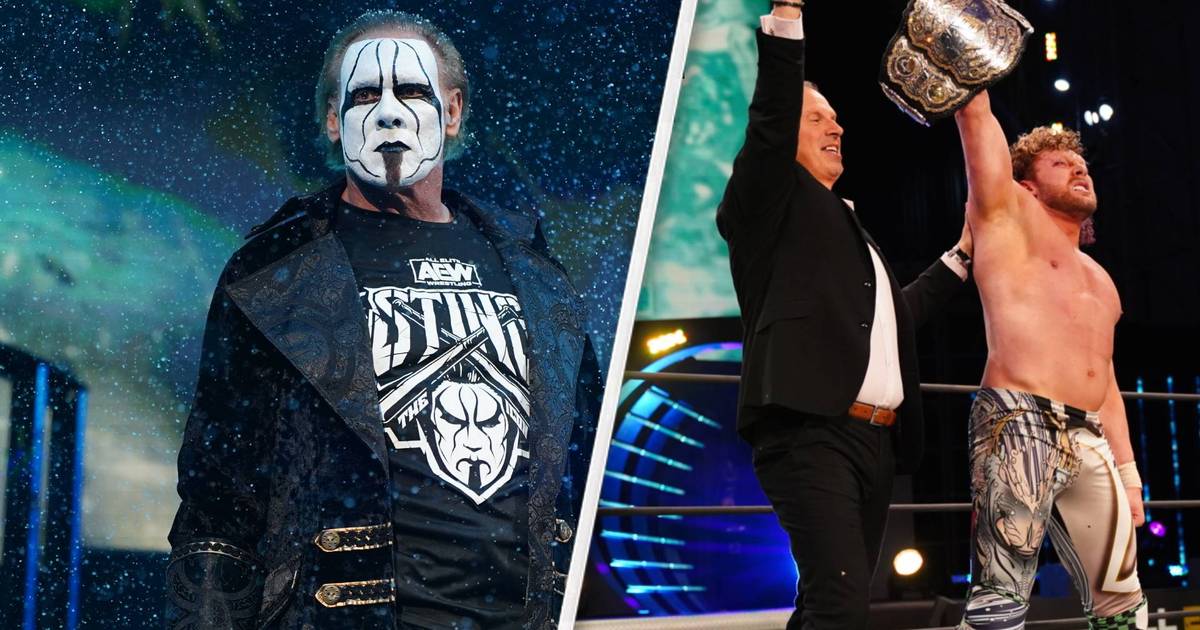 "The balance of power in wrestling will shift."
With this full-bodied announcement, Tony Khan, head of the WWE competition league AEW, made people sit up and take notice last month. It has since become clearer what the son of billionaire and NFL club owner Shahid Khan meant by that.
The commitment of the legend Sting to a "multi-year full-time contract", the beginning of a sensational cooperation with the Impact Wrestling promotion, under the former name TNA for a while even the greatest WWE rival – combined with Kenny Omega's freestyle as World Champion and Successor to Jon Moxley, formerly Dean Ambrose.
A number of the surprising "aces up the sleeve" that Khan had promised were played out on this week's edition of the TV show Dynamite – with success: The show achieved one of the best ratings of the year (913,000) in the US advertising-relevant target group even for the best value 2020 (rating: 0.42). It was not without reason that Khan spoke of the "biggest dynamite episode so far" even before the motto show "Winter is coming" (AEW Dynamite vs. WWE NXT: the ratings in comparison).
But how much does the hot winter really change the balance of power in wrestling, what can show fight fans expect from the quake?
Sting from WWE to AEW – what is the league planning?
In terms of wrestling, Sting will hardly be able to enrich AEW much, he is now 61 years old and his health is in poor health from a serious neck injury that caused him to end his career in 2016 when he was inducted into the WWE Hall of Fame.
With the claim embodied by AEW of offering a WWE alternative with new stars, the arrival of the oldie is only incompatible at first glance.
"I don't want to bring nostalgia back for nostalgic sake, I don't want to bring back legends because I don't have new ideas": What Cody Rhodes, star and co-managing director of AEW, said last year SPORT1-Interview about the vision behind the league said still applies.
Every well-known old star that AEW has hired so far serves to establish the new generation sooner or later – in managerial and mentoring roles or as an opponent of younger hopefuls, to whom their fame should rub off. Chris Jericho, for example, recently lost a feud against the aspiring Orange Cassidy, and the MJF, who is considered a super talent, is currently benefiting from the interaction with the 50-year-old.
With the also highly traded Darby Allin, whose character shows some parallels to Sting, "The Icon" delivered a noticeably long look at the premiere on Wednesday.
"The Icon" represents the legacy of WCW
What makes Sting's commitment particularly valuable: AEW explicitly refers to the legacy of the good years of the WCW league, which went under in 2001, and its predecessor Jim Crockett Promotions, for which Sting stands like no other.
Although Sting's wedding is long over, his star aura still works, as his impressive debut impressively demonstrated. He also has rhetorical qualities and above all the potential to tell many stories that tie in with his rich legacy.
For Cody Rhodes himself, for example, Sting was the declared childhood hero, and he also shares a common history with Cody's deceased father Dusty Rhodes, the former mastermind of WCW, on whose work AEW builds in many ways – for example through its on-air presence the legends Arn Anderson and Tully Blanchard, once partners of the unmatched Ric Flair in his "Four Horsemen" and rivals of Sting and Rhodes senior.
WWE tied various old stars – Sting not
How much Sting can help a league was proven by his commitment to TNA between 2003 and 2014: Although he was already above the zenith in wrestling, he was probably the most important development aid for the league and its then young stars AJ Styles and Samoa Joe. The leaders of the league at the time emphasized that Sting's celebrities not only gave them a crowd, but also opened new doors for business partners and sponsors.
It is not for nothing that since the founding of AEW in 2019, WWE has been doing everything it can to take well-known old stars who could have played a similar role for the startup from the market: Among other things, Undertaker and Flair received de facto lifetime contracts, also with many WWE fans such controversial second comeback of Bill Goldberg had the background that he should not end up with AEW.
At Sting, the market leader did not succeed, obviously he is attracted by the prominent role he can play in the emerging league – while WWE recently seemed to have no more major plans for him.
AEW and Impact: Kenny Omega and Don Callis as door openers
Sting's debut coinciding with his ex-league Impact now partnering with AEW is another notable development.
The door opener for this was the friendship of the new Champs Omega – behind the scenes also co-managing director with Rhodes and the Young Bucks Nick and Matt Jackson – with Don Callis, who has the same role in impact management.
Callis, in the Canadian wrestling scene once accompanied to the ring by Omega's uncle, the Golden Sheik, was already the brainchild of another momentous earthquake: He had arranged the match between Omega and Jericho at NJPW in Japan in early 2018 – the fight, with who emancipated himself from WWE and who paved the way for his involvement with AEW.
Callis (once active as Jackyl and Cyrus also at WWE and ECW) now seems to be the manager and mouthpiece of Omega, who now appears as the evil "Heel", at AEW. A liaison that the Wrestling Observer reminiscent of manager legend Bobby "The Brain" Heenan and early Hulk-Hogan rival Nick Bockwinkel, who are considered role models for the two.
Many talents at the previous TNA
The cooperation between AEW and Impact, where Callis and Omega will perform together next Tuesday, has a lot more potential. The Young Bucks announced in a podcast "big surprises" that would result from it.
How big these can really be is a matter of interpretation: After a year-long crisis, Impact is far from its former popularity and star power. The rebuilding that Callis was involved in in recent years has at least convinced the die-hard fans again.
Impact has recently regularly received good reviews as a stage for good wrestlers who have not found their niche elsewhere – such as Rich Swann, Eddie Edwards, Sami Callihan, Rosemary, Deonna Purrazzo, Jordynne Grace or Tenille Dashwood (Emma).
The deal with Impact gives AEW access to this talent pool, which enables many exciting crossover feuds and, above all, gives AEW's women and tag team scene more depth.
The Bucks now also offer themselves as AEW Tag Team Champions, for example, the duo The North or the Motor City Machine Guns (Alex Shelley and Chris Sabin) as rivals, or Karl Anderson and Luke Gallows, who were dismissed by WWE under spicy circumstances reigning Impact titleholders, with whom AEW already had extensive negotiations last year.
AEW has already achieved remarkable success
Realistically speaking, neither Sting nor the Impact Crosspromo should lead to Dynamite's ratings exploding and the still significantly better ratings of the WWE main shows RAW and SmackDown being able to attack in the foreseeable future – especially since Champ Omega is only its quality and commercial pull-horse still has to prove.
Test DAZN for free and experience WWE RAW and SmackDown live & on demand | DISPLAY
Nevertheless, the coups from AEW consolidate a development that WWE does not like: Despite aggressive counter-switching of the WWE third-party show NXT as a direct competitor product, the attacker has established himself, built up a stable fan base and, especially with younger viewers, has achieved partly sensational ratings successes via WWE.
While TV viewer numbers have been falling there for years, AEW's development potential is far from being exhausted. And where the limits of growth lie is by no means foreseeable.


Source link
https://www.sport1.de/kampfsport/wrestling/2020/12/aew-verschaerft-mit-sting-and-impact-deal-angriff-auf-wwe