The city of Frankfurt is pushing the inner-city speed limit on the tube: Instead of the plan in January, the limit of 40 km / h was implemented in December. Flashing should also take place promptly.
On important roads in downtown Frankfurt, Tempo 40 applies immediately. It is good that the speed limit could have been introduced in December, said Klaus Oesterling (SPD), head of the transport department on Monday. "This is an important element in avoiding diesel driving bans."
In December 2019, the Administrative Court in Kassel ruled that the measures taken to date to reduce nitrogen dioxide emissions were not sufficient to comply with the limit values. An update of the clean air plan was therefore necessary. Frankfurt wants to prevent driving bans, among other things, with the speed limit;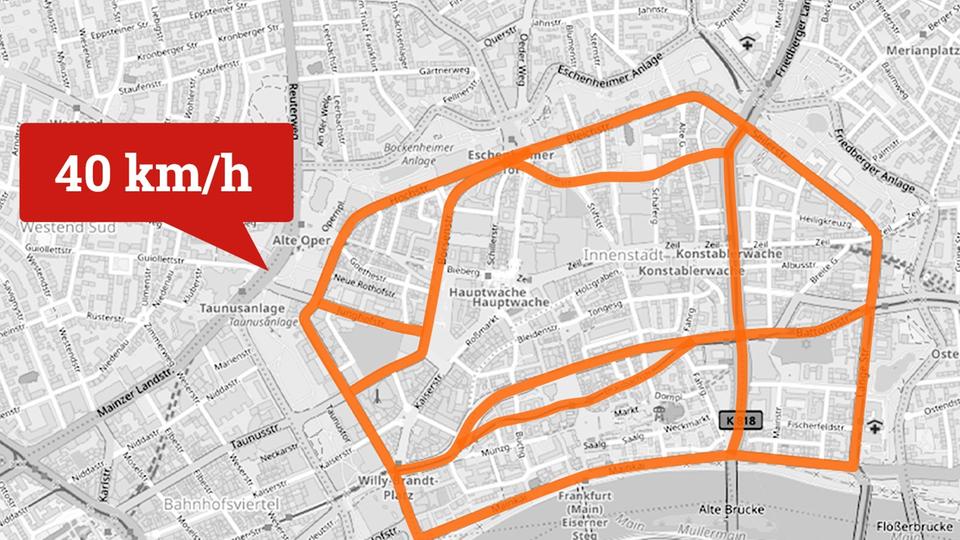 Starting shot actually from January
"In this way, we were able to order Tempo 40 even before the new clean air plan became legally binding," explained Oesterling. The speed limit is one of several contributions to reducing pollution and thus to health protection. The city had actually announced that it would implement Tempo 40 in the city center from January 1, 2021.
Osterling also announced that it would monitor the speed limit. This is already happening with mobile speed cameras from the city traffic police. For so-called measurement trailers, necessary applications are made for certain locations. Oesterling expects permits "very quickly".
Environmental aid calls for Tempo 30 instead of 40
The environmental aid considers the measures now announced to be inadequate, as a spokesman said at the announcement when asked. For example, the DUH calls for a city-wide speed limit to 30 km / h. A reduction to only 40 kilometers per hour is not understandable for reasons of noise protection and traffic safety. This corresponds to the line of Hesse's Environment Minister Priska Hinz (Greens), who argued, you drive at a lower speed at 40 km / h than you would at 30 and thus ultimately ensure less pollution.
The permitted nitrogen dioxide value is 40 micrograms per cubic meter of air and has been significantly exceeded in some places in the past – but recently the situation has eased significantly due to the corona pandemic. Umwelthilfe does not believe that the state's clean air plan in Frankfurt can decisively counteract this: "Even if all the planned measures are implemented in 2021, there will still be 62 sections with limit values ​​being exceeded." A driving ban for older diesels required by the DUH is still far from off the table.
Broadcast: hr-iNFO, 7.12.2020, 9 p.m.


Source link
https://www.hessenschau.de/wirtschaft/frueher-als-geplant-in-frankfurt-gilt-ab-sofort-tempo-40,tempo-40-frankfurt-100.html