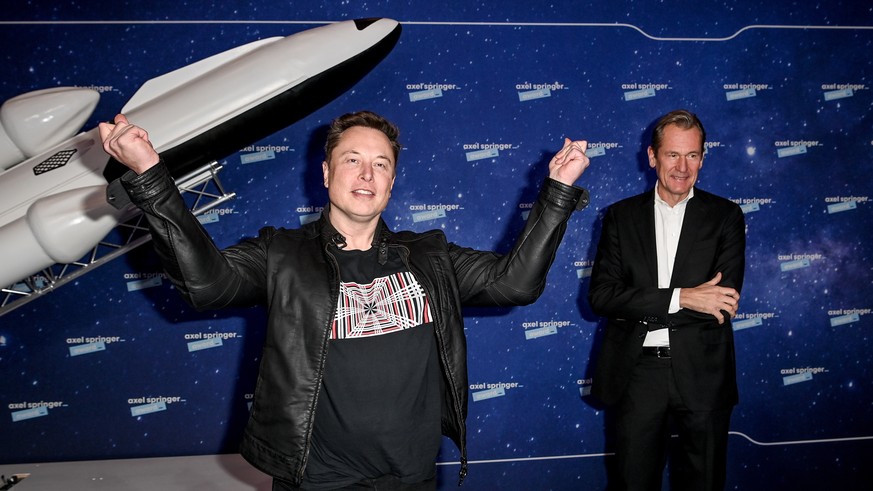 Two billionaires at the photo opportunity: Elon Musk poses, Springer boss Mathias Döpfner stays in the background. Image: keystone
Tesla boss is thinking out loud about merging with car company – and about new nuclear power plants
Elon Musk gave a much-noticed interview at an appearance in Germany. watson summarizes the most exciting facts and forecasts.
Tesla boss Elon Musk commented on various current topics before an award ceremony in Germany and also on the future of mobility.
About the merger with a car company
Tesla boss Elon Musk says he does not consider a merger of the US electric car provider with traditional manufacturers from the industry to be ruled out.
"We will definitely not start a hostile takeover attempt", Musk emphasized on Tuesday evening at the presentation of the Axel Springer Awards in Berlin. But if a competitor finds that "it would be a good idea to merge with Tesla," they'll talk about it.
Thanks to the trend towards electromobility, Tesla has become by far the most valuable automaker in the world with a market value of around 550 billion dollars. That gives Musk plenty of leeway to use Tesla stock as an acquisition currency. The other automakers play in a lower league when it comes to market value. VW is currently worth around 78 billion euros, Daimler a good 60 billion euros and BMW around 44.5 billion euros.
Tesla has to save
At the same time, shortly before Musk's appearance in Berlin, an email was announced in which the Tesla boss calls on his employees to be thrifty – also with a view to the share price. Musk pointed out, among other things, that Tesla is currently improving profits by selling CO2 emission rights, while the actual core business earns little money.
"Investors give us an advance on future profitability. But if they decide that it doesn't come to that, our stock will be crushed immediately – like a soufflé from a sledgehammer, "the financial service quoted Bloomberg as quoting Musk's Mail. To make Tesla vehicles cheaper, "we have to become smarter when it comes to spending," he emphasized. Musk had promised a Tesla at $ 25,000 in three years.
Musk's other start-up SpaceX provided the background image for the photo shoot. Image: keystone
About Germany
With the completion of the Tesla factory in Grünheide near Berlin, he will spend more time in Germany, said Musk. The US company plans to build up to 500,000 electric cars per year in the plant from next summer. Musk also recently announced that over time, part of the factory would also become the world's largest battery production facility.
Among other things, relatively affordable living space contributed to the decision to relocate the European Tesla plant near Berlin, said Musk. The plant is said to have around 12,000 employees.
He sleeps in the unfinished factory
When Springer boss Mathias Döpfner asked where he would spend the night on Wednesday, Musk said he would sleep in a conference room in the still unfinished factory in Grünheide. "It gives me a very good sense of what's going on," he said.
Among other things, Musk had slept in a conference room at the main plant in California during the difficult production start-up of the currently most important Tesla vehicle, Model 3.
The real "autopilot" should be ready for the market in 2021
Musk also said that in ten years' time, the majority of new vehicles will have autonomous driving capabilities. At the same time, for the time being, there will be situations in which people like to drive themselves. "But it will be increasingly unusual to drive your own car."
Tesla's software, which can relieve drivers of the control of the car in most situations, should be ready for the market next year – even if approval by regulators could take longer. Unlike most other developers, Musk wants to do without the more expensive laser radars in autonomous driving and get along with cameras and radar sensors.
About dangerous AI and its landing on Mars
Musk, who is also head of the space company SpaceX, confirmed that he could imagine being buried on Mars. "Just not on impact," he joked. "We all have to die at some point – and given the choice of being buried on Mars …"
At the same time, the 49-year-old star entrepreneur repeated his warning that Artificial Intelligence (AI) with its development could become "more dangerous than an atom bomb" for humanity.
About nuclear power plants and the energy transition
The electrification of traffic will lead to a massive increase in the demand for electricity, predicts Musk.
If the entire transport sector is electrified, we will need twice the amount of electricity. To do this, we need to increase the capacity of wind, solar and nuclear power plants.
He is not against nuclear energy, Musk said, claiming that where there is no risk of natural disasters like earthquakes, the risk is very small.
And the air traffic?
When asked how air traffic could be made climate-neutral in the future, the Tesla boss said: "Airplanes will also be safely operated electrically."
His prognosis: The first electric aircraft would take off in the next five years.
sources
The report is based on a detailed report by the DPA news agency, distributed by the SDA.
(dsc)
THANK YOU FOR THE ♥
Would you like to support watson and journalism? Learn more
(You will be redirected to complete the payment)
How Elon Musk got off to a flying start with Tesla
Do the billionaires feel guilty?
You might also be interested in:
Subscribe to our newsletter


Source link
https://www.watson.ch/digital/wirtschaft/893526323-elon-musk-tesla-chef-ueber-deutsche-autos-und-die-zukunft-des-verkehrs