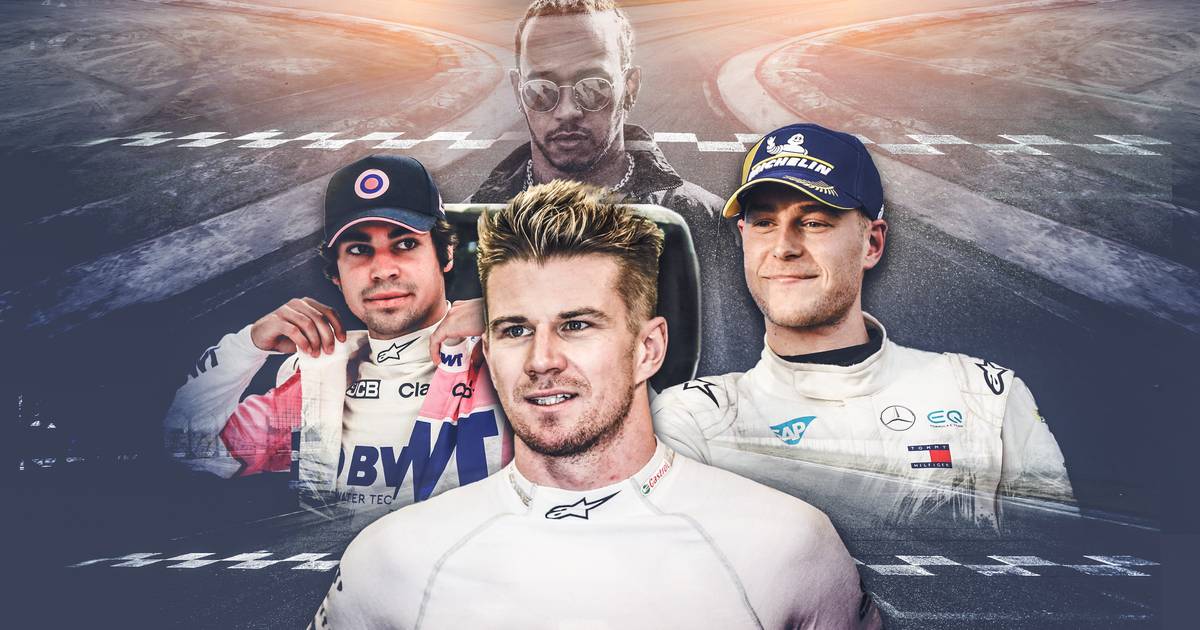 The corona virus does not stop at a seven-time champion either:
After a positive test, Formula 1 world champion Lewis Hamilton has to tick off the Sakhir Grand Prix in Bahrai (from 6:10 p.m. in the live ticker) next weekend.
For the penultimate race of the season, Mercedes is now looking for a replacement for the 35-year-old Brit who is struggling with mild symptoms. Mick Schumacher is not an issue as a Ferrari junior.
Test DAZN for free and experience sports highlights live & on demand | DISPLAY
SPORT1 names the possible candidates – and assesses their chances of actually being allowed to run for Hamilton. (SERVICE: driver ranking)
Lewis Hamilton has Corona – Mercedes is looking for a replacement
GEORGE RUSSELL (22): The Briton drives for Williams, but is a Mercedes junior. Mercedes team boss Toto Wolff, who is also his manager, thinks very highly of him. Russell is also considered the main contender for the Silver Arrows cockpit when Hamilton ends his career.
Mercedes will now try to get the approval for the young Briton at Williams. That could be expensive, however. Because the traditional English team will not borrow their jewel for nothing. Unless there is a clause in Russell's contract that says Williams must release him if Mercedes needs him.
However, Russell's use also harbors a risk: If the Englishman is faster than Valtteri Bottas, it makes no sense to continue signing the Finn. But Bottas already has a contract for 2021. CHANCE: 50 percent
STOFFEL VANDOORNE (28): The Belgian ex-Formula 1 driver (McLaren) drives in the Mercedes works team in Formula E and is the official substitute driver for Mercedes. Vandoorne is currently testing Formula E in Valencia, and will then be flying to Bahrain immediately.
But that was already planned before Hamilton's positive test. Vandoorne is only used if Russel does not receive approval or Wolff decides against him for team-strategic reasons. CHANCE: 30 percent (SERVICE: race calendar)
NICO HÜLKENBERG (33): The German is ready. He has already successfully stood in for colleagues who have fallen ill three times this season. Three times for Mercedes partner team Racing Point, twice for Sergio Perez, once for Lance Stroll.
The Emmericher convinced, even got ten championship points. In 2021 he is one of the candidates at Red Bull as a team-mate of Max Verstappen. What speaks for Hülkenberg: He is experienced, extremely fast and reliable. A German in the Silver Arrow could also be a positive signal for the employees in Stuttgart.
The problem: his wide hips. The cockpit of the Mercedes is considered extremely tight. It is possible that the 1.84-meter-tall Hülkenberg does not fit in there – at least not so comfortable that it can complete a 300-kilometer race.
One thing is certain: the German would even forego his vacation in the Caribbean, which he actually wanted to take on Tuesday, for the chance to win Mercedes. CHANCE: 10 percent
LANCE STROLL (22): The Canadian is a regular driver for the Mercedes partner team Racing Point. But at the same time Stroll's billionaire father Lawrence, who owns Racing Point, and Mercedes team boss Toto Wolff are business partners and close friends.
It is therefore not impossible that Stroll junior gets the unique chance to prove himself in the best Formula 1 car. CHANCE: 5 percent
ESTEBAN OCON ( 24): The Frenchman drives at Renault, but is only loaned from Mercedes. Ocon is considered to be fast and, like Russell, is a Wolff pupil. Against it speaks: Renault will hardly approve it, as the French need every point to be third in the constructors' championship. Chance: 4 percent
ESTEBAN GUTIÉRREZ (29): The former F1 driver from Mexico (Sauber, Haas) is a development driver at Mercedes. But his chances are very slim. All the other options that Mercedes has would suddenly vanish into thin air. CHANCE: 1 percent


Source link
https://www.sport1.de/motorsport/formel1/2020/12/formel-1-und-lewis-hamilton-mercedes-sucht-ersatz-huelkenberg-chance