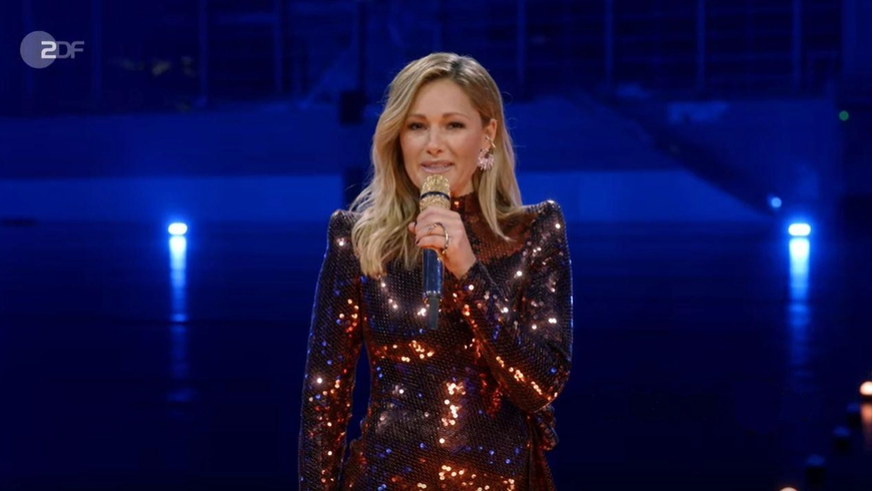 Helene Fischer had announced a very special end to her show. She should be right. screenshot zdf
Bad ZDF! Sender closes "Helene Fischer Show" with Silbereisen
The Christmas show with Helene Fischer is a tradition on ZDF. This year everything was different. Because of the corona pandemic, the pop singer could not record the program on a large scale. Instead, Helene Fischer presented a best of her appearances from recent years, including with James Blunt, Matthias Schweighöfer and Tom Jones.
On Instagram, Helene Fischer had hit the advertising drum shortly before the start of broadcast on Christmas Day. "All the beautiful memories and experiences from the last nine years have come together," she announced her show. "I'll make myself comfortable on the sofa with my family in baggy pants and with fizzy drinks."
Finally, Helene Fischer had a secret tip for her fans: "The end is my biggest highlight, so stay tuned until the end", she wrote on Instagram and put a laugh emoji behind it.
ZDF shows mistakes and mishaps by Helene Fischer
What would Helene mean by that? After almost three hours of show, the resolution followed on Friday evening at 11:15 p.m.
After the last song was sung, the ZDF showed outtakes from nine years of "Helene Fischer Show" for minutes. In other words: scenes in which something went wrong. And 90 percent of that was due to Helene Fischer, who likes to promise herself in her introductions, as the one-player showed. Would you like a selection?
"For my next song I invited men with temperament, passion and … blood. Rubbish."
"That's why this show at the end of the year is also the year …"
"Even this year, even two weeks ago … Shit, I can't say that at all."
"Ireland is the country where the lush meadows are, where happy cows are in these meadows …"
"He started out as a musician and took to the streets …"
Helene's résumé at the end of these not entirely flawless attempts at moderation: "I thought about putting on a show: the slip of the tongue from Helene Fischer."
ZDF closes "Helene Fischer Show" with Florian Silbereisen
When the end credits ran and Helene's show was really over, the next surprise came promptly. An all-too-familiar voice rang out. "I just found out that we were doing some kind of experiment," said none other than Florian Silbereisen. His character is a pop singer, actor – and Helene's ex-boyfriend.
Florian Silbereisen alias Max Parger sounded right after the "Helene Fischer Show". Image: screenshot zdf
It was a preview of the ZDF "dream ship". Florian Silbereisen celebrated his premiere in the cult series a year ago, and on December 26th he can be seen again as Captain Max Parger in the episode "Cape Town".
The ZDF did not want to miss the opportunity to draw the singer's fans' attention to the new Silbereisen film. And so the broadcaster closed the "Helene Fischer Show" with her ex-boyfriend. Whether Helene meant that when she spoke of her personal "greatest highlight" at the very end, is doubtful.
(this)


Source link
https://www.watson.de/unterhaltung/tv/288236702-helene-fischer-show-absicht-oder-zufall-zdf-am-ende-mit-seitenhieb-gegen-den-star