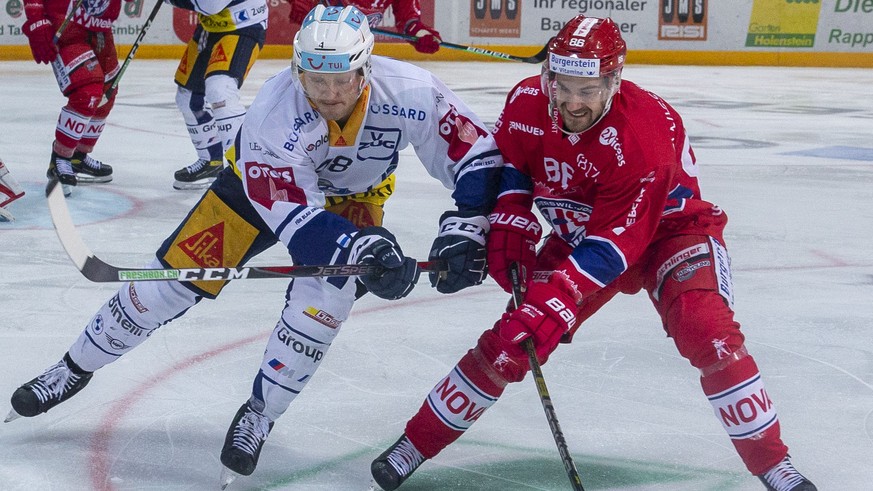 A contested cause: outsider Rapperswil was on a par with Zug over long stretches. Image: keystone
Zug wins after a crazy final phase at Rappi – problem children duel goes to Davos
Rapperswil's series of defeats continues – the Lakers lose despite a committed performance against EV Zug. Davos beats Biel after a lightning start, Friborg has a clear victory against Langnau.
Rapperswil – train 4: 5n.V.
EV Zug also decided the third duel of the season against the Rapperswil-Jona Lakers with one goal difference. The Central Switzerland won 5: 4 away after extra time.
After the Lakers had turned a 1: 3 (29th) into a 4: 3 (56th), Ryan McLeod saved the guests 19.4 seconds before the end of regular time with a deflector into overtime. In this, Grégory Hofmann, who had already scored the 3: 1, was responsible for the Zuger's winning goal after 1:51 minutes. An unusually long dry spell came to an end for the 28-year-old international, as he last scored on October 10th.
The Rapperswilers had completely overslept the start. The logical consequence was the early 1-0 win by Jérôme Bachofner after 140 seconds. In the 7th minute, Yannick-Lennart Albrecht increased to 2-0. The nominal fourth line scored the guests' first two goals.
As a result, the Lakers increased. Marco Lehmann, who was only 21 years old, scored twice in the middle third (27./31.). For him it was goals 2 and 3 in the National League.
Marco Lehmann is annoyed after the game despite two goals. Video: YouTube/MySports
In the last section, the St. Gallen team even took the lead thanks to two gifts from Central Switzerland – Nico Dünner's 3: 3 after exactly 47 minutes was preceded by an unbelievable bad pass by Nico Gross, before Nando Eggenberger's 4: 3, Santeri Alatalo went under Mistakes before goalie Leonardo Genoni did not cut the best figure.
Nevertheless, the Rapperswil lost for the fifth time in a row. For EVZ it was the seventh victory in the eighth away game in the current championship.
Rapperswil-Jona Lakers – Zug 4: 5 (0: 2, 2: 1, 2: 1, 0: 1) nV
50 spectators. – SR Lemelin (USA) / Fluri, Obwegeser / Burgy.
Tore: 3. Bachofner (Stadler) 0: 1. 7. Albrecht (Geisser) 0-2. 27. Lehmann (Sataric / Powerplaytor) 1: 2. 29. Hofmann (Kovar, Martschini / Powerplaytor) 1: 3. 31. Lehmann (Eggenberger) 2: 3. 47 thinner 3: 3. 56 Eggenberger (Schweri) 4: 3. 60. (59:41) McLeod (Diaz) 4: 4 (without goalkeeper). 62. Hofmann (Diaz) 4: 5. –
Penalties: 2 times each 2 minutes.
PostFinance top scorer: Cervenka; Kovar.
Rapperswil-Jona Lakers: Nyffeler; Profico, Jelovac; Vukovic, Dufner; Sataric, Maier; Wick, Randegger; Clark, Cervenka, Moses; Lehmann, Rowe, Eggenberger; Schweri, Dünner, Lhotak; Forrer, Ness, Loosli.
Zug: Genoni; Diaz, Geisser; Cadonau, Alatalo; Gross, Stadler; Wüthrich; Martschini, Kovar, Zehnder; Klingberg, Senteler, Thorell; Simion, McLeod, Hofmann; Thürkauf, Albrecht, Bachofner; Leuenberger.
Remarks: Rapperswil-Jona Lakers without Egli (suspended) and Payr (injured), train without Schlumpf (suspended). Train from 57:48 to 59:41 without a goalkeeper.
Davos – Biel 3-2
HC Davos made a lightning start in the home game against Biel – after 100 seconds and goals from Fabrice Herzog and Magnus Nygren, the Graubünden team led 2-0. Nevertheless, they had to fear for victory, in the end they prevailed 3-2.
Defender Samuel Guerra scored the decisive goal after 30 seconds in the final section. Thanks to Tino Kessler (8th) and Marc-Antoine Pouliot (15th), the Bielers equalized the game in the first third.
After a quarantine, the guests not only played the first game since November 27, but head coach Lars Leuenberger was also absent due to kidney stones. The 0: 2 was the first goal conceded on foreign ice for the Zealanders in the current championship.
Davos, who only managed to win their fifth win in the 13th championship game this season, celebrated their fourth home win in a row against Biel, who lost away for the fourth time in a row.
Davos – Biel 3: 2 (2: 2, 0: 0, 1: 0)
1 viewer. – SR Piechaczek (GER) / Borga, Fuchs / Wolf. –
Tore: 1. (0:43) Herzog (Frehner) 1: 0. 2. (1:40) Nygren (Corvi / Powerplaytor) 2: 0. 8. Kessler (Cunti) 2: 1. 15. Pouliot (Hofer, Rathgeb / Powerplaytor) 2: 2. 41. (40:30) War (Herzog) 3: 2.
Punish: 6 times 2 minutes against Davos, once 2 plus 10 minutes (Künzle) against Biel.
PostFinance top scorer: Ambühl; Moser.
Davos: Sandro Aeschlimann; Nygren, Guerra; Heinen, Paschoud; Stoop, Barandun; Marc Aeschlimann; Ambühl, Corvi, Turunen; Palushaj, Thornton, Hischier; Marc Wieser, Lindgren, Baumgartner; Frehner, Egli, Herzog.
Biel: Paupe; Rathgeb, Moser; Lindbohm, Fey; Kreis, Gustafsson; Kessler, Stampfli; Fuchs, Pouliot, Rajala; Brunner, Cunti, Künzle; Hofer, Komarek, Hügli; Kohler, Nussbaumer, Tanner.
Remarks: Davos without Canova, Du Bois, Jung, Kienzle, Rubanik and Dino Wieser (all injured), Biel without Forster, Lüthi, Sartori, Ullström and Ulmer (all injured). Biel from 58:27 without a goalkeeper.
Friborg – Langnau 4: 1
Although Friborg fell 0-1 behind against SCL Tigers in the 8th minute, Gottéron ended the three-game series of defeats with a 4-1 home win. Matthias Rossi turned the game around with two power play goals to make it 2-1 (15./28.). In the last third Viktor Stalberg (43rd) and Killian Mottet (53rd) made everything clear with the hits to 3: 1 and 4: 1.
Due to the statistics, the success of the hosts was not without a certain logic. While Friborg celebrated their sixth victory in the seventh home game of the current championship, the Langnauer suffered their sixth defeat in the seventh away game.
But the two overpowering goals were special for Gottéron, who was just as successful in power play as in the first six matches this season in front of a home crowd.
Friborg-Gottéron – SCL Tigers 4: 1 (1: 1, 1: 0, 2: 0)
1 viewer. – SR Tscherrig / Nikolic (AUT), Altmann / Dreyfus.
Tore: 8. Maxwell (Nilsson, Glauser / Powerplaytor) 0: 1. 15. Rossi (Aebischer, Herren / Powerplaytor) 1: 1. 28. Rossi (Men, Aebischer / Powerplaytor) 2: 1. 43. Stalberg (Desharnais, Mottet) 3: 1. 53. Mottet (Desharnais, Stalberg) 4: 1.
Punish: you 5mal 2 Minutes.
PostFinance top scorer: Gunderson; Maxwell.
Friborg-Gottéron: Berra; Gunderson, Chavaillaz; Aebischer, Abplanalp; Sutter, Jecker; Bougro, Kamerzin; Stalberg, Desharnais, Mottet; DiDomenico, Schmid, gentlemen; Sprunger, Bykov, Marchon; Rossi, Walser, Jörg.
SCL Tigers: Punnenovs; Blaser, Schilt; Glauser, Grossniklaus; Huguenin, Lardi; Bircher; Earl, Maxwell, Nilsson; Neukom, Berger, Dostoinov; Petrini, Flavio Schmutz, Julian Schmutz; Rüegsegger, Melnalksnis, Andersons; Sturny.
Remarks: Friborg-Gottéron without Furrer (injured) and Brodin (surplus foreigner), SCL Tigers without Erni, Leeger, Weibel, Zaetta (all sick), Diem and Kuonen (both injured).
The table
The table by points per game
(dab / sda)
THANK YOU FOR THE ♥
Would you like to support watson and journalism? Learn more
(You will be redirected to complete the payment)
All NL top scorers since 2002/2003
The office is upside down, we're in playoff fever
You might also be interested in:
Subscribe to our newsletter


Source link
https://www.watson.ch/sport/eishockey/920467586-national-league-der-ev-zug-gewinnt-bei-den-lakers-davos-schlaegt-biel