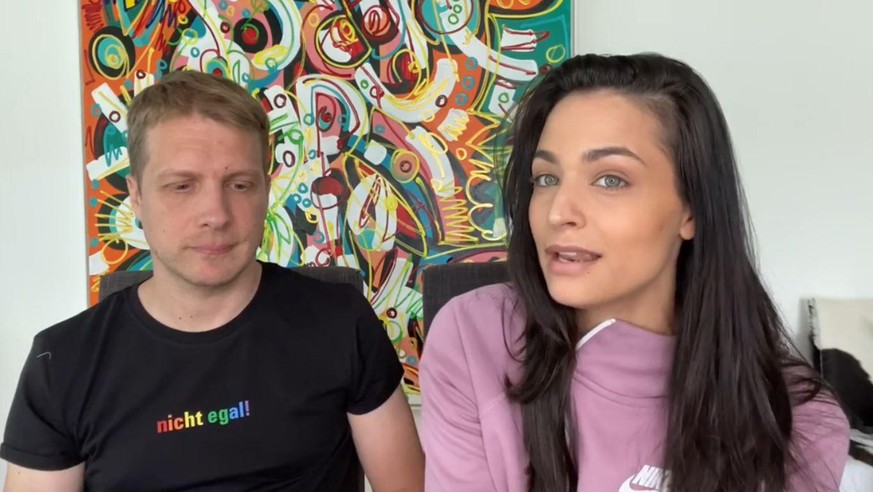 Amira Pocher and her husband Oliver were omnipresent in 2020. Now they had sad news to announce. Image: screenshot instagram.com/oliverpocher
Sad news for Christmas: Amira Pocher bursts into tears
Oliver and Amira Pocher have had a turbulent year. In terms of careers, the two of them have seen a steep upward trend. Oliver and Amira were not only able to multiply their reach on Instagram. They also received several TV programs on RTL. Amira and Oliver even have their own podcast.
But in the current episode, which they published right on time for Christmas Eve, the Pochers had to announce a very ugly end to their successful year 2020.
The "saddest podcast of all time" announced Oliver Pocher. "You just had a little howling attack," he said to Amira. The reason: "Amira's cat Mucki is no longer with us."
Amira Pocher breaks down in tears
The podcast is less than a minute long when Amira bursts into tears and sobs into the microphone.
Audibly touched by the death of her cat, Amira tells the story of Mucki.
"I got her when I was 18 when I had my first apartment. It was so small back then, she slept in the sink." Amira took her to Germany from Austria, where she previously lived. "She had to go through so many moves, but she was never angry."
And then she met Oliver Pocher in Germany, but he was allergic to cat hair. Therefore, she did not take the cat with her to the shared apartment, but left it with her animal-loving landlady, where she was "in wonderful hands".
Amira weeps for dead cat, Oliver Pocher laughs at her
Everything was fine with Mucki until now, five minutes before the podcast was recorded. "Now I've just got the news that she has died," says Amira. The cat had not eaten in the past few days and its temperature was low. She fell asleep that night. "I feel so guilty because I haven't seen her anymore," says Amira.
Amira is crying again. Oliver Pocher, on the other hand, has no mercy here either and mercilessly laughs at his wife. He throws in that his golden hamster also died once. "Are you kidding me completely now?" Asks Amira angrily. "Shut up now, you have no idea."
Amira is mainly concerned with the fact that Mucki was only 10 years old. "Cats are actually going to be 15 years old, right? I didn't think that they would be so fast …", says Amira and interrupts herself sobbing in mid-sentence.
The grief phase did not last too long. In the aftermath, the Pochers talked about their upcoming Christmas meal (Amira hates fondue), reviewed Pocher's past "King of Grownups" and joked, how could it be otherwise, about the Wendlers.
(this)


Source link
https://www.watson.de/unterhaltung/stars/338151734-traurige-nachrichten-zu-weihnachten-amira-bricht-vor-oliver-pocher-in-traenen-aus