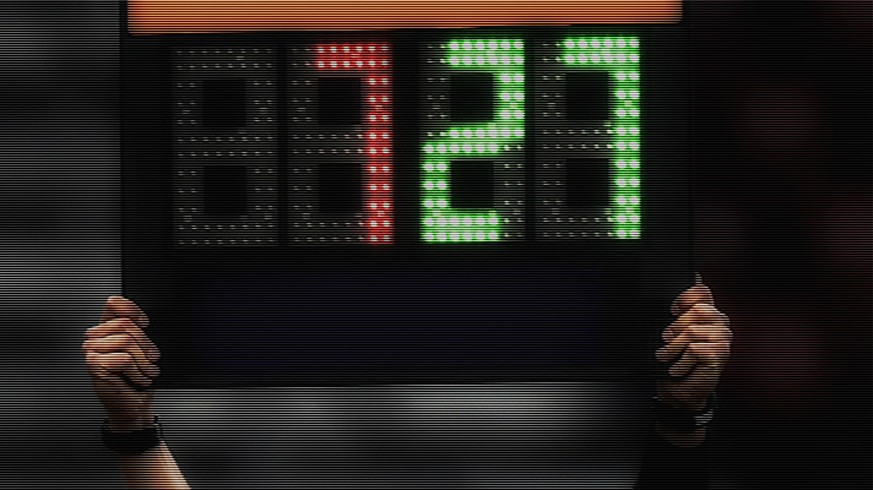 Schalke coach Gross receives the first reinforcement +++ BVB is chasing the next ManCity talent
Bundesliga team Schalke 04 hat Sead Kolasinac brought back for the rest of the season. The 27-year-old left-back will join the new Swiss coach's club Christian Gross of Arsenal borrowed until summer. The national player of Bosnia-Herzegovina had already been active for the Revierclub from 2011 to 2017. (pre / sda)
Sead Kolasinac 🇧🇦
Position: Left defender
Alter: 27
Market value: 8 million euros
Balance 2020/21: 9 games / 0 goals
BVB is chasing the next ManCity talent
Borussia Dortmund is according to various media reports on the Dutch top talent Jayden Braaf Interested. The 18-year-old is currently with the English top club Manchester City under contract, it is written of a transfer fee in the amount of eight to 10 million euros.
Offensive player Braaf particularly likes to play on the left wing and is under contract in Manchester until 2023. He has already been nominated for all youth national teams in the Netherlands up to U18. In the current season, however, it does not play a role for the ManCity professionals. So far he has only played one role in the U23 this season. Braaf would be after Jadon Sancho and Jamie Binnoe-Gittens, who is currently still playing in the young generation, the third teenager who would move from ManCity to Dortmund. (pre)
Jayden Braaf 🇳🇱
Position: Left tails
Alter: 18
Market value:?
Balance 2020/21: 2 games / 0 goals
Image: www.imago-images.de
Diego Costa and Atletico Madrid terminated the contract, which ran until June 2021, by mutual agreement. The Spanish-Brazilian striker had asked the leader of the Primera Division in advance to join another European club. It is still unclear which club Costa will switch to. According to the Spanish sports newspaper "AS" Arsenal to the numerous interested parties. (pre)
Diego Costa 🇪🇸
Position: Center Forward
Alter: 32
Market value: 10 million euros
Balance 2020/21: 7 games / 2 goals
Zidane doesn't want to let Isco go
Isco has its regular place at Real Madrid long lost, so recently its market value fell from 50 to 20 million euros. The Spanish midfielder has long wanted to leave. According to the Madrid sports newspaper "AS", Isco has now decided to switch to FC Sevilla with his ex-coach Julen Lopetegui decided – Zinedine Zidane however for the time being vetoed. The coach of the «#Royal» does not want to let his former regular strength go into the winter transfer window because of the tight schedule. (pre)
Isco 🇪🇸
Position: Attacking midfield
Alter: 28
Market value: 20 million euros
Balance 2020/21: 11 games / 0 goals
Kahn speaks plain language in the " Alaba case"
The Departure of David Alaba Bayern Munich is emerging more and more. The designated chairman of the board, Oliver Kahn, said that a red carpet was laid out for the defense attorney during the negotiations. «#David and especially his advisor Pini Zahavi did not walk this red carpet. So we rolled it up again at some point », so Kahn.
He assumes that it is too no new negotiations come You have to accept that Alaba will reorient itself after twelve years at Bayern Munich, Kahn continued. The loss hurts, not just from an economic point of view. Alaba can go on a free transfer in the summer. (R.A.M)
David Alaba 🇦🇹
Position: Defense
Alter: 28
Market value: 65 million euros
Balance 2020/21: 18 games, 1 goal
Source: Sportbild ( Paywall)
Nati defender Manuel Akanji should address the problems in the defense center of the FC Liverpool to solve. Trainer Jürgen Klopp apparently has him in his sights as a winter entry, as Virgil van Dijk and Joe Gomez are injured. Akanji is an alternative for the English champions if the Dayot Upamecano ( Leipzig) wish transfer does not work. (R.A.M)
Manuel Akanji 🇨🇭
Position: central defense
Alter: 25
Market value: 25 million euros
Balance 2020/21: 17 games, 1 goal
Quelle: Daily Mail
Granit xhaka seems at Arsenal having no future after four years with little appreciation. As the "Corriere dello Sport" reports, the Swiss international is planning to jump this winter. The possible buyer: Inter Milan. The " Nerazzurri" have therefore agreed to an exchange deal. Xhaka would become the Italian runner-up Christian Eriksen give it to the Gunners. The Dane only moved from Tottenham to Inter this summer, playing in coach's plans there Antonio Conte but no longer a role. (pre)
Granit Xhaka 🇨🇭
Position: Defensive midfield
Market value: 25 million euros
Alter: 28
Balance 2020/21: 15 games / 0 goals
Christian Eriksen 🇩🇰
Position: Attacking midfield
Market value: 50 million euros
Alter: 28
Balance 2020/21: 12 games / 0 goals
Bender twins quit in the summer
As Bayer Leverkusen announces the twins hang out Lars and Sven Bender ditched her football boots at the age of 32 after the current season. " After a long period of reflection and countless mind games regarding our future, we finally came to the decision that we would not continue our journey with Bayer 04," said the two defenders.
Lars Bender moved to the "Werkself" from 1860 Munich in 2009 and headed Leverkusen as captain for years. His brother followed him eight years later via Borussia Dortmund. Since then, they have together been at the heart of Bayer's defense. With the announced end of their career, the two brothers join the list of several Germans who turn their backs on professional football at an early stage: the world champions also finished last Benedikt Höwedes (32) and André Schürrle (30) as well as Sandro Wagner (33) their careers. (pre / tol)
Lars Bender 🇩🇪
Position: Right defender
Market value: 7 million euros
Alter: 31
Balance 2020/21: 15 games / 1 goal
Sven Bender 🇩🇪
Position: central defender
Market value: 7 million euros
Alter: 31
Balance 2020/21: 10 games / 0 goals
Dzemaili is definitely returning to the FCZ
The return of Blerim Dzemaili to his home club FC Zurich is in dry cloths. As the city club announced in a statement, the 34-year-old midfielder signed a contract that will run until 2022. Dzemaili last played in China Shenzhenwhere his contract was terminated.
Dzemaili is a native of Zurich who completed a large part of his football training at FCZ. He was captain of the FCZ team in 2006 and 2007 under coach Lucien Favre Master became. After moving abroad almost 14 years ago, he played for among others Naples, Galatasaray Istanbul and Bologna. " After numerous years abroad, I am really looking forward to returning to my home club," said the 69-time Swiss international. (zap / sda)
Blerim Dzemaili 🇨🇭
Position: Central midfield
Market value: 0.7 million euros
Alter: 34
Balance 2020/21: Without Club
PSG reportedly calling on fan shops to be ready for Messi transfer
Will the big transfer actually happen? That Lionel Messi to be dissatisfied at FC Barcelona, ​​has been reported for months. Paris Saint Germain is now said to have instructed the employees of his fan shops to be ready for a transfer and the associated rush.
Messi's contract in Barcelona runs until next summer. Supposed to be Father and advisor Jorge Messi already in Qatar negotiating with the PSG owners was reported in Spain. However, he then denied this. It is still possible for the Argentine to stay with the club, where he has been playing for around two decades. It should be decisive who the FC Barcelona presidential election in January wins. (R.A.M)
Lionel Messi 🇦🇷
Position: Right Sauses
Market value: 100 million euros
Alter: 33
Balance 2020/21: 15 games, 8 goals
Quelle: Football Transfers | One Football
Paul pogba could to Juventus to return. His advisor brought the transfer Mino Raiola in the game. " Why not? The relationship between Paul and Juventus and former teammates is excellent, "he said in an interview.
According to Raiola, it is certain that the French world champion will change clubs in the foreseeable future: " It's time to leave Manchester United." If the advisor has his way, a transfer should take place this winter. According to Raiola, this would be the best solution for everyone involved. (R.A.M)
Paul Pogba 🇫🇷
Position: Central midfield
Alter: 27
Market value: 80 million euros
Balance 2020/21: 13 games, 2 goals
Those: Tuttosport (via Transfermarkt)
After a few months without a club, the trip goes for Mario Balotelli continue in series B. The former international striker signed with Silvio Berlusconis AC Monza.
The ambitious northern Italians are aiming for promotion to Serie A this season. With Kevin-Prince Boateng a former Milan star was signed in the summer. Monza is currently eighth in the table.
Balotelli last played at Brescia Calcio in Serie A, where he only scored five goals in 19 competitive games. When Brescia was relegated last season, the contract with Balotelli was terminated. (dab)
Mario Balotelli 🇮🇹
Position: striker
Alter: 30
Market value: 3 million euros
Balance 2020/21: 0 games
These are the 45 most expensive football transfers in the world
You might also be interested in:


[ source link ]
https://www.watson.ch/sport/transferticker/665605306-transfer-ticker-schalke-trainer-gross-erhaelt-die-erste-verstaerkung

#Transfer ticker #Schalke coach #Gross receives reinforcement