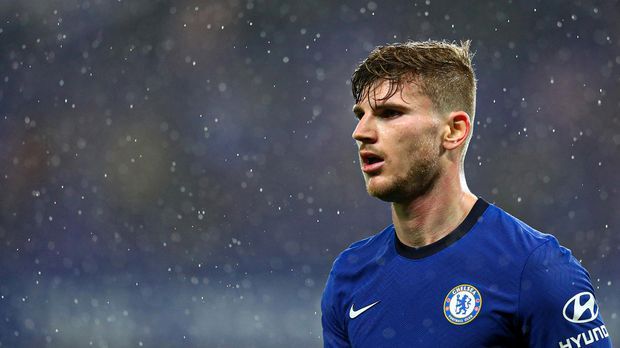 Munich / London – Frank Lampard used the days before Christmas Eve to protect Timo Werner. He is not worried, you have to give the striker time to arrive properly, said Chelsea's club legend and coach about the newcomer from Leipzig and his goal doldrums.
A few days later, as well as a severe defeat against Arsenal FC on holy Boxing Day, Lampard had already adopted a different tone.
"Today Timo didn't give us enough with and without the ball", was the conclusion of the 42-year-old after the 1: 3 against the "Gunners" who were sneaking around in the table cellar. The consequence? Werner had to go out at half time. His proof of work: 23 actions with the ball, a total of six passes that also found a teammate.
Werner for ten games without a goal
And above all: no goal – again. For ten games, so almost two months, Werner has been waiting for a goal for the "Blues".
While Lampard directed much of his criticism to the entire team ("If you go out and play at 60 or 70 percent, you won't win any games in the Premier League"), England's press focused specifically on the 24-year-old's performance – and not exactly squeamish.
"When will the goals finally come?" Asked the Independent, while the Guardian said Werner was "particularly disappointing" in a bad Chelsea. The Yellow Press reported twice in "Sun" and "Daily Mail" about a "terrible performance" by the attacker.
The boss' assessment of a disappointing defeat.

– Chelsea FC (@ChelseaFC) December 27, 2020
Lampard just puts Werner on the piano
Werner got off to such a good start with his new club that brought him to Stamford Bridge on his quarter-billion-euro summer shopping tour. In the first twelve games Werner met eight times, he put up three goals. But then came the break – and only three more assists.
A break to which Coach Lampard also contributed a not insignificant part.
Because: Lampard is still looking for and experimenting with tactics and, above all, personnel even after 22 competitive games. Which doesn't make acclimatization any easier for Werner than the fact that the center forward has only been used as a left winger for some time.
So instead of sending Werner down the front line and using his greatest strengths – speed and finishing – the 24-year-old has to make the detour over the wing and dribbling, which are not his specialties.
Havertz is also still looking for his place
Incidentally, a situation that connects him with Kai Havertz, who is pushed around even more wildly in Lampard's castling. Central midfield, hanging tip, right midfield, sole attacker, right wing: Havertz has so far held almost as many positions as he has played in games. The fact that the former Leverkusen player is not in the focus of the critics is due to the fact that he was only substituted on in the last two games in the final phase.
The "Blues" already have the chance of more minutes and for Werner of a saving goal on Monday. Then comes Aston Villa, the club at Stamford Bridge, which pushed Chelsea FC to seventh place on Boxing Day. Leader Liverpool were already six points behind before their appearance against West Bromwich Albion.
Do you want the most important football news, videos and data directly on your smartphone? Then get the new ran app with push notifications for the most important news about your favorite sport. Available in the app store for Apple and Android.


Source link
https://www.ran.de/fussball/england/news/schreckliche-vorstellung-timo-werner-beim-fc-chelsea-im-kreuzfeuer-der-kritik-110416