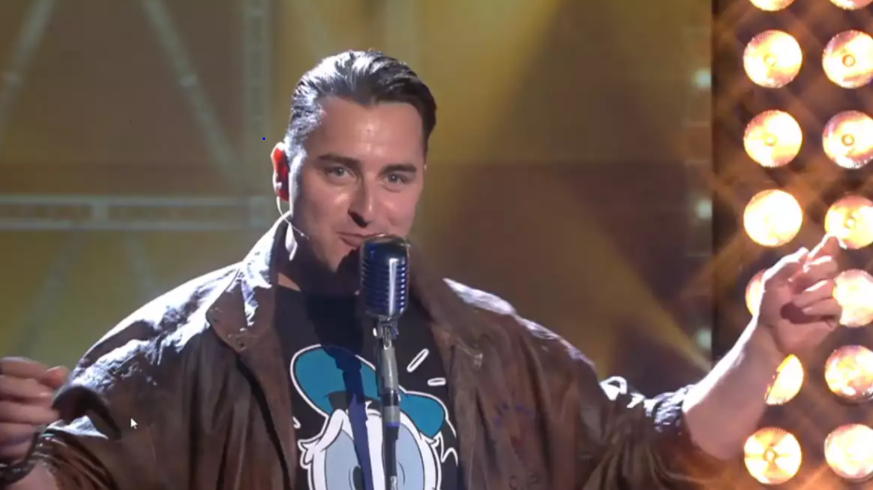 Andreas Gabalier during his appearance on the show with Oliver Pocher. image: screenshot rtl
Criticism after appearance at Oliver Pocher: Now Andreas Gabalier reacts
Andreas Gabalier's last TV appearances did not go exactly smoothly. The singer was not only criticized for his vocal performance on the new Oliver Pocher show "King of the Kids" on RTL. But also after the show "A Volks-Rock'n'Roll-Christmas" on Austrian television.
Now the pop star commented on this and scolded the "worst and deepest insult at the lowest level" that had happened to him. So what happened
Last week the new TV format of the three comedians Oliver Pocher, Mario Barth and Chris Tall with the title "King of Grownups" was launched. In the show, the three entertainers faced each other in games that were based on other well-known shows. The names of the games were something like "Schlag den Stab", "I am a star, pushes me out of here" and "Bauer sucht Sau". The reactions of the audience were mixed, but there was a lot of criticism in the social networks for Andreas Gabalier's live appearance on the Pocher broadcast.
Andreas Gabalier received criticism for the singing in his television appearances
Gabalier tried, among other things, the Christmas classic "Driving home for Christmas". Spectators criticized crooked tones, bad timing and an artificial performance. The Twitter reactions were clear.
Many viewers were also upset that the singer was offered a platform at all. The 36-year-old Austrian is repeatedly said to be close to right-wing populist ideas.
Gabalier is pissed off about the criticism: "Shame"
After the embarrassment on RTL, the second flop followed – this time on Austrian television. He played it safe on the program "Volks-Rock'n'Roll-Christmas" on ORF and played mixed songs in the background, but that didn't help much, if you believe the ears of many viewers.
The criticism: Even with the pre-produced interludes, the tones were not always consistent and Gabalier's voice sounded scratchy.
"Gabalier also proves on ORF that he can't sing," was the headline of the Austrian tabloid "heute", for example. A "case for the ENT outpatient department", wrote the Austrian "Kurier".
Now the singer commented on the criticism in the "Kronen-Zeitung". Especially the "Kurier" article, keyword "ENT ambulance", does not suit him at all.
Gabalier speaks of "shame" in connection with the slipping. "That has nothing to do with satire either, I do not accept that, the worst and deepest insult at the lowest level"the singer was indignant.
He was also approached about appearing on the Pocher show. "Of course I didn't sing that like a Mariah Carey. It was all about fooling around," said Gabalier. It was a comedy show.
He called the media voices "articles of hate" and described it as "a basic disease in Austria" to make fun of him. It is primarily about "a basic respect".
But the criticism didn't really hit him. "My deerskin is thick enough and after all these years I still don't care"said Gabalier.
(lfr)


Source link
https://www.watson.de/unterhaltung/stars/594193094-wirbel-um-auftritt-von-andreas-gabalier-bei-oliver-pocher-er-spricht-von-schande