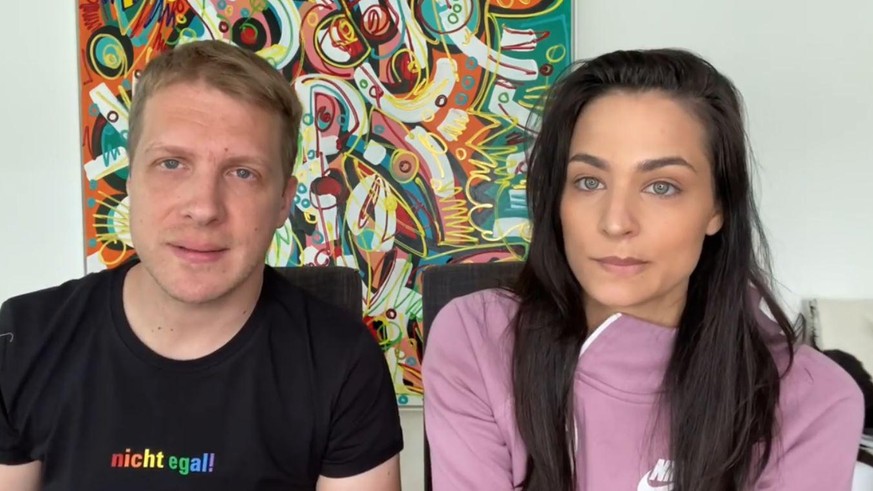 Amira and Oliver Pocher have had their second child. But the birth was complicated. Image: screenshot instagram.com/oliverpocher
Amira Pocher describes the dramatic birth: "I felt: something is wrong there"
It was a nice post-Christmas surprise that Oliver and Amira Pocher announced. Their second child was born on December 27th. In their podcast, the two spoke extensively and very openly about how dramatic the birth was.
" Not one, not two, but three Pochers are here," says Oliver Pocher at the beginning. The newly born baby is lying on Amira's breast, they reveal while they are recording their podcast.
" It was the Sunday after Christmas, the night from Saturday to Sunday", Oliver Pocher begins his story. " It happened that you felt a certain form of labor and couldn't sleep at night."
" Somehow I felt: something is wrong there"
Amira found the contractions particularly intense: " Somehow I felt that something was wrong. That can't be. " At some point it was four o'clock and the contractions got worse and worse." I said: Oli, that's no longer funny. We have to go to the hospital. And then it happened very quickly. "
How quickly – but that astonished Oliver Pocher. About the midwife he said: "I couldn't look that fast, she was already wearing the rubber glove and was already with …"
When Oliver Pocher is about to describe how the midwife was doing with Amira, she interrupts her husband. That gets a little too intimate for Amira: " Oli, you don't have to tell that exactly now." But yes, the midwife just has to see if the cervix is ​​open, says Amira. " Of course they do it that way. Do you think she's going in there with a ruler or something?"
Oliver Pocher apparently found it strange: " But when it is the first thing you see in the morning, how the rubber glove is rummaging around in you …"
" Yes, believe me, it was a bit more uncomfortable for me than it was for you", Amira counters. The investigation was carried out during a contraction. "I was in such pain," says Amira. "I can't go on," she said to the midwife.
The cervix was already slightly open when the midwife examined it. Thereupon Oliver Pocher was asked to officially register at the hospital again. "Then I went down to the registration desk, and when I got up again, Amira was gone."
"The uterus was torn open"
This was followed by delivery. And it quickly turned out: this will not be an easy birth.
" Already in the operating room they said: The uterus was torn open. The little one was already out of the uterus. I was already bleeding inside and it could have turned out really bad if we had taken a little longer, "says Amira.
" That was really close to," Amira quotes a nurse who approached her after the birth. " You were really lucky there."
Only then did Amira understand how serious her situation was in between. And why she was in such intense pain. However, the little one should not have been in danger at any time. " For me it was a bit more critical."
The child was finally born by caesarean section, safe and sound. And Amira is fine again. Only days after the birth, she really wanted to put up another shelf, says Oliver Pocher, amused. So everything went well again!
(this)


[ source link ]
https://www.watson.de/unterhaltung/tv/337572442-amira-pocher-spricht-ueber-geburt-ich-spuerte-da-stimmt-was-nicht

#Amira #Pocher talks childbirth felt wrong