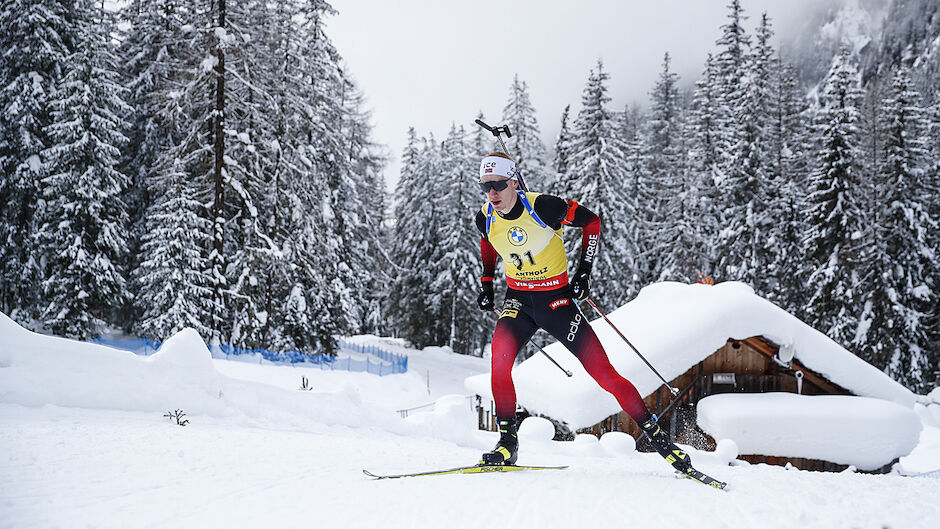 Photo: © GEPA
Antholz – Sunday, January 24th, 2021, 4 p.m.

The men's mass start competition in Antholz becomes a clear matter for Norwegian top star Johannes Thingnes Boe.
The 27-year-old shoots only one mistake and runs to a dominant win ahead of the Frenchman Quentin Fillon Maillet (2 mistakes / + 31.3 seconds) and the Slovenian Jakov Fak (1 mistake / + 44.2 seconds).
The best ÖSV athlete is Simon Eder, who has been in the race for the podium for a long time, but misses a place in the top three with his second mistake in the last standing attempt. In the end it was enough for eighth place (2 errors / + 57.8 seconds).
The other Austrian starters David Komatz, who finished 16th with just one shooting error and 1: 30.1 minutes behind, as well as Felix Leitner, who has to go into the penalty loop five times and crosses the finish line in 29th place, more than three minutes behind at the World Cup dress rehearsal in the back field.
After a two-week break, the world championship (February 11-21) is already coming up in Pokljuka, Slovenia.


Text which: © LAOLA1.at
ICE Hockey League: First Innsbruck win against the Caps since 2018
to the top » COMMENTS..
Legal Notice:
The comments of the users do not necessarily reflect the opinion of the LAOLA1 editorial team. LAOLA1 reserves the right to delete comments without giving reasons, especially if they violate criminal or civil law norms, contradict common decency or otherwise run counter to LAOLA1's reputation. We refer in this context in particular to our Terms of Use. In such cases, the user cannot assert any claims. Furthermore, Sportradar Media Services GmbH reserves the right to assert claims for damages and to report offenses relevant to criminal law.


[ source link ]
https://www.laola1.at/de/red/wintersport/biathlon/news/biathlon–johannes-thingnes-boe-dominiert-massenstart—eder-8-/

Biathlon Johannes Thingnes Boe dominates mass start Eder