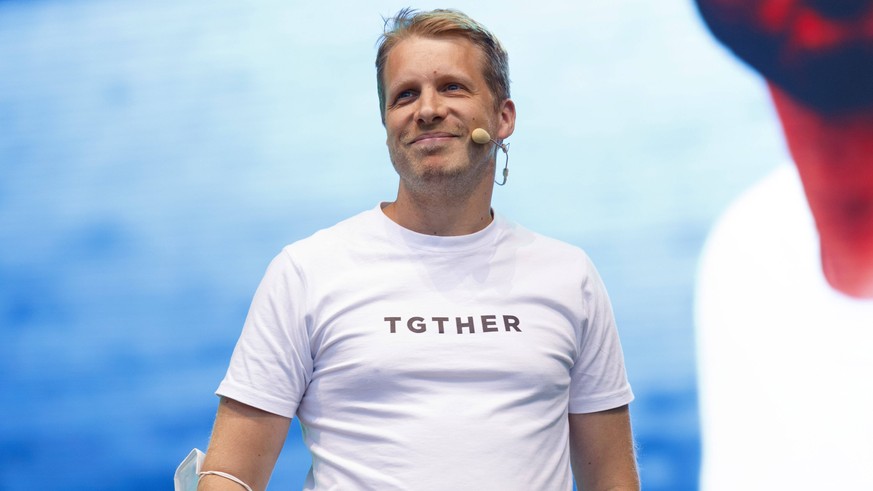 Oliver Pocher no longer wants to see Michael Wendler on Instagram. Image: imago images / Christoph Hardt
After a concentration camp comparison: Oliver Pocher wants Wendler's Instagram account to be blocked
Michael Wendler has been making a name for himself for months through crude conspiracy theories surrounding the corona pandemic, but now he has finally overstepped the curve with a concentration camp comparison on Telegram. RTL reacted on Wednesday and announced that it would remove the singer and former "DSDS" juror from all upcoming episodes of the casting show.
Oliver Pocher has been criticizing the 48-year-old for months anyway and took up Wendler's latest derailment in his video format "Screen Control". In it, the comedian advertises that the Instagram channel of the "don't care" artist will be deleted. Ex-jungle camp participant Chris Töpperwien also mobilized his fans virtually for the purpose.
Pocher accounts with Wendler
Wendler commented on the government's current measures in relation to the corona crisis with the following words: "Germany concentration camp ??? It is just bold what this government is allowing itself". Later he rowed back and explained that by "concentration camp" he meant "crisis center". Oliver Pocher is not at all impressed by this and says:
"To compare a concentration camp with Germany, that's pretty much the most anti-social thing I've ever heard," the "dangerously honest" moderator rather states. In this context, Pocher calls for clear effects and speaks directly to Wendler: "I just want the consequences. And the consequences must hit you financially and simply through disregard. And it will all happen! "
When the comedian holds Wendler's self-promotion for his Telegram channel in the camera right at the beginning of the clip, he even becomes concrete:
"There it is, your shitty Telegram channel. Wherever I'm slowly thinking: Hey Instagram, do Wendler a favor and close his Instagram account. I mean, Jan Leyk's channel is being closed because of other banalities, but Michael Wendler … hm, just think about it! "
In later Instagram stories, Pocher then posted screenshots of other users who apparently have already reported Wendler's account. This in turn can be seen as a clear request to all of his followers to do the same.
Oliver Pocher calls on his fans to take action on Instagram. Image: Oliver Pocher / instagram
Töpperwien also wants consequences for Wendler
The entrepreneur and reality TV star Chris Töpperwien has also not kept quiet with his opinion about Michael Wendler in the last few weeks. As one of his new Instagram stories reveals, he noted Wendler as a "dangerous organization or person" on or for Instagram. He also commented on the corresponding screenshot:
Chris Töpperwien also reported the Wendler on Instagram. Image: Chris Töpperwien / Instagram
After Wendler will no longer take place in the RTL program, his Instagram account could soon be history. His ex-manager Markus Krampe already prophesied: "Michael Wendler will never be on stage anywhere again. He will never be on a TV show and he will never make any money again. "
(ju)


[ source link ]
https://www.watson.de/unterhaltung/stars/936167277-kz-vergleich-pocher-will-wendler-account-sperren-lassen

Concentration camp comparison Pocher block Wendlers account