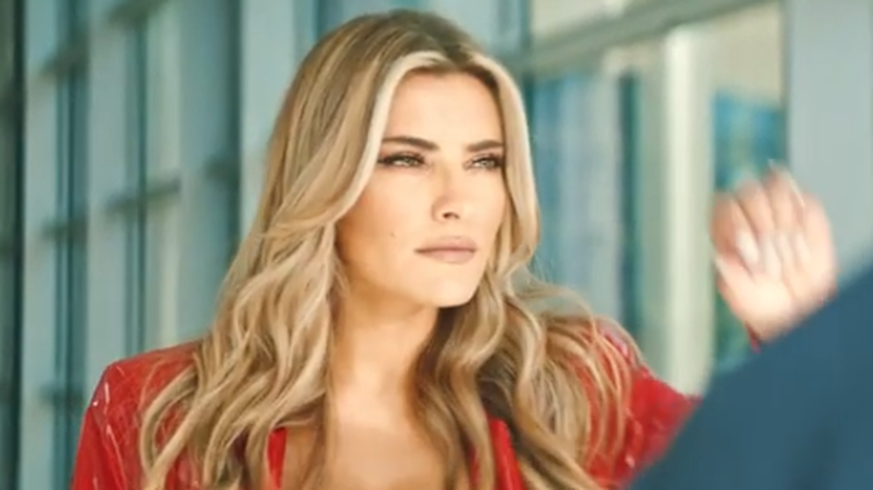 Sophia Thomalla advertises G999. Bild: screenshot youtube.com / GSB
Sophia Thomalla advertises dubious company and receives criticism
She recently proved that Sophia Thomalla doesn't just cut a good figure on television. Since the end of 2019 she has been an investor and partner in the start-up Schüttflix, a digital trading platform for building materials. But that shouldn't be her only involvement in the digital field. Now she is promoting another digital company. Sophia Thomalla is primarily criticized for this.
Because Sophia Thomalla is promoting a crypto project, the founder of which, according to media reports, should have a dubious past. Sophia Thomalla advertises G999, a blockchain project by the Hamburg Gold Standard Banking Cooperation AG (GSB). This company belongs to the entrepreneur Josip Heit, who is well known and controversial in the crypto scene, as the "Handelsblatt" reports.
According to the report, at the end of 2019 the financial regulator ordered the reversal of Heit's virtual currency "Karatgold Coin", which is said to have brought investors millions. The crypto currency should be backed by gold reserves, but the Koblenz public prosecutor had doubts about the existence of these reserves.
Sophia Thomalla in the new commercial. image: screenshot
Thomalla advertises controversial crypto project
Thomalla is now promoting G999, the controversial entrepreneur's new project. G999 is a "peer-to-peer electronic cash system", it says on the project website, which is to become a "solid global currency with fast payments, micro-fees, a new generation of communication and high transaction capacity". According to the "Handelsblatt", however, it is unclear what exactly is behind the project. The crypto scene was at least already critical in the social networks when it comes to the product. And this skepticism and criticism is now also countering Sophia Thomalla.
She played in a lavishly produced advertising clip for G999. The spot shows Sophia Thomalla in the banking district of Dubai, where she personally wants to open an account in a futuristic bank branch with entrepreneur Josip Heit. At the end you can see Thomalla swinging a big golden hammer with which she smashes huge gold nuggets. As in a Super Mario game, a gold coin with the embossing "G999" pops out.
Sophia Thomalla also shared a video on Instagram that saw the clip run in New York's Times Square and wrote:
Sophia Thomalla's lawyer comments
However, some of Sophia's followers see the new cooperation partner critically. "The perfect reason to unfollow you. What some do for money," commented a follower, among others. As a precaution, the comments on the commercial from GSB have been completely deactivated on YouTube.
Sophia Thomalla's lawyer only informed the "Handelsblatt" about the matter that his client would not comment on matters "of which she has no knowledge and in which she was not nor is involved".
(if)


[ source link ]
https://www.watson.de/unterhaltung/prominente/285299560-wirbel-um-dubiose-werbung-sophia-thomalla-erntet-kritik

Confusion dubious advertising Sophia Thomalla receives criticism