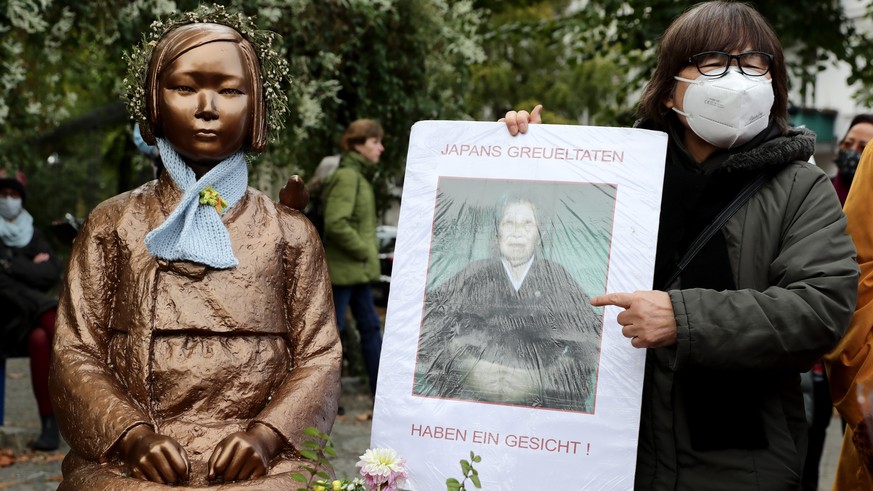 Court: Japan should pay for former sex slaves
The grief is still great. Image: keystone
According to the decision of a South Korean court, the Japanese government should pay compensation for twelve victims of sexual slavery by the Japanese military in World War II.
In the civil case, the central district court in Seoul awarded each of the Korean plaintiffs 100 million won (74,500 euros) on Friday. South Korean media reports that only five of the twelve plaintiffs are still alive. Their families are to receive compensation for the plaintiffs who have already died.
According to historians' estimates, up to 200,000 women, mainly from Korea and China, were forced to serve soldiers of the Japanese imperial army in front brothels during the Second World War.
The victims had "extreme mental and physical pain" caused by the injustice they had suffered, the verdict said. But so far they have not received any compensation.
Japan is unlikely to bow to the verdict. The Japanese government refused to participate in the process, invoking state immunity, according to which one state cannot sit in court over another. Tokyo also sees the issue of compensation as concluded by a bilateral treaty of 1965. The dispute over compensation for sex slaves and former forced laborers from Korea has strained relations between the two countries for decades.
The trial in South Korea has been postponed over and over again in recent years because Japan refused to accept preparatory briefs from the court. The court hearings only began last year. (aeg / sda / dpa)
THANK YOU FOR THE ♥
Would you like to support watson and journalism? Learn more
(You will be redirected to complete the payment)
You might also be interested in:
Subscribe to our newsletter


[ source link ]
https://www.watson.ch/international/asien/869564557-gericht-japan-soll-entschaedigung-fuer-ehemalige-sexsklavinnen-leisten

Court Japan compensate sex slaves