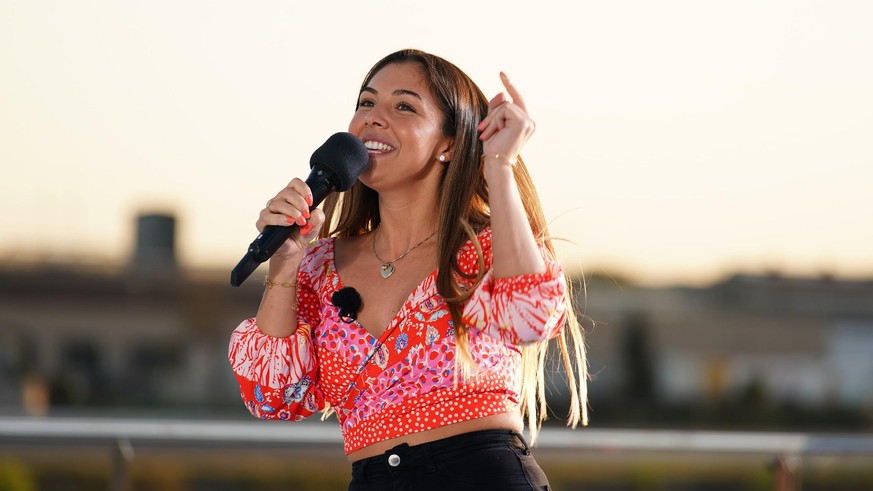 "DSDS" candidate Katharina Demirkan brought the jury to the verge of desperation. Image: screenshot tvnow
Candidate back at "DSDS" after ten years – jury completely annoyed
Reunion after ten years: Katharina Demirkan tried her luck with DSDS "in the season of Sarah and Pietro Lombardi. At that time, she retired in the international recall in the Maldives shortly before the live shows. After that, she disappeared from the scene, now she wants they prove it to Dieter Bohlen again.
In the sixth casting episode of "DSDS" Katharina appeared before the jury again. Dieter Bohlen knew immediately – thanks to clever notes that the jurors had previously given about the candidates. He also directly praised her courage to try again:
"DSDS" candidate annoys the jury
But his opinion is likely to have changed when Katharina began to tell the jury about her entire life story from the past ten years. She couldn't get out of talking. Bohlen was already yawning and Maite Kelly also seemed latently annoyed.
Katharina Demirkan already competed ten years ago. Image: TVNOW / Stefan Gregorowius
Katharina reports that at the age of 16 she led a real luxury life. Thanks to her wealthy parents, she lacked for nothing. Villa, big car – everything was always available. But then the parents separated, her father now had a girlfriend who was as old as she was and the father would also have taken the fortune with him.
She is now far removed from the old luxury life and has only sung for herself at home in recent years. The money was not there for singing lessons. Nevertheless, she wants to try her luck again.
Nasty name faux pas at the casting
But instead of just singing, she talked to herself. When she then addressed Maite Kelly as "Kelly", it got really uncomfortable. "My name is Maite," the juror burst out. But even this clear hint seemed to simply ignore the candidate. Bohlen and his colleagues almost looked as if they would like to chase Katharina straight off the stage – even before the singing.
The jury had to hear a lot from Katharina. Image: screenshot tvnow
Even when it came to naming the titles she had prepared for the performance, the 26-year-old just didn't get to the point. After what felt like an eternity, the candidate actually sang the first note. She tried a Sarah Lombardi song, of all things – and did not disappoint.
"I really like Sarah's singing", said Bohlen and paid Katharina a real compliment: I have to say, you sang it just as well. "For Katharina Demirkan it was like an accolade. Tears even flowed with joy.
Candidate sings like Sarah Lombardi
Maite was also enthusiastic about the voice, but she couldn't help but give a swipe. Katharina should do her a favor and not play the pitiful numbers, because no one feels sorry for a rich girl who is not doing so well, she noted.
When Katharina disappeared from the stage, Bohlen couldn't help but say something: "That was really on the tear gland." But it was enough for the recall.
(if)


[ source link ]
https://www.watson.de/unterhaltung/tv/489783419-dsds-kandidatin-nach-zehn-jahren-zurueck-bei-bohlen-jury-voellig-genervt

DSDS Candidate Bohlen ten years jury completely annoyed