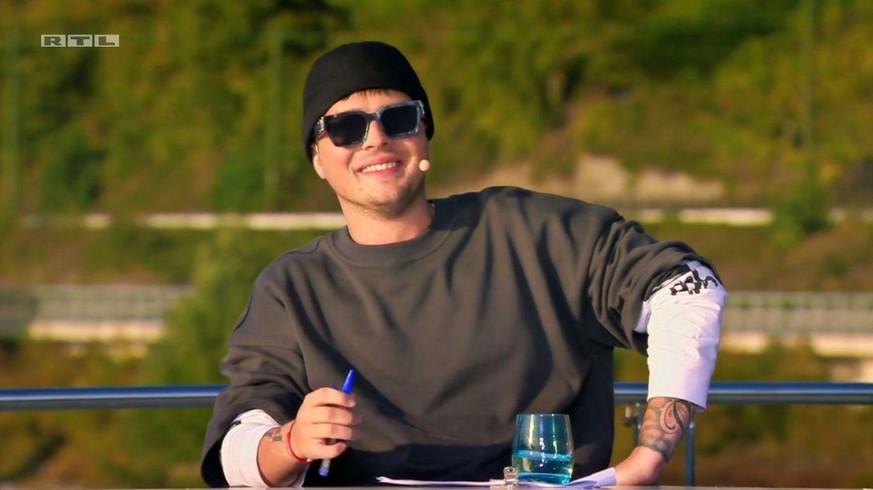 A "DSDS" candidate was apparently a hopeless case for juror Mike Singer. Image: TVNow / screenshot
"DSDS": Mike Singer goes to the toilet during the appearance of the candidate
Dieter Bohlen is known at "DSDS" for not being squeamish about the candidates. In the current season he has Mike Singer at his side, who has already made one or two clear announcements. As a result, on Saturday evening, a candidate got the full broadside from both.
The second edition of the 18th season began with Veronika Ilieva, who performed "Waka Waka" by Shakira with full physical effort. She even managed to provoke a spontaneous limbo from Mike Singer, Maite Kelly and Dieter Bohlen. But she didn't get a recall ticket.
"DSDS" jurors with tough judgment
"You entertained us. It was fun," said Dieter Bohlen at the beginning. But then the mood quickly changed, because his next sentence was: "But you can't sing!" Veronika, however, was self-confident and asked in broken German to be allowed to perform "Bleeding Love" by Leona Lewis. Bohlen's tough comment:
"DSDS" candidate Veronika had a difficult time with the jury. Image: TVNow / screenshot
Mike Singer only agreed with his colleague: "You can't sing anything," he said succinctly. Since Veronika couldn't convince any of the four jury members with her first performance, Bohlen wanted to send her home, but the participant persisted: "But I can really sing," she pleaded with the jurors. Eventually Bohlen gave in, but that only continued the humiliation for the 28-year-old.
During "Bleeding Love" Maite Kelly and Bohlen fooled around with each other and Mike Singer spoke up again – but not to evaluate the vocals. Rather, from the participant's point of view, he addressed a somewhat disrespectful request to chief juror Bohlen:
Obviously, the 20-year-old had finally heard enough and Bohlen broke off the performance shortly afterwards, unsurprisingly: "But now you go too, right?" Of course, Veronika didn't have a serious chance with "Bleeding Love" anyway, that's more than clear.
Shortly afterwards, Mike Singer apologized rather half-heartedly for having left the toilet in the meantime: "I had to go to the toilet at some point. I'm sorry I couldn't listen anymore. But it didn't make any sense anymore anyway."
Otherwise, the second edition of the current "DSDS" season was all about Michael Wendler, although he was no longer to be seen. RTL made its announcement true and completely removed the singer from the show after he posted a concentration camp comparison on Telegram as a comment on the current corona measures during the week.
(ju)


[ source link ]
https://www.watson.de/unterhaltung/tv/326805029-dsds-mike-singer-mit-respektloser-aktion-bei-auftritt-von-kandidatin

DSDS Mike Singer disrespectful action candidate appears