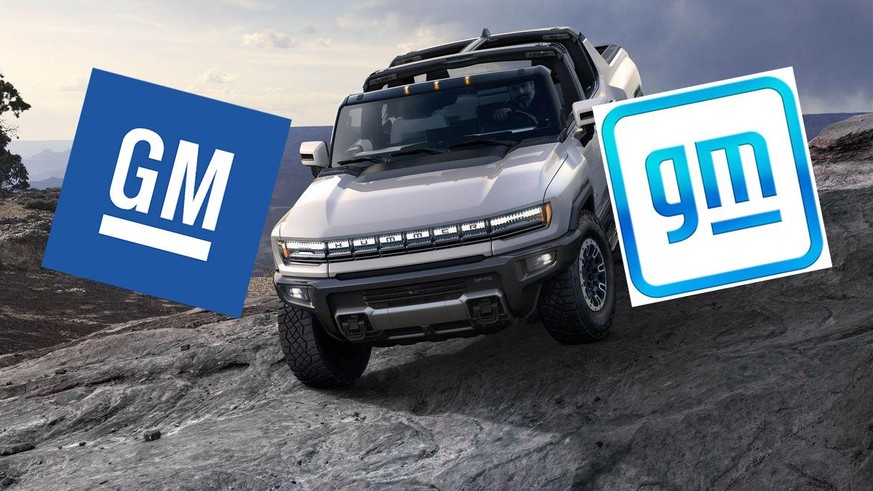 Automaker GM is changing its logo design and everyone is going crazy
Noticed? Auto giant General Motors has changed its logo.
Click on the picture to see the new logo!
And suddenly everyone SOWAS VON is excited. And above all annoyed.
Why the fuss? Because if something is changed that we have known since childhood and is therefore stored in our heads as a "constant", we are confronted with our mortality. Our childhood is over. Howl. A little too philosophical? Well, GM's old brand logo had remained more or less unchanged since the 1960s. Reassuring unchanged. And now this:
Well, it actually doesn't look like a car company, but … like an app. And so the new logo makes perfect sense, as GM wants to reposition itself as an electric vehicle manufacturer (you've probably already seen the new E-Hummer). A nice detail in the new logo: the negative area between the 'M' and the underlining looks like an electrical plug.
Several other car brands have adapted their logos accordingly. Maybe not as starkly changed as GM, but … oh, look for yourself! BMW, for example:
Or Citroën:
Yep, they are two of a number of well-known car brands that switched from 3D to 2D:
The newest member of the group is KIA:
So the car brands are following a bigger trend: Flat design – simplified, two-dimensional Logos are better reproduced on screens and in miniature form as app icons. The app market has long since implemented this. Do you remember what Instagram looked like before 2016?
2011 (left) vs 2016 until today.
And so the three-dimensional logos that were popular with automotive companies in the 1980s and 90s also had to go. These logos had reflections and texture to represent what the metal and enamel badges would look like on a real car. Skeuomorphism is what that's called – a great term, but one that has fallen out of favor as digital communication takes precedence and logos are now primarily designed with screens in mind.
General Motors is apparently taking a step backwards, as the new logo has a reflection. "Did they dig that out of a trash can from 1995?" Asked a Facebook user. A GM spokesman told the Detroit Free Press that the light blue and the reflection of the logo should "remind of the clear sky that an emission-free future will bring". And: "The new logo should be a modernized version of the blue GM trademark and at the same time be an allusion to GM's legacy".
Well, General Motors – analogous to FCA, PSA or Daimler AG – is a corporation, not a car brand. Chevrolet, Daewoo and Hummer logos are emblazoned on the radiator grilles of his cars, but not GM. And: GM has presented three variants:
Flat Design – there we have it!
Several car brands have changed their logos over the decades, some drastically. Here are just a few of them:
THANK YOU FOR THE ♥
Would you like to support watson and journalism? Learn more
(You will be redirected to complete the payment)
Forget brand logos! Hood ornaments – they were really cool!
Subscribe to our newsletter


[ source link ]
https://www.watson.ch/leben/auto/534313053-general-motors-veraendert-sein-logo-design-und-alle-drehen-durch

General Motors changed logo design nuts