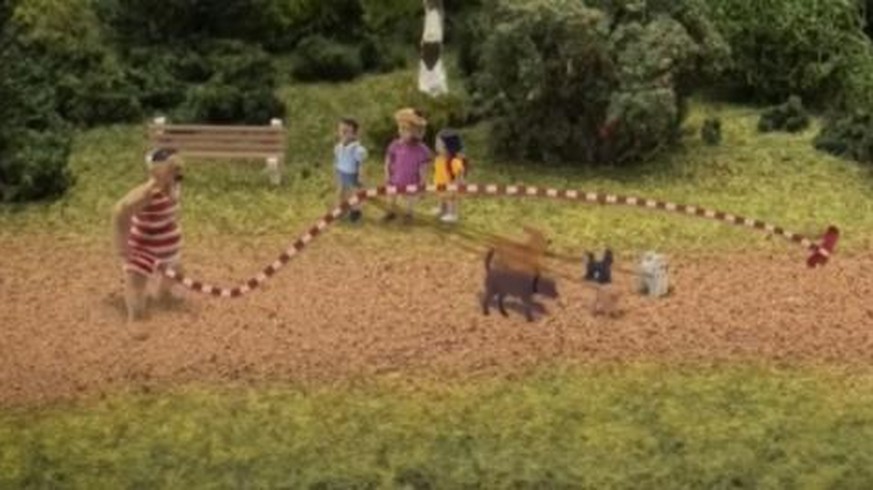 Giant penis in Danish children's series causes controversy
A man in a bathing suit flicking his genitals through the air like others do a boomerang: Is that funny? Or perverted? "John Dillermand" is a success on Danish children's television – but it does not go unchallenged.
John Dillermand: This man with the huge penis sparked discussions. Image: Screenshot / DR
He swings it like a lasso, using it to pull balloons out of the air or stop cars at a busy traffic intersection. "John Dillermand" and his gigantic figure are a hit in Denmark – and cause a sensation with their blunt staging. The production of the public broadcaster DR runs on the Danish children's program and, according to its own statements, is aimed at adolescents between the ages of four and eight.
A man with an uncontrollable giant penis who is on children's television? Would a shit storm be programmed in this country if SRF emphasized the educational added value for four-year-olds with such a series? After all, the penis is an abstract member. In its stop-motion staging, it seems more like infantile anarcho-humor, less like a phallic gesture, and in shape and length is reminiscent of the tail of Marsupilami.
There is still criticism. Christian Groes, gender researcher at Roskilde University, told the British newspaper The Guardian: "The series upholds the standard notion of a patriarchal society and normalizes the 'locker room culture' that has been used to excuse a lot of bad behavior by men . " And the writer Anne Lise Marstrand-Jørgensen asks: "Is that really the message we want to send our children while we are in the middle of a big MeToo wave?"
"Children find genitals quite funny"
The Danish child and family psychologist Erla Heinesen Højsted, on the other hand, takes the series under protection and judges: "'John Dillermand' speaks to children and shares their way of thinking – and children find genitals quite funny." The series hero takes responsibility for his actions when he crosses boundaries: "If a woman in the series tells him, for example, to keep his penis in his pants, he listens. That's nice."
The Danish broadcaster also reacts to the criticism of "John Dillermand". You might as well have made a series "about a woman with no control over her vagina". From a purely anatomical point of view, the serial producer should certainly pose problems. However, a sculpture in Brazil recently demonstrated that giant volvas can also cause a sensation: There it was mainly men who took offense at the female genitals – and were concerned about the effect on children.
(sow/t-online)
THANK YOU FOR THE ♥
Would you like to support watson and journalism? Learn more
(You will be redirected to complete the payment)
15 design fails in schools
Do NOT get one of these types of interns!
You might also be interested in:
Subscribe to our newsletter


[ source link ]
https://www.watson.ch/international/skandinavien/450280817-riesenpenis-in-daenischer-kinderserie-loest-kontroverse-aus

Giant penis Danish childrens series controversy