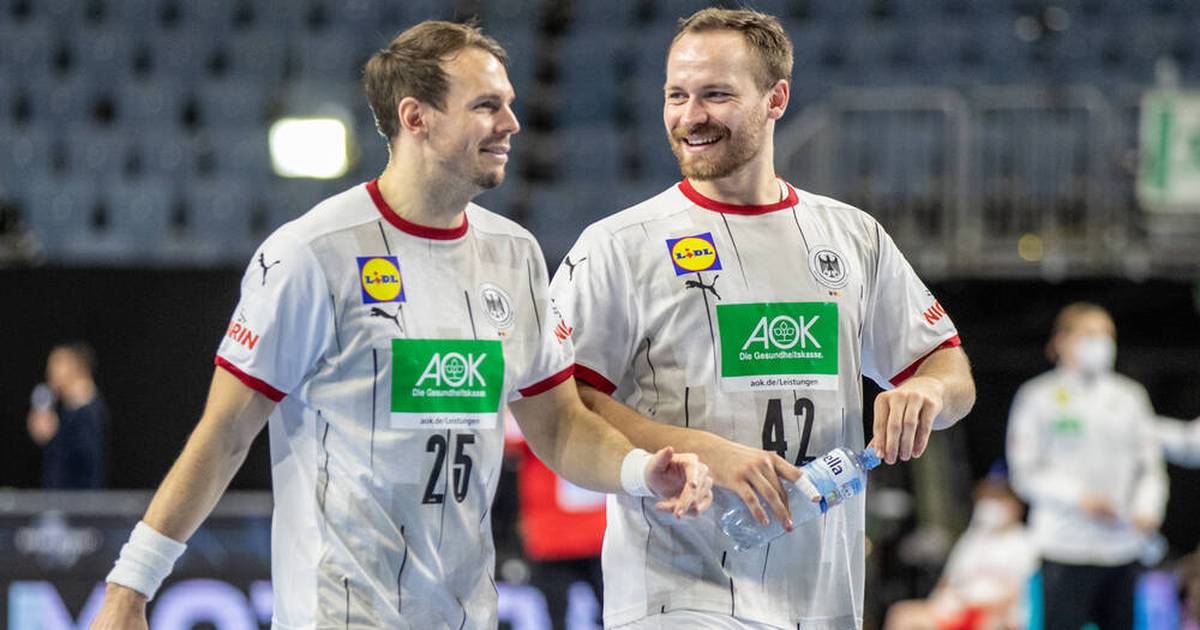 It is only the third game for the German team at the Handball World Cup in Egypt and yet an all-or-nothing game is already ahead.
After the unfortunate 28:29 defeat against Hungary, Germany started the main round with 2-2 points – the starting position could really be better. On the way to the desired World Cup quarter-finals, the protégés of national coach Alfred Gislason are already under a lot of pressure in the first main round match against Spain. (Schedule & Results of the Handball World Cup)
"If we want to climb the table, we have no choice but to score points against Spain," said the Icelander. His team had to build on the second half of the Hungary game. " The team showed character and with this character we also have a chance against Spain."
Handball World Cup: Gislason makes changes in the squad
Gislason's personnel decisions against Spain were eagerly awaited. In the last group game, captain Uwe Gensheimer had to be content with a seat on the bench at the beginning. Göppingen's Marcel Schiller was given precedence over the left wing of the Rhein-Neckar Löwen. (Service:
The most important rules for the Handball World Cup 2021)
But Gensheimer can start again against Spain. Even Gislason's regular goalkeeper Andi Wolff was not even allowed to play the full first 20 minutes against Hungary, but he also gained confidence again against Spain. Together with Gensheimer and Wolff, Philipp Weber, Julius Kühn, Kai Häfner, Timo Kastening and Johannes Golla start the attack.
Circle runner Moritz Preuss replaces back space player Antonio Metzner in the 16-man squad in contrast to the bankruptcy against Hungary.
Handball World Cup LIVE: Spain game decisive for quarterfinals
DHB Vice President Bob Hanning also emphasized the importance of the duel: "It will be incredibly difficult now," said the 52-year-old and described the game against Spain as an "all-or-nothing game: we have to win the game to make it." still in hand. " (Tables of the Handball World Cup)
The motto against the European champions is now, "Make fewer mistakes and be in the defense from the start, otherwise it will be extremely difficult for us," said Gislason.
The Iberians are "an average age ten years older than us.
The y are extremely experienced and have won all the titles.
The y make few mistakes, almost everything has to fit. We have to have a very good day." (This is how the handball World Cup 2021 works)
Handball World Cup 2021: Gensheimer back on the bench?
Other German opponents in the main round are Brazil (Saturday) and Poland (Monday).
The first two of the main round group I qualify for the quarter-finals – which is also the declared goal of the German team. "We have to get a much better inside block in the main round," said Gislason.
Test DAZN for free and experience sports highlights live & on demand | DISPLAY
Handball World Cup today: The data for the 3rd game of the DHB team
Start of the game: 8.30 p.m.
Venue: New Capital Sports Hall (Cairo, Egypt)
Handball World Cup today: This is how you can follow Germany – Spain LIVE:
TV: ZDF
Stream: sportdeutschland.tv, zdfsport.de
Overview games: All games of the Handball World Cup from today SPORT1.de
Ticker: Germany – Spain in the Handball World Cup live ticker on SPORT1.de and SPORT1 App
Conference live ticker:Handball World Cup live ticker Sport1.deandSPORT1 App


[ source link ]
https://www.sport1.de/handball/wm/2021/01/handball-wm-deutschland-spanien-heute-live-im-tv-stream-ticker

Handball World Cup Germany Spain today LIVE stream ticker