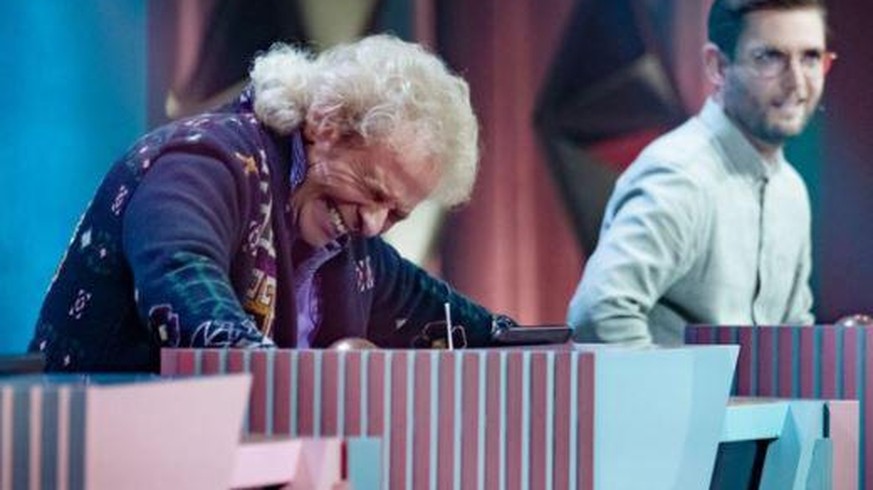 For Joko Winterscheidt his show "Who steals the show from me?" not round. Image: ProSieben / Claudius Pflug
"It's not fair": Joko Winterscheidt has to give his own ProSieben show
In an almost historic duel, entertainment giant Thomas Gottschalk steals moderation "newcomer" Joko Winterscheidt the show – namely his own. "Age before coolness", could be summed up now, if the new moderator did not come up to an outrageous new casualness himself.
"I seem to be super-intelligent," sunbathed Joko Winterscheidt, dressed in fine pinstripes, also in the third edition of "Who is stealing the show from me?" (ProSieben) in the well-deserved success of his show debut. The 42-year-old had already triumphed twice over his advice panel Palina Rojinski, Thomas Gottschalk and Elyas M'Barek, that he, completely the emcee, stepped off with relish in his sparkling white sneakers at the beginning.
Light-footed appearance is already a trademark of the simple but surprisingly effective format, and Joko could be his permanent sovereign – if it weren't for the unfortunate circle in the GDR's national coat of arms, the crucial question in Goethe's (there was "Fack ju Göhte" star Elyas M 'Barek already retired …) "Faust" and other cliffs that a unable-to-be German teacher from Kulmbach in Franconia shook out of his eye-catching patterned sleeve in a loose, golden curl.
In a cardigan reminiscent of Tetris on an oriental carpet, Thomas Gottschalk outshone the fine-ply Winterscheidt – and won the show not only as a winner, but all for himself.
Thomas Gottschalk threatens the mustard jar
But one after the other. After the successful first two episodes, in which Joko easily overtook his friendship-bound competition, he meets tough motivation in episode 3: "I fight more with my mouth than with my head", Gottschalk named his core competence and left himself the option of "dipping Joko Winterscheidt into a mustard jar" if necessary.
Show teeth and everything on attack: But wildcard candidate Mark (27) also has to admit defeat to the (almost) omniscient Thomas Gottschalk. Image: ProSieben / Claudius Pflug
The moderator's car tires are no longer entirely safe, said Elyas M'Barek after his multiple victory, while the new wildcard candidate Mark (27) from Hamburg Ödnis ("Joko's call was relatively boring") in a fresh breeze ("
The man has been in the business long enough now, and a little new wind is needed "). His warfare agent is soft and creamy: Mark eats "mozzarella like apples" – simply out of hand. "What for?" Agrees pragmatist Gottschalk. Tomatoes "and all that kind of thing" take much too long.
Nasty "broom closet" tip against Boris Becker
It falls to the avowed yoga fan Palina Rojinski to bring grounding into the aggressiveness. "I like to breathe in and I like to breathe out", is her commitment to life support.
The fact that the air required for this consists more of nitrogen than the suspected oxygen is a minor matter or rather part of the "Very, very easy questions" section, which according to Joko is almost "Kindergarten" this time.
In a historic showdown, Thomas Gottschalk snatches the show from Joko Winterscheidt: It doesn't just stunn the entertainment legend. Image: ProSieben / Claudius Pflug
Having outgrown this stage helped play
The Laziest Band in the World, a song puzzle with songs that are played extremely slowly. "I can only do Beatles", warned Gottschalk at the beginning, but nothing there: Even with music, educated citizens can trump Gottschalk, after all with self-reflection: "It's not fair."
Whether it is fair to symbolize Lady Gaga with steaks, Daniela Katzenberger with nail polish and lipstick and Boris Becker with a broom in the game "People, Pictures, Emojions" remains to be seen. Elyas M'Barek demonstrated great visual comprehension, who also ran into high form in the section "A Matthias does not make rhyme" ("It's the best, I love the Oktoberfest"). He proved suitability for everyday use by knowing the postage costs of a letter, while Thomas Gottschalk was amazed at "this strange single", which falls in love with new people every eleven minutes, according to a well-known dating app advertisement.
Joko Winterscheidt: "As long as you put your feet under my show …"
Love singles or not: After M'Barek, Rojinski and Mark had to go home in the rain, Gottschalk made a promise in the final duel. "From tomorrow you will have a reasonable name", he promised the "Mighty Winterscheidts". If he controls the entire show in the near future, he'll be happy to control the band too. "You are still a guest here", Joko warned him: "As long as you put your feet under my show …"
The year the euro was introduced, the colors on Obelix's pants, the crucial question and a certain age equality (Joko: "He just makes a decision and sticks to it") nonchalantly led Gottschalk to victory and a tastefully framed moderation contract à la "employee of the Month ". According to the newly elected WSMDS presenter, the "Mighty Winterscheidts" are looking forward to a not inconsiderable makeover: "Black hat, sunglasses – how about '
The Heisenbergs'?"


[ source link ]
https://www.watson.de/unterhaltung/tv/542487691-gerecht-ist-das-nicht-thomas-gottschalk-stiehlt-joko-die-prosieben-show

fair Thomas Gottschalk steals ProSieben show Joko