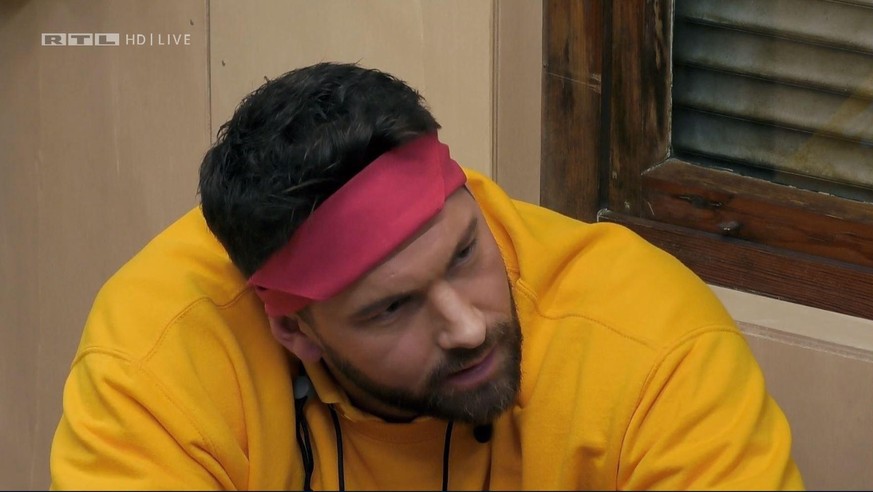 Oliver Sanne talks about his "Bachelor" time. Image: screenshot tvnow
Jungle camp
Ex-Bachelor moves in – viewers rage immediately
Oliver Sanne tried his hand at a bachelor's degree in 2015, now he's not vying for the heart of a candidate, but for the "golden ticket" to Australia. But after just a few minutes, the audience has had enough of the macho sayings of the former Mister Germany. At the start, the 34-year-old was uncomfortable when he talked about his relationship status (engaged): "Actually, I wanted to put it in good German to make a note." Surprisingly, it turned out to be more. During the "celebrity boxing", he proposed live to his chosen one, Jil Rock.
But shortly after the "jungle show" started there was one or two sayings from Sanne. After candidate Christina Dimitriou finally got into the limo, he suddenly said as the two put on their clothes for the tiny house: "So Christina, that you would pull your pants down on the first date, I would not have thought." But the lewd remarks were far from over, as should show after moving into the 18 square meter room.
Oliver Sanne puts one macho phrase after the next
Sam Dylan quickly stated: "Oliver is a little womanizer." The n he wanted to know more precisely how things actually went with the "Bachelor". Was it hot on the overnight dates? "That is the goal," replied ex-Bachelor Oliver. And further: "I'm not a child of sadness, petting and so we did."
The "Prince Charming" candidate was not yet satisfied with this answer: "How would you describe that?" Oliver laughed and finally said: "I'll show you tonight."
The statement should be a little joke from Sanne.
Christina and Oliver after moving into the tiny house. Bild: screenshot tv now
Also about the first time the ex-bachelor started to chat relentlessly in the consulting room: "
The first time … We felt like five times the first time. Once I couldn't because I was too excited," said Oliver, flexing his index finger. "
The n she couldn't."
Anyone who already thought that you really don't need more information received a lookup from Sex-Talk-Oliver. It got smeary:
And Oliver Sanne also had a clear opinion about beauty ops and said about his opponent Christina in the "jungle show": "I don't think Christina is an ugly girl. At some point the made chickens all look the same."
When he later poured wine for Christina, it was also uncomfortable: "I'm going to invite you sweetheart, I'm in patronage mode today," he told her.
The re was a lot of criticism on Twitter after Oliver's sayings. Many viewers criticized the way the Bachelor speaks about women.
(games)


[ source link ]
https://www.watson.de/unterhaltung/dschungelcamp/548880166-dschungelcamp-zuschauer-wueten-ueber-ex-bachelor-der-sollte-sich-schaemen

Jungle camp viewers rage exBachelor ashamed