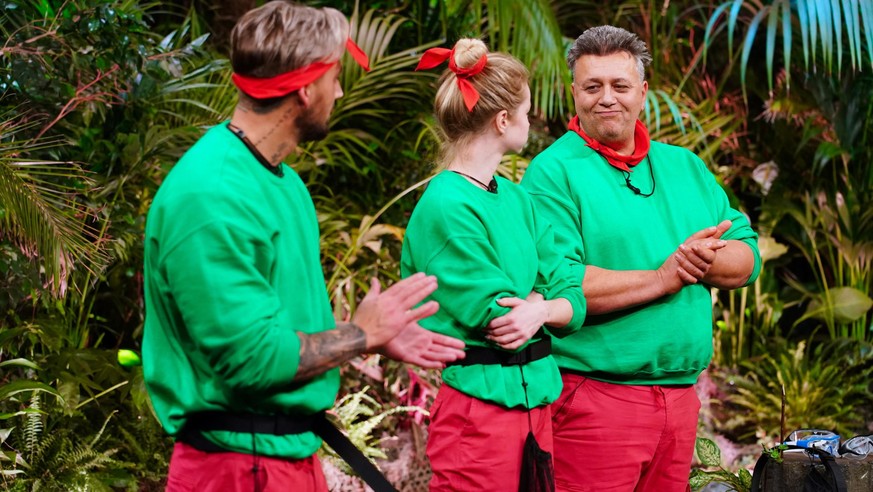 Mike Heiter, Zoe Saip and Frank Fussbroich at a "jungle show" exam. RTL is saving money on the candidates' fees this year. Image: TVNOW / Stefan Gregorowius
Jungle camp
Reduced fees: This is what the "jungle show" candidates should earn in 2021
An incentive for potential jungle camp candidates that should not be underestimated is always good money. At this year's "Jungle Show", which is being shot in a Cologne studio, it is no different. Although this time it's "only" about the golden ticket for the next regular jungle camp in Australia, RTL still wanted to create incentives. The winner can look forward to 50,000 euros in prize money. Nevertheless, it is noticeable: Compared to previous jungle camp seasons, the station saves a lot.
Each of the twelve applicants collects a certain fee – and it is not the same for everyone. Compared to the "Abendzeitung München", the industry insider Julian FM Stoeckel now valued the merit of the individual (would-be) stars. He knows his way around, because on the one hand he took part in the jungle camp himself in 2014 and he also accompanies a live quiz on "rtl.de" for the current season.
Furthermore, watson asked Matthias Mangiapane another ex-camper about the assessment of Stoeckel.
The 37-year-old took fifth place on the show in 2018.
That is how high the "jungle show" fees should be
According to Stoeckel, Frank Fussbroich is the top earner of all "jungle show" candidates. With an estimated 65,000 he is relatively close to ex-Playmate Bea Fiedler, who should bring it to 60,000 euros.
The bronze medal therefore goes to Mike Heiter. He is supposed to get 45,000 euros for moving into the tiny house, but that's noticeably beaten.
Frank Fussbroich should get the highest "jungle show" -Gage. Just stupid that he has already left. Image: TVNOW / Stefan Gregorowius
Behind him is Lars Tönsfeuerborn again with a larger gap in fourth place with 30,000 euros. Ex-Bachelor Oliver Sanne is to receive 25,000 euros, which brings it to 5th place. Xenia von Sachsen and reality star Filip Pavlovic allegedly both pocket 20,000 euros, while Djamila Rowe, Zoe Saip, Christina Dimitriou, Lydia Kelowitz and Sam Dylan together bring up the rear. All of them should get "only" 15,000 euros, according to Stoeckel's estimate.
Frank Fussbroich's possibly high salary did not bring any luck on the show, because on Sunday he was the first to be voted out by the audience. After all, his potential 65,000 euros are not the worst consolation for the fact that the other 50,000 euros victory bonus and the jungle camp in 2022 will go through his fingers.
That's what Matthias Mangiapane says
Matthias Mangiapane gave watson his own assessment of the "jungle show" fee based on Stoeckel's forecasts. His classification: "I really appreciate Julian as a very confident colleague with whom you can work really well. I've also seen his assessment and actually have the same opinion – maybe 5000 or 6000 euros up or down."
Maniapane also agrees with Stoeckel, especially at Fussbroich. He has an obvious explanation for the actor's lavish fee:
"I would also say that Frank Fussbroich was the most famous of this whole cast. He is a veteran of reality TV and has done well for years."
Frank Fussbroich stood in front of the camera for the documentary film series "Die Fussbroichs", which was released in 1990. That makes him one of the first German reality stars ever. This experience has apparently cost RTL a lot.
Incidentally, Maniapane also has personal sympathies for the 52-year-old and explains: "I think it's a shame that he's no longer in the race. In fact, he's someone you have to be fond of. And it has exactly this mixture that the jungle needs, this authenticity. "
Jungle camp fees have shrunk massively
A real jungle king or queen will not be crowned at RTL in 2021, rather the "jungle show" is merely a replacement for the original, which is not taking place as usual due to Corona. In the fee comparison, this is also very clear. At the jungle camp 2020, for example, Sonja Kirchberger was the absolute high earner with an alleged 150,000 euros – on the other hand, Frank Fussbroich's payment really looks a bit puny.
Sonja Kirchberger received the highest jungle salary in 2020. Image: TVNOW
For further classification: Danni Büchner earned 5,000 euros more than Fussbroich in the jungle camp in 2020 and ended up just sixth of all participants in the 14th season on the pay list.
The comparatively low fees are supposed to motivate the "jungle show" candidates all the more with regard to the golden ticket to Australia. In the upcoming jungle camp anniversary season, completely different amounts are likely to be waved.
(ju)


[ source link ]
https://www.watson.de/unterhaltung/dschungelcamp/689101897-rtl-dschungelcamp-gagen-2021-wer-am-meisten-geld-verdient

RTL jungle camp fees earns money