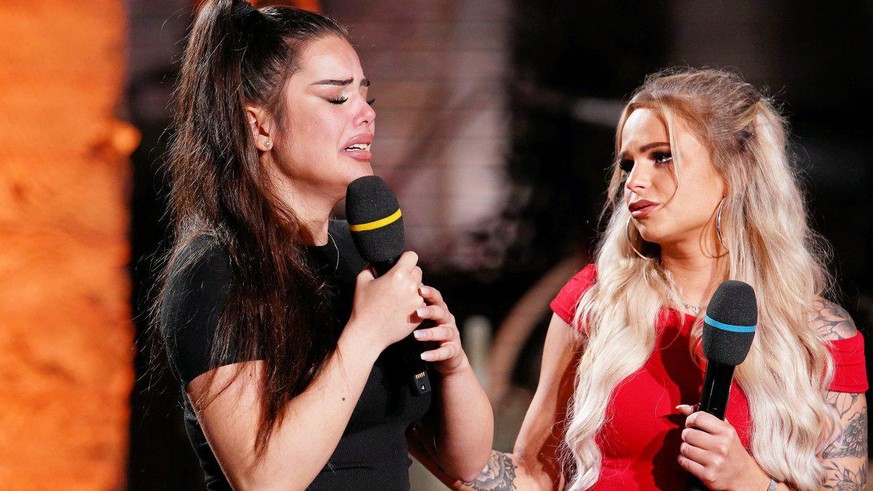 Alia, who got the gold CD from Michael Wendler, has now left "DSDS". Image: TVNow
Wendler candidate railed after "DSDS" -Aus against RTL: "You can imagine why"
For Alia Amri the adventure "DSDS" could hardly have started better: In the casting round of the show she received the golden CD from Michael Wendler. Background: Each juror has only one such CD to award – whoever gets one can imagine great chances at "DSDS" and is one of the best casting candidates.
That's why Alia was only seen on the show in the latest issue from Saturday evening – but only very briefly, because RTL only showed a small excerpt from the appearance of their group of four towards the end of the issue. You could also see the jury's decision on the individual candidates.
Somewhat surprisingly, Alia missed the next round of recall on the Greek island of Mykonos. The ir appearance in the cowshed did not convince the jury. After her departure, the 18-year-old spoke up on Instagram and speculated for herself why she had so little airtime in the last broadcast.
She had the golden CD from Wendler: "DSDS" candidate Alia hands out against RTL
Michael Wendler left the "DSDS" juror last fall, after 13 episodes of the current season had been filmed. He later made a concentration camp comparison on Instagram when he criticized the government's corona measures.
The reupon RTL decided to cut the "Egal" interpreter consistently from the casting show. Alia now suspects that the golden CD, which she received from Wendler of all places, did not work to her advantage when she recalled the cowshed. At least that's what she alludes to in a post.
Alia voiced her suspicions:
The verdict of the "DSDS" jurors for the group around Alia in the last episode was devastating. "You were actually one of the weakest groups. Even the cows could not stand it halfway," Maite Kelly railed when she announced the decision. In addition to Alia, who by the way burst into tears, it was also the end of the line for Olivia. Anna and Vivien, however, were allowed to pack the suitcases for Mykonos.
In the past few days, some fans on Instagram had already suspected that Alia might have fallen out of favor on RTL because of her golden CD by Michael Wendler. For example, one user wrote: "Her performance was simply not shown and she was kicked out just to get rid of the Wendler CD." Others encouraged the teenager and posted comments such as: "Wendler would now say: Egaaaaal! You can do it without 'DSDS'".
That's what RTL says
Watson asked RTL to comment on Alia's indirect allegations that she could have had less screen time because of her golden CD from Wendler. A spokeswoman for the station said: "This is total bullshit. We cannot always show all performances in detail. Michael Wendler was no longer present at the recall! Dieter Bohlen, Maite Kelly and Mike Singer evaluated the candidates and Alia Amri's performance was not enough for them. Maite's gold CD, Olga, also had to leave the competition on the last set. "
(ju)


[ source link ]
https://www.watson.de/unterhaltung/tv/863140424-nach-dsds-aus-wendler-kandidatin-hat-verdacht-rtl-reagiert

DSDS Aus Wendler candidate suspicions RTL reacted