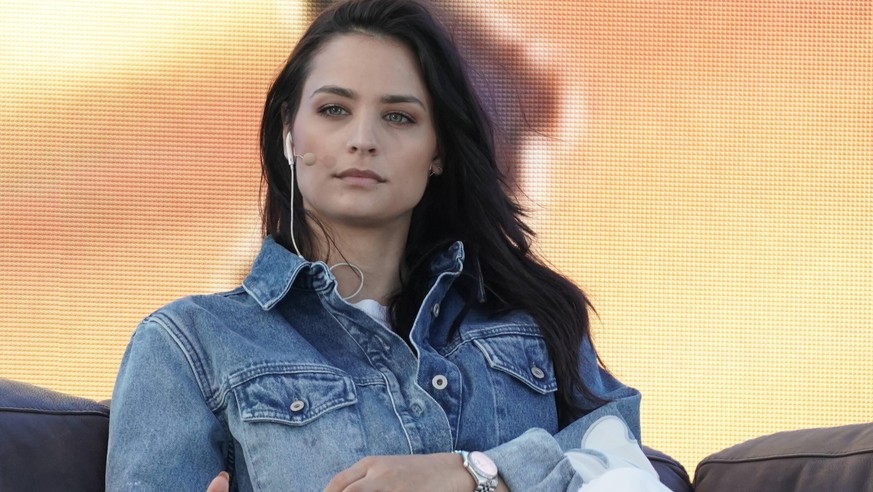 Amira Pocher shows messages on Instagram that are directed against her. Bild: imago images / BOBO
After allegations of bullying: Amira Pocher shoots at critics
On Wednesday it became known that Kasia Lenhardt had died at the age of only 25. She was the ex-partner of soccer player Jerome Boateng, on February 2 he announced the separation in his Instagram story, several tabloid media reported in detail on the separation of the two and the subsequent mud fight.
The family reported the following about the tragic death through their lawyer: "It is with great dismay and sadness that we must confirm the unexpected death of our beloved daughter Kasia on February 9, 2021."
The relatives thanked them for their sympathy and asked to refrain from expressions of grief, "so that we can find ourselves in these difficult hours."
The Berlin police confirmed an operation on Tuesday evening in which a lifeless person was found. Accordingly, there are no signs of external influence. After the death report, numerous celebrities such as Cathy Hummels, Katja Krasavice, Shirin David or Cheyenne Ochsenknecht spoke up on the net. Amira Pocher also posted a post – and also published serious allegations that she has received.
Amira Pocher rejects allegations of bullying
First, Amira said in her Instagram story: "I find it impossible for people to take the right to claim that they know why a young mother has committed suicide. What gives you the right? I consider it disrespectful that people express themselves knowingly or ignorantly about this tragic incident in the media! My condolences go to the family at this point. "
Amira Pocher reported on Instagram after Kasia's death. Image: Instagram / Amira Pocher
A few hours ago Kasia's mother spoke up personally on Instagram about the circumstances of death and wrote: "Bullying … you took my child away from me."
Amira also received allegations of bullying from other users, which she shared on her account. For example, one wrote about the death of the former "GNTM" candidate: "How about if you take that to heart! Biggest bullies!" Another said:
The 28-year-old apparently did not want to leave these allegations and said: "So you are all still very close ?! Can someone please show me where I bullied someone else ?!" And further:
Oliver Pocher is also confronted with allegations
In return, Pocher was attacked by, for example, Katja Krasavice and Iris Klein.
The latter said after Pocher's condolences and the communication that no "screen control" would be recorded: "Well, then he'll hit everyone again tomorrow!" To do this, she used the hashtag " StopptMobbing".
Oliver Pocher also commented on the allegations. Image: Instagram / Oliver Pocher
The comedian's reply was of course prompt. Whether any of those involved really cares about the dead young woman and her relatives in all this back and forth seems questionable.
(games)


[ source link ]
https://www.watson.de/unterhaltung/stars/188732161-amira-pocher-schiesst-nach-mobbing-vorwuerfen-gegen-kritiker

Amira Pocher shoots allegations bullying critics