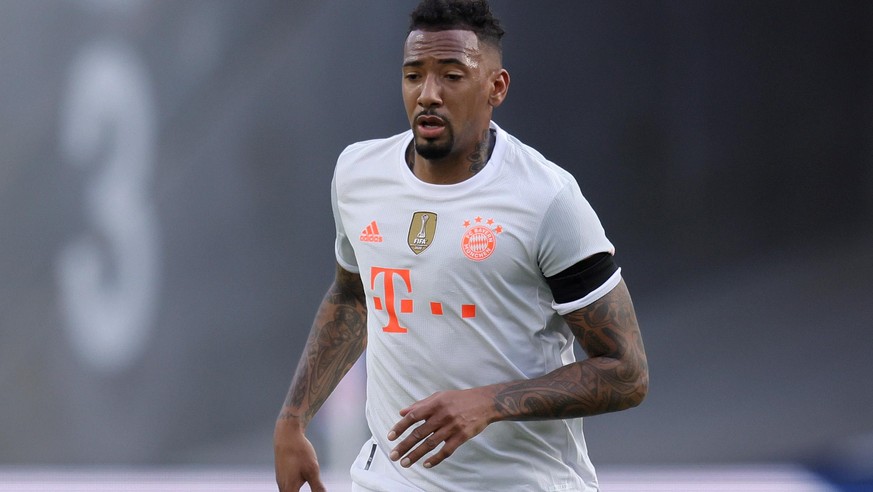 Jérôme Boateng was the only FC Bayern Munich player to play with a black ribbon last Saturday. Bild: Getty Images Europe / Pool
After Kasia Lenhardt's death: FC Bayern star Jérôme Boateng played with a black ribbon
On February 9, the former "GNTM" candidate Kasia Lenhardt committed suicide. She leaves behind a son and was only 25 years old. A few days before her death, the separation of her and the star footballer Jérôme Boateng became public after 15 months of relationship – an interview with the FC Bayern Munich player made headlines about a separation argument between the two. However, since Kasia was reported to have died, Boateng has not commented on his ex-girlfriend, now, apparently, he thought of her in public for the first time.
Before that, there was a real deluge of condolences. Many influencers such as Cathy Hummels or Dagi Bee combined their sympathy with an appeal against bullying online. In the ProSieben program "Germany's next Topmodel", in which Kasia took fourth place in 2012, a text panel was displayed for her. The text also appeared on Twitter after the broadcast.
Boateng broke off the Club World Cup in Qatar after Kasia's death
At the time of the model's death, her former partner was at the Club World Cup in Doha, Qatar with his soccer club.
The fact that he was obviously very concerned about the death of the 25-year-old can be traced back to the fact that he was traveling back to Germany for private reasons before the upcoming final. This was tweeted by FC Bayern Munich, and his coach also stated at a press conference:
Special sign of mourning last Saturday on the square
On Saturday, Boateng was back as a central defender against Eintracht Frankfurt in the Bundesliga for the first time.
The special detail:
The 32-year-old was the only Bayern soccer player to play with a black armband.
The Bundesliga game against Eintracht Frankfurt was the first for Boateng since Kasia Lenhardt's death. Bild: Getty Images Europe / Pool
This is a symbol to express grief over the loss of a colleague, friend or loved one. Since not the whole team but only Boateng wore the armband, it is conceivable that he was thinking of Kasias. Yet another statement by Boateng was not made.
Questions about Kasia's death remain open
After arriving at Kasia's apartment after her death, the police found no third-party fault, but a number of questions remain unanswered. A day before her death, Kasia announced a new chapter in life on her Instagram channel, judging by acquaintances, she seemed full of courage to live.
It has now also been announced that the circumstances of Kasia's death will be further investigated – among other things, her cause of death has not yet been made public. At the request of "Promiflash", a spokesman for the Berlin Public Prosecutor's Office confirmed that an autopsy had been requested: "With regard to the death of the person in question, a death investigation will be initiated with the Berlin public prosecutor."
Kasia's mother wants to counteract hasty conclusions of the followers
Before that, several followers of the former "GNTM" finalist had spoken on social media with various theories and published private messages. Her mother Adrianna responded with a haunting statement: "
The re are now so many different accounts that publish so many things that may have come from hacked accounts and are actually not suitable for publication and should not be used in this way."
Kasia Lenhardt died on February 9th at the age of 25. Image: kasia lenhardt / instagram
Furthermore, she asked not to post anything in the name of her daughter without a clear origin – especially with one goal: "We want to prevent future bullying! That must remain our main goal." Further clarification about the circumstances of Kasia's death will now possibly result in the autopsy requested by the public prosecutor.
It remains uncertain whether Boateng will also wait for the investigations before making a statement, or whether he will continue to quietly think about it.
(cfl)


[ source link ]
https://www.watson.de/unterhaltung/stars/122564053-bayern-star-boateng-sorgt-mit-outfit-detail-fuer-spekulationen

Bayern star Boateng causing speculation outfit details