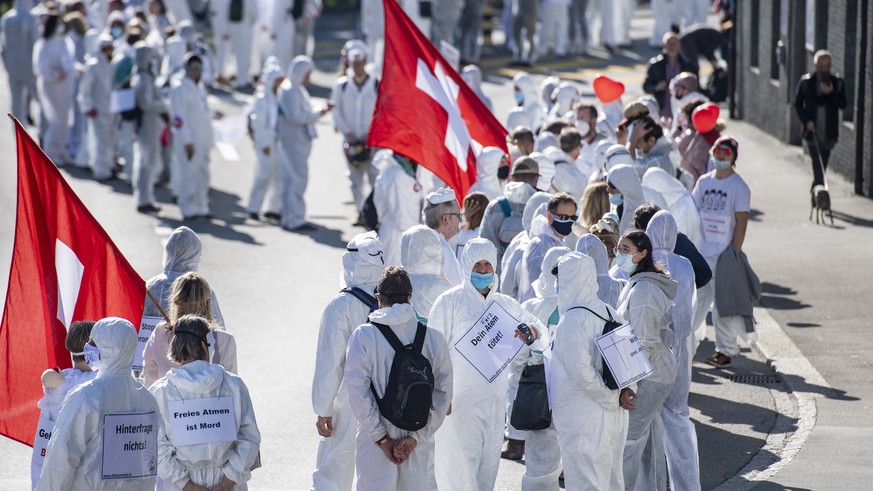 Scene from Wohlen, where around 1500 people demonstrated on Saturday. Image: keystone
1500 people marched in Aargau against the Corona regime – why the Zurich demo flopped
Hundreds of people demonstrated against the authorities' corona measures on Saturday in Wohlen in Aargau. Many wore white protective suits. The re were also demonstrations in Sion in Valais, but only a handful of protesters gathered in Zurich.
According to a correspondent for the Keystone-SDA news agency, around 1,500 people gathered for a protest march in Wohlnen.
The organizers spoke of over 2000.
The y met in the early afternoon on the Merkur area.
The protest march had been granted conditional approval by the Wohlen regional police. So the participants had to wear masks. Only around one in two adhered to this rule when they marched off in columns of two.
Because of the protest march through Wohlen, there were traffic disruptions. Although many participants did not wear a mask, the police did not intervene. "
The event was very calm and civil, and we didn't have to intervene," said Aline Rey, spokeswoman for the Aargau cantonal police, on request. In such cases, the police proceed according to the principle of proportionality. An organizer of the demonstration repeatedly reminded people over the loudspeaker that masking was mandatory.
The police could not enforce the mask requirement. Image: keystone
"Increase the pressure on Bern"
The participants' posters read, for example, "Stop mass tests", "Leave the children alone", "
The media are the virus" or "Remove masks for everyone". People are at risk of suicide because they can no longer stand it, said a speaker at the rally on the Merkur area after the march.
The pressure on Bern must be increased, said another. One entrepreneur said that the aid package was more of a "burden package". "Existences are being destroyed."
"We want to get rid of all of the measures," added another speaker. A canton school teacher said it was a crime to be scared. "Let's just stop doing it."
The demo was organized by "Silent Protest". Image: keystone
The demonstration was organized by the "Silent Protest" association. This is against the measures of the authorities against the spread of the coronavirus. Two weeks ago, the association called for a demonstration in the city of Zug, in which, according to police, around 800 people took part.
Protest also in Valais – flop in Zurich
The police reported that around 80 people gathered for an unauthorized rally in the canton of Valais, Sion, on Saturday afternoon.
The law enforcement officers intervened and broke up the demonstration, with several participants being identified and reported.
In the largest Swiss city, Zurich, there was no anti-corona demonstration on Saturday despite the announcement. Apparently there were no participants. According to the organizers, the demonstration under the motto "Covid-Dovid" should have started at 2:00 p.m. on Sechseläutenplatz. However, an on-site inspection showed only a handful of demonstrators who were checked by the police. (sda)
THANK YOU FOR THE ♥
Would you like to support watson and journalism? Learn more
(You will be redirected to complete the payment)
"Stay at home!": Corona in Switzerland in quotes
Do you have a beak too? What you need to know about the FFP2 masks
You might also be interested in:
Subscribe to our newsletter


[ source link ]
https://www.watson.ch/schweiz/coronavirus/342484370-corona-demo-in-aargau-mit-1500-personen-in-zuerich-floppte-sie

Corona demo Aargau people flopped Zurich