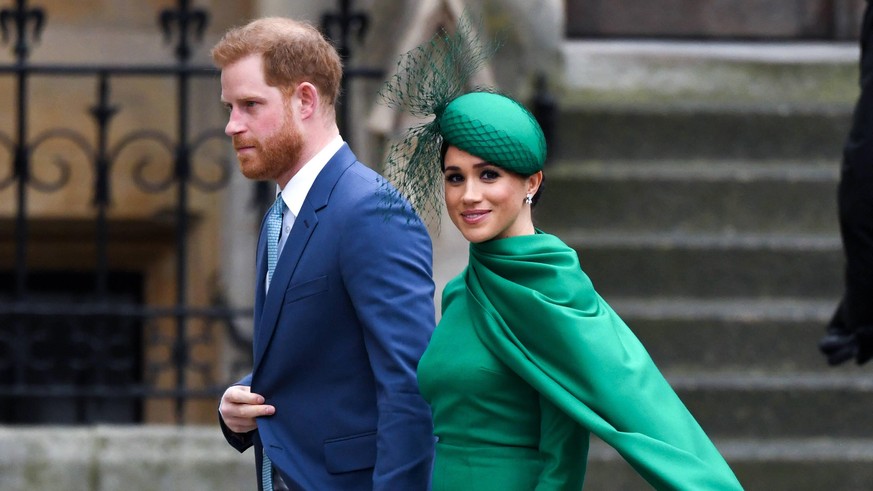 Prince Harry and Duchess Meghan recently announced that they are expecting a second child. The Royals currently live in California with their son Archie. Bild: IMAGO / PA Images
Harry and Meghan rule out a return to the British royal family
Prince Harry and his wife Meghan rule out a return to the front row of the British royal family:
The couple declared their final withdrawal from royal obligations to Queen Elizabeth II, losing their last royal honorary titles and posts. This was announced on Friday by Buckingham Palace in London, which was "sad" about the decision. However, Harry and Meghan would remain "very beloved members of the family". Both also remain Duke and Duchess of Sussex.
Harry and Meghan's duties are redistributed in the family
"
The Duke and Duchess of Sussex have confirmed to Her Majesty the Queen that they will no longer be active members of the royal family," the statement said. Her military honors and royal patronage "will therefore go back to Her Majesty".
The se would be redistributed among the active members of the family.
The 36-year-old Harry also loses his military honorary degrees, to which he was very attached. Among other things, he is no longer allowed to use the title of Royal Marines, to which he was strongly linked after serving in Afghanistan. He also loses his representative function for the rugby association. Meghan has to give up her charitable patrons, including the one at the National
The ater in London.

The royal couple announce star performance at Orpah Winfrey
But one title apparently remains for the two: Harry and Meghan can still call themselves Duke and Duchess of Sussex.
The line of succession is also retained: Queen Elizabeth's grandson continues to be number six in line to the throne.
A spokesman for Harry and Meghan said the couple had shown, despite their tentative departure from royalty last year, that they "remain committed to their duty and service to Britain and the world."
Both will soon also be featured prominently on US television – with none other than star moderator Oprah Winfrey.
The interview announced for March 7th is already heating up the mood in the British media, which is speculating on possible revelations from the orbit of the royals.
Prince Harry and former US actress Meghan Markle married in May 2018, and son Archie was born a year later. At the end of March last year, the couple officially withdrew from the front row of the British royal family and declared that they would not attend any official appointments on behalf of the Queen for the time being. This decision should now be final.
The Queen's 36-year-old grandson blamed media pressure on himself and his 39-year-old wife for the withdrawal.
The small family now lives mainly in Meghan's US home, California – in a villa in the coastal city of Santa Barbara. Last weekend, the couple announced that they were expecting a second child after their son Archie.
(vdv / afp)


[ source link ]
https://www.watson.de/unterhaltung/royals/954764748-harry-und-meghan-schliessen-rueckkehr-ins-koenigshaus-aus

Harry Meghan rule return royal family