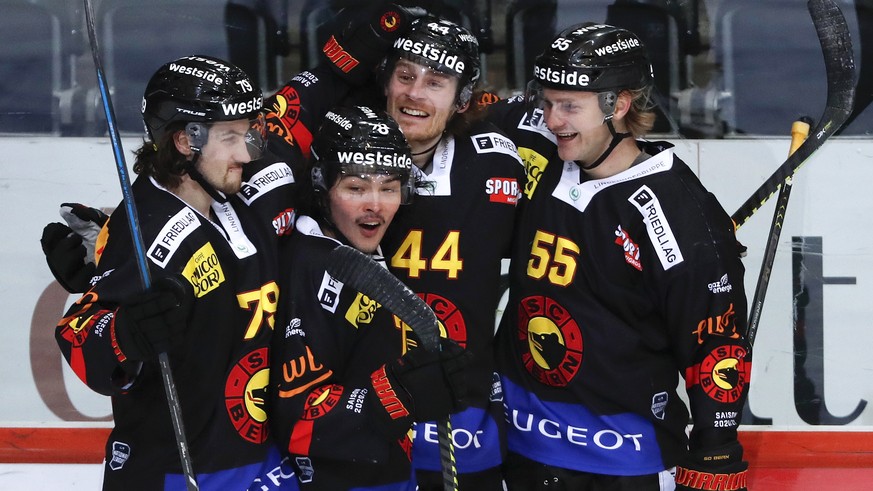 A rather rare picture in 2021: Cheering Bernese. Image: keystone
SC Bern shoots Davos out of the stadium – Zug continues to stand out at the top
EV Zug is expanding its lead in the National League to twelve points. While the Zugers win 4-2 at the SCL Tigers, the first pursuer ZSC Lions is free of play.
Bern – Davos 5: 1
SC Bern is taking a step out of the crisis. The bottom of the table in the National League wins the classic at home against HC Davos 5: 1.
The Davos team clearly won the first duel of the season 6-2 on November 10th. Almost three months later, the Bernese emerged as the clear winners when the reigning champions and the record champions met again. For the crisis-ridden SCB it was the second highest win of the season after the 6-0 win at home against Biel at the end of October.
The power play of all things, one of the building sites in the Berner Spiel this season, was the key to success for once.
The 2-0 through André Heim (20th), the 4-0 through Vincent Praplan (34th) and the 5-0 through the Swede Jesper Olofsson (37th) scored the team of coach Mario Kogler in the majority. For SCB, it was only the power play goals number 15 to 17 in the 28th game of the season.
However, the second SCB success from the last nine games had two flaws: On the one hand, Aaron Palushaj prevented Tomi Karhunen's shutout with the consolation goal in the final third, and on the other, Eric Blum was injured in the middle third.
The defender, who opened the score with a deflector in the 11th minute, was unable to continue after a check from Fabrice Herzog. According to the "Berner Zeitung", Blum suffered a concussion, a broken nose and an injury to the shoulder joint. Herzog was punished with a residual exclusion.
Davos will already have the opportunity to take revenge on Monday in the PostFinance Arena.
The n the Grisons can again rely on the Finn Teemu Turunen, who took part with the national team in a four-country tournament this week and shone as a goal scorer.
Bern – Davos 5: 1 (2: 0, 3: 0, 0: 1)
0 viewers. – SR Mollard / Stolc, Duarte / Stalder. –
Tore: 11. Blum (Colin Gerber) 1: 0. 20. (19:29) Heim (Andersson, Scherwey / Powerplaytor) 2: 0. 28. Jeremi Gerber (Henauer, Bader) 3: 0. 34. Praplan (Jeffrey, Henauer / Powerplaytor) 4: 0. 36. Olofsson (Burren, Andersson / Powerplaytor) 5: 0. 48. Palushaj (Ullström, Nussbaumer / Powerplaytor) 5: 1. –
Punish: 7 times 2 minutes against Bern, 2 times 2 plus 5 minutes (Herzog) plus playing time (Herzog) against Davos. – PostFinance top scorer: Jeffrey; Ambühl.
Bern: Karhunen; Andersson, Henauer; Burren, Beat Gerber; Colin Gerber, Blum; Thiry; Sopa, Jeffrey, Olofsson; Scherwey, Heim, Moser; Praplan, Bader, Jeremi Gerber; Berger, Fahrni, Dähler.
Davos: Mayer; Nygren, Jung; Heinen, Guerra; Stoop, Barandun; Canova; Frehner, Ullström, Herzog; Marc Wieser, Ambühl, Baumgartner; Palushaj, Nussbaumer, Knak; Marc Aeschlimann, Egli, Kienzle.
Remarks: Bern without Neuenschwander, Sterchi, Untersander, Zryd (all sick), Pestoni, Rüfenacht and Sciaroni (all injured), Davos without Du Bois, Paschoud, Rubanik, Dino Wieser (all injured) and Corvi (sick).
Langnau – move 2: 4
EV Zug also won the second duel this weekend against the SCL Tigers. After the 3-1 home win on Friday, the Central Swiss prevailed away 4-2 and thus emerged as the winners in a fifth of the season against the Emmental. For the SCL Tigers it was the sixth loss in a row and the eleventh of the last twelve games.
The lead over the bottom of the table SC Bern is only one point, although the cantonal rival from the capital has played eight games less.
Meanwhile, Zug expanded his lead at the top of the table to twelve points. EVZ scored two of four goals in power play: Lino Martschini scored 2-0 with a wrist shot in the 17th minute, Santeri Alatalo (30th) restored the two-goal gap just three minutes after the Langnau goal. Stefan Rüegsegger scored the 1: 2 with a «Buebetrickli».
SCL Tigers – Zug 2:4 (0:2, 1:2, 1:0)
0 viewers. – SR Tscherrig / Urban, Schlegel / Burgy. –
Tore: 7. Leuenberger (Geisser) 0: 1. 17. Martschini (Alatalo, Hofmann / Powerplaytor) 0: 2. 27. Rüegsegger (Andersons, In-Albon) 1: 2. 30. Alatalo (Martschini, Zehnder / Powerplaytor) 1: 3. 36. Hofmann (Geisser) 1: 4. 58. In-Albon (Rüegsegger, Erni) 2: 4.
Punish: 3 times 2 minutes each. – PostFinance top scorer: Maxwell; Kovar.
SCL Tigers: Stettler (41st Zaetta); Erni, Huguenin; Leeger, Lardi; Schilt, Grossniklaus; Bircher; Julian Schmutz, Maxwell, Nilsson; Petrini, Berger, Sturny; Weibel, Flavio Schmutz, Dostoinow; Rüegsegger, In-Albon, Andersons.
Zug: Hollenstein; Diaz, Gross; Smurf, Stadler; Geisser, Alatalo; Cadonau; Simion, Kovar, Hofmann; Klingberg, Albrecht, Zehnder; Martschini, Shore, Thorell; Leuenberger, Senteler, Bachofner.
Remarks: SCL Tigers without Blaser, Diem, Earl, Glauser, Kuonen, Melnalksnis, Neukom, Punnenovs and Salzgeber (all injured), Zug without Thürkauf, Wüthrich and Zgraggen (all injured). SCL Tigers from 58:52 to 59:13 and from 59:32 without goalkeepers.
Ambri – Lausanne 2: 3 nV
Ambri-Piotta was only a little surprise in the first game after the second quarantine. 19 days after the last serious fight and a 1: 2 after penalty shoot-out in Lausanne, the Leventines again only just lost out against the Vaudois. Again, it was Cory Emmerton who made the decision. If the Canadian sank the decisive penalty against his ex-club just under three weeks ago, this time he secured the extra point for the Lausanne team after just five seconds of extra time.
Lausanne, which remained second in terms of loss points, had taken a 2-0 lead with a double strike shortly before half of the game. Christoph Bertschy and Cory Almond had met for the guests within 31 seconds.
The n the Czech Jiri Novotny (37th) and the American Brian Flynn (46th) brought the hosts back into the game. Ultimately, however, Ambri-Piotta also lost in the ninth game in a row against Lausanne.
Ambri-Piotta – Lausanne 2: 3 (0: 0, 1: 2, 1: 0, 0: 1) nV
0 viewers. – SR Lemelin / Nikolic, Fuchs / Steenstra. –
Tore: 29. (28:47) Bertschy (Emmerton, Kenins) 0:1. 30. (29:18) Almond (Roth, Conacher) 0:2. 37. Novotny (Müller, Zwerger/Powerplaytor) 1:2. 46. Flynn (Perlini, Pinana) 2:2. 61. (60:05) Emmerton (Bertschy) 2:3. –
Punish: 2 times 2 minutes against Ambri-Piotta, 5 times 2 minutes against Lausanne. – PostFinance top scorer: Zwerger; Kenins.
Ambri-Piotta: Östlund; Fohrler, Fischer; Ngoy, Pezzullo; Hächler, Zaccheo Dotti; Pinana; Perlini, Flynn, Zwerger; Kneubuehler, Müller, Nättinen; Neuenschwander, Novotny, Dal Pian; Trisconi, Kostner, Grassi; Mazzolini.
Lausanne: Boltshauser; Marti, Genazzi; Heldner, Frick; Roth, Grossmann; Schneeberger, Mémeteau; Bertschy, Emmerton, Kenins; Conacher, Almond, Hudon; Leone, Froidevaux, Bozon; Volejnicek, Cajka, Arnold.
Remarks: Ambri-Piotta without Bianchi, Conz, D'Agostini, Isacco Dotti, Fora, Goi and Incir (all injured).
Friborg – Biel 2: 4
In the sixth and last attempt in this qualification, it finally worked for EHC Biel with a win against Friborg-Gottéron.
The Bieler made the difference in the 4-2 away win thanks to three goals in the final third. Marc-Antoine Pouliot put the guests in the lead for the first time just 34 seconds after the restart. Damien Brunner (50.) then increased the majority to 3: 1, before the Canadian David Desharnais gave the Freiburg hope again with his second personal goal that afternoon. But Biel's Konstantin Komarek (59th) made the final decision with a 4-2 into the empty goal.
For Biel it was the first victory after seven defeats across the seasons against third-placed Gottéron. At the expense of Davos and Genève-Servette, the Zealanders improved to 6th place, which entitles them to participate in the regular playoffs.
Friborg-Gottéron – Biel 2: 4 (0: 0, 1: 1, 1: 3)
1 viewer. – SR Hebeisen / Salonen, Gnemmi / Huguet.
Tore: 34. Desharnais (Mottet / Powerplaytor) 1: 0. 38. Künzle (Fey, Cunti) 1: 1. 41. (40:34) Pouliot 1: 2. 50. Brunner (Cunti / Powerplaytor) 1: 3. 55. Desharnais (Mottet) 2: 3. 59. Komarek 2: 4 (ins leere Tor). –
Punish: 5 times 2 minutes against Friborg-Gottéron, 2 times 2 minutes against Biel. – PostFinance top scorer: Mottet; Cunti.
Friborg-Gottéron: Berra; Sutter, Furrer; Gunderson, Chavaillaz; Kamerzin, Jecker; Abplanalp; Bykov, Desharnais, Mottet; Herren, Walser, Jörg; Sprunger, Schmid, DiDomenico; Bougro, Marchon, Jobin.
Biel: van Pottelberghe; Kreis, Moser; Forster, Rathgeb; Lindbohm, Fey; Tailors; Hischier, Pouliot, Rajala; Fuchs, Komarek, Hofer; Brunner, Cunti, Künzle; Kessler, Gustafsson, Tanner.
Remarks: Friborg-Gottéron without Brodin, Rossi and Stalberg (all injured), Biel without Hügli, Lindgren, Lüthi and Ulmer (all injured). Friborg-Gottéron from 58:07 to 58:35 without a goalkeeper.
Lugano – Rapperswil 2:4
The Rapperswil-Jona Lakers celebrated a victory of historic proportions at 4-2 in Lugano.
The last time the St. Gallen team managed to leave the ice cream in the Resega as a winner over ten years ago: on December 21, 2010 they won 3-2.
A good run for Lugano ended on Sunday with eight victories in a row.
The Ticino had turned a 0: 1 deficit into a 2: 1 in an animated middle third. Top scorer Mark Arcobello managed to equalize with a shorthander just 39 seconds after Dominik Egli took the guest lead, three minutes later Raphael Herburger scored 2-1. But Rapperswil-Jona turned the game around again thanks to goals from Kevin Clark (30th), Kay Schweri (30th) and Steve Moses (59th). For the Lakers it was the first away win after ten defeats in a row.
Lugano – Rapperswil-Jona Lakers 2: 4 (0: 0, 2: 3, 0: 1)
0 viewers. – SR Stricker / Borga, Obwegeser / Kehrli. –
Tore: 25. (24:02) Egli (Cervenka, Moses / at 5 against 3) 0: 1. 25. (24:41) Arcobello (underpaid gate!) 1: 1. 28. Herburger (Suri, Loeffel) 2: 1. 30. Clark (Lehmann, Dufner) 2: 2. 35. Schweri (Wick, Dünner) 2: 3. 59. Moses (Cervenka) 2: 4 (into the empty gate). –
Punish: 6 times 2 plus 10 minutes (Arcobello) against Lugano, 3 times 2 plus 5 minutes (Lhotak) plus playing time (Lhotak) against Rapperswil-Jona Lakers. – PostFinance top scorer: Arcobello; Cervenka.
Lugano: Zurkirchen; Heed, Wellinger; Loeffel, Chiesa; Nodari, Wolf; Walker, Antonietti; Bödker, Arcobello, Haussener; Fazzini, Lajunen, Bertaggia; Bürgler, Herburger, Suri; Zangger, Sannitz, Lammer.
Rapperswil-Jona Lakers: Bader; Vukovic, Jelovac; Egli, Randegger; Sataric, Maier; Dufner; Schweri, Dünner, Wick; Clark, Lehmann, Cervenka; Moses, Weather, Lhotak; Forrer, Ness, Eggenberger.
Remarks: Lugano without Morini and Riva (both injured), Rapperswil-Jona Lakers without Profico (sick), Nyffeler, Payr and Rowe (all injured). Lugano from 58:29 to 58:53 without a goalkeeper.
The table
THANK YOU FOR THE ♥
Would you like to support watson and journalism? Learn more
(You will be redirected to complete the payment)
All NL top scorers since 2002/2003
The office is upside down, we're in playoff fever
You might also be interested in:
Subscribe to our newsletter


[ source link ]
https://www.watson.ch/sport/eishockey/388692536-national-league-bern-schlaegt-davos-deutlich-zug-setzt-sich-ab

National League Bern beats Davos Zug pulls