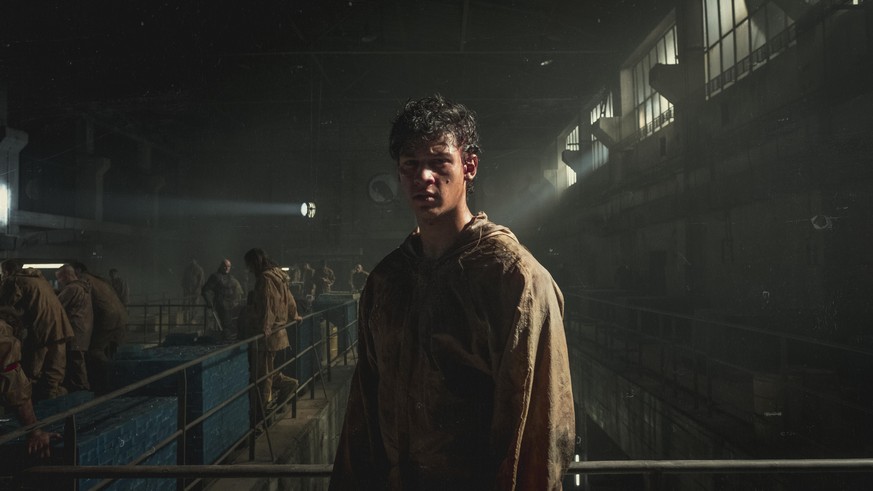 Emilio Sakraya can be seen here in his new Netflix role. Image: netflix / Gordon Timpen
Interview
New Netflix series "Tribes of Europa" – Emilio Sakraya admits: "I've reached my limits"
Emilio Sakraya is one of the most successful young actors in Germany. He stood in front of the camera for the first time at the age of nine. Since then he has taken on the cinema role of the young Bushido in "Times Change You", appearances in "Tatort" or the performance of Issam in "4 Blocks". In the meantime, one or the other international Netflix production has attracted large audiences to him.
In 2019 he played in the successful series "Warrior Nun", which made it to number one in the world charts. Now his fans can see him in the dystopian Netflix series "Tribes of Europa", which was produced by the "Dark" makers.
In an interview with watson Emilio speaks, who has appeared more and more as a musician since his debut album "Roter Sand", about his toughest shoot, the Corona crisis and the Instagram world, from which he clearly distances himself.
watson: You play Kiano in "Tribes of Europa". The series is scheduled for 2074. Are you worried about the future when you see what's going on there?
Emilio Sakraya: No not at all. I am a person who lives in the present. I try not to hang around in the past, let alone in the future. And right now I'm really fine, everything is fine.
You are separated from your siblings in the series and can be seen in tough fight scenes. Did you push your limits physically and mentally on the series?
Definitely. I've reached my limits. But in the end it was worth it. It was a long period of shooting. It was always cold and we did a lot of, if not all, night shoots. Everything shifts and holding the energy for so long is of course not without. It's physical, it's emotional. Kiano is enslaved and almost killed. That was tough.
Was that the hardest spin you ever had?
Yes, definitely. So far it has been my toughest spin I've ever had.
You said set romances are the most beautiful, but you are ashamed of nude scenes. What did the viewer miss behind the scenes?
To be honest, not that much. I was sleeping when I wasn't turning. It was really a tough shoot. We started in August 2019 and finished in January. So a total of six months of shooting. Nothing happened there that could be exciting in any way.
How much did Corona affect you in this production?
Eventually the series was filmed in Prague and Croatia. We got through exactly before Corona. In other words, Corona did not yet exist for us, at least not when shooting.
This is what "Tribes of Europa" is all about
As with many other artists, your tour had to be canceled in 2020. How much does the topic affect you personally?
Not at all, because I'm actually someone who says situations are the way they are. You have to go ahead and see how you can do it differently or what you can do instead. And when I look at everything that has happened in that time, everything fits as it has come. Of course it's a shame for all the people who wanted to come to the tour, for example, and of course for me too, because it was supposed to be my first tour. But there will come a time when we will catch up and then it will be all the more fun.
Did the corona crisis affect you financially like many of your colleagues from the industry?
I would definitely say that, unlike other people or colleagues, as I noticed, I was more lucky. Certain projects still took place for me.
The re are of course a lot of friends or actors who have had projects postponed who didn't know when they were going to shoot. And when such a twist is omitted, it is of course dramatic.
The series is now your second Netflix production. Do you use the streaming service as a springboard to become more and more internationally successful?
The re is of course the desire to shoot more internationally. It doesn't have to be Hollywood at all, it can also just be a Spanish or French production or something else in Europe. Of course, with Netflix you have a tool that is cross-border. That's what makes the platform so exciting. I just see what happens next.
The series "Warrior Nun", which you previously shot for Netflix, was number one in the world charts. Has Hollywood called yet?
I am not allowed to say anything about that yet. However, further international projects are being planned. Of course, I don't know what the pandemic will look like in a month or two. But at the moment a few things have already been decided for this year.
When you were 19 you were on the verge of burnout. Nowadays you don't really work less, you are also very busy as a musician. How do you deal with the danger now and have you been to that point again?
Yes, that's right, I don't work less. But I'm much better. You just have to learn how to deal with certain things or how to deal with yourself. For me it is more the case that I also say here and there that I now have a break and now I won't continue. But I just like to work and what I do. But it is also important to give yourself breaks, especially after big projects like "Tribes of Europa".
From "Bibi and Tina", "Times are changing" to "4 Blocks" and "Tatort": You have slipped into a wide variety of characters. Your repertoire thus ranges from bad boy to teen star. Which role would you rather see yourself in?
In none at all. I think, especially as an actor, the goal is to be diverse, to play different things and not always do the same thing. That's why there is no drawer for me to put myself in. I find it rather exciting to say which role I have not yet been seen in and which one I have not yet been associated with.
Your mother raised you strictly Muslim. At home you had no privacy, you were strictly controlled. Was acting the ideal way to balance your real life for you?
I don't really think so, because I didn't shoot enough for that back then.
The re are two different worlds and these worlds have now also found their harmony.
You were bullied at school, made the wrong friends. You made the jump in time. Today you are celebrating great successes. How difficult is it for you to deal with critics and do you deal with that? After all, you get a lot of feedback, not least on Instagram.
Yes, you have to deal with that more and more. But the interesting thing is: I always didn't care what people said about me. That's why it's never really an issue for me. Sometimes that bothers you and you think about why people say something, but actually I really care what others think of me.
Does someone have to bring you back down to earth when a lot of hype happens around you?
I have a very, very small group of people who take place in my private life.
The se are the people I spend time with when I'm not working. I'm Emilio and no one else. Hence my small private circle is my anchor.
You are 24 years old and have been playing since you were nine years old. Accordingly, you have been able to build up a large fan base over the years. What do you want to use your reach for in particular?
I want to be authentic. I just show that I am just a completely normal person who, like everyone else, drinks his coffee in the morning. I can feel bad too, I too can be overwhelmed. It shouldn't appear to the outside as if I just do sports and work from morning to night. I also have a day when I get up in the morning and say, I'm just not feeling well today, I'm not in the mood and stay in bed at home.
Users on Instagram like to show a glittering world.
A lot of people, especially in the influencer area, communicate, I need this car, I need these shoes to be happy. And that's just really not the case. This is where my music comes from and this open communication about certain topics. I don't play a role in music and I'm just Emilio. That's the big difference from films.


[ source link ]
https://www.watson.de/unterhaltung/interview/504159604-netflix-tribes-of-europa-star-geraet-an-grenzen-haertester-dreh-den-ich-hatte

Netflix Tribes Europa star reaches limits Hardest twist Ive