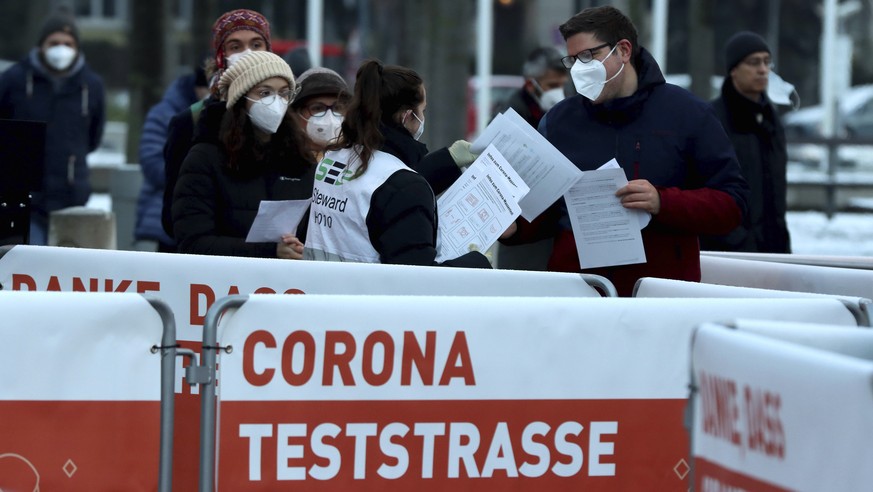 Tests instead of lockdown: Austria sees itself on the right track
Almost two weeks after all shops and many services were opened, Austria sees itself on the right track with its comprehensive test strategy. Austria is one of the countries with the most tests worldwide, said Chancellor Sebastian Kurz (ÖVP) on request. "We are the first country in Europe to rely on massive tests in schools." The aim is to keep the infection process under control through as many tests as possible or at least to cushion the growth in the number of infections as best as possible.
According to the Ministry of Health, a total of around three million antigen tests and also PCR tests can be expected per week. This means that every third Austrian would be checked once a week to see whether they are infected with the corona virus.
Most recently, 200,000 people across Austria were checked for the coronavirus within 24 hours, 45,000 of which were PCR tests. That is significantly more than in Switzerland, where a little more than 30,000 tests are carried out every day.
Since the lockdown was relaxed, the seven-day incidence in Austria has risen from around 100 to around 133. At the same time, the situation in the clinics is stable.
According to experts, an increase in the number of infections is to be expected and initially not alarming. It is important that the increase level off in about ten days or, ideally, stop.
The n it will show whether the strategy of intensive search for symptom-free infected people and their subsequent quarantine can stop the spread, according to simulation researcher Niki Popper.
Ösi-Chancellor Kurz puts corona conspiracy theorists in the lace:
Video: watson/jah
Austria wants to decide on the next steps on March 1st. This could include the opening of hotels and restaurants, but probably only for guests with a negative corona test. This concept had already worked at the beginning of February, when people had themselves tested en masse because of the access tests at the hairdresser's.
The free tests in companies should provide a further boost to the overview of the infection process. 1000 companies with 500,000 employees are currently taking part in the campaign, it said. As of March, in addition to the antigen tests carried out there, so-called living room tests will also be available free of charge in pharmacies, with which citizens can test themselves at home. In this case, the check is used for personal information, but it is not sufficient to be able to use body-hugging service providers such as hairdressers.
Despite the rather encouraging interim results so far, the government is not ruling out an emergency brake if there is an exponential growth in new infections. For the summer, one remains cautiously optimistic in view of the rising temperatures and advancing vaccinations. (sda / dpa)
THANK YOU FOR THE ♥
Would you like to support watson and journalism? Learn more
(You will be redirected to complete the payment)
"Stay at home!": Corona in Switzerland in quotes
Baroni mixes the cocktail "And the marmot greets you every day"
You might also be interested in:
Subscribe to our newsletter


[ source link ]
https://www.watson.ch/international/coronavirus/622102236-tests-statt-lockdown-oesterreich-sieht-sich-auf-dem-richtigen-weg

Tests lockdown Austria sees track