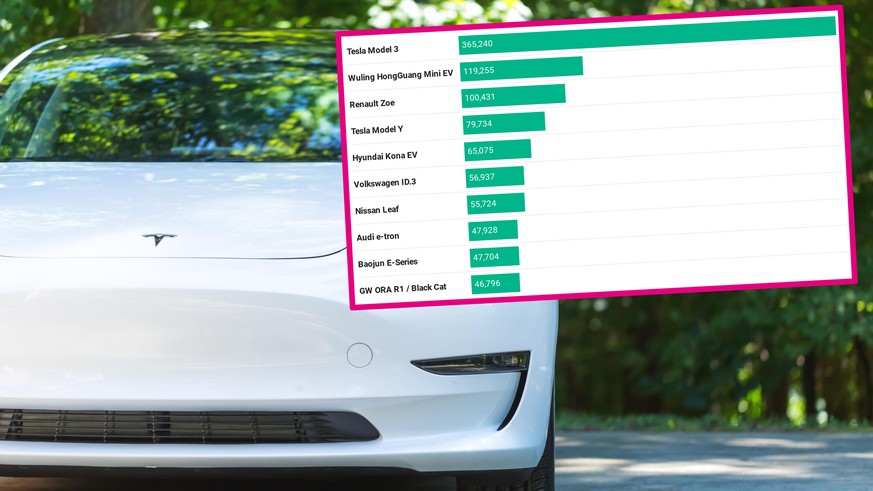 Tesla dominates e-car sales, which only make up 2.8 percent of all sales worldwide. Image: Shutterstock
The se are the most popular electric cars – one model drives everyone away
The top 10 best-selling electric cars of the past year hold one or two surprises in store.
Electric cars continue to soar. Tesla is the global market leader in the fast-growing e-car segment and traditional car manufacturers are also picking up speed. In Europe, Renault's Zoe is at the top of the electric car charts. Switzerland, on the other hand, remains a Tesla country.
Electric car sales worldwide
Last year around 2.2 million electric cars hit the streets worldwide. Only electrically powered models, i.e. without hybrids and plug-in hybrids, achieved a market share of 2.8 percent (8.2% in Switzerland). For comparison: In Norway, the model country for electric cars, 54.3 percent of customers have already opted for an electric car thanks to government subsidies, and a further 20 percent for a plug-in hybrid car that can also be charged from the power grid.
Worldwide, the e-car market is dominated by one brand: Tesla.
The Californians delivered around 500,000 models within a year.
Far behind are the Chinese-American joint venture SAIC GM Wuling (SGMW) as well as Renault, VW, Hyundai, Nissan and Audi.
Worldwide e-car sales by brand (2020)
SGMW: SAIC + GM + Wuling, a joint venture between SAIC Motor Corporation and Wuling from China and General Motors from the USA. Tesla and Nio only produce electric cars.
graphic: roger rusch / @ceo_plus_ch
Almost every fourth electric car sold (22.8%) was a Tesla. In addition to the Model 3 (365,000 units), the new Model Y (80,000) also sold well. Tesla's mid-range SUV, however, missed the podium.
The following slideshow shows which electric cars met with the greatest approval in 2020:
Top 10 best-selling electric cars worldwide in 2020
When it comes to small cars, the Chinese automaker Wuling is with the Mini EV took off.
In the category of small cars it is Renaults Zoe a success story in Europe.
VW got the middle class out of the box with the VW ID.3 conquered.
In the upper middle class it is Teslas Model 3 hastened away from all.
Rides in the luxury class Audi E-Tron Be the first to cross the finish line and leave the Model S and Model X behind.
Viewed across all vehicle classes, Model 3 is the best-selling electric car for the third time in a row.
The gap to the competition is so great that this year the fourth triumph in a row seems more than possible.
The situation looks a little different in Europe, where Tesla had to admit defeat by a narrow margin in 2020.
E-car sales Europe
While Tesla and VW are competing for the title of electric car king in Europe, a little French driver drove away from both of them in 2020.
The best-selling electric car was the small Renault Zoe, followed by the Model 3 and VW's brand new hope ID.3.
The top 10 are completed by the Hyundai Kona Electric, VW E-Golf, Peugeot E-208, Kia Niro, Nissan Leaf, Audi E-Tron and BMW i3.
Top 10 electric cars in Europe 2020
Renault before Tesla. A good three months were enough for the new VW ID.3 to catapult itself to third place among the best-selling electric cars. graphic: jet
Renault's Zoe has been selling better every year since 2013 and sales exploded in 2020.
The French sold 99,261 units, an increase of 118 percent over the previous year.
Nr.1 in Europa: Renault Zoe
To put it into perspective: In the annual ranking of all car models, the Renault Zoe only ranks 33rd in Europe (13th place in Switzerland) despite the surge in sales.
No. 2 in Europe: Tesla Model 3
With almost 86,000 redeemed models (minus 9 percent), Tesla's Model 3 is the second most popular electric car among Europeans. That is enough for 43rd place in the ranking of all car models (2nd place in Switzerland).
In third place in the electric car rankings, VW's ID.3 appears, which despite its delayed start in autumn left almost all other electric cars behind. Volkswagen sold around 56,000 ID3 in the last three or four months of the year.
Volkswagen overtakes Tesla in Europe
While Tesla dominates the e-car market worldwide, the Volkswagen Group with its brands VW, Audi, Škoda, Porsche, etc. is advancing to the top of the list in Europe.
The Germans now hold a market share of 25.2 percent in fully electric cars (BEV) and are the new number one. While almost every fourth electric car globally is a Tesla, every fourth electric car in Europe comes from the Volkswagen Group. Tesla slipped from 31 percent in 2019 to 13.3 percent and comes in third behind Volkswagen and Renault-Nissan. In 2019, Tesla was still the most successful electric car manufacturer in Europe.
Tesla was recently largely dependent on the Model 3 in Europe, as the new Model Y will only be available from us this year. At the Volkswagen Group, however, in addition to the VW ID.3, various other models such as the Audi E-Tron, Škoda Citigo, Seat Mii and Porsche Taycan boosted sales.
In 2021, Tesla could make up ground again with the long-awaited Model Y, but Volkswagen has several irons in the fire with the ID.4, Škoda Enyaq, Audi Q4 E-tron, Cupra El Born or Porsche Taycan Cross Turismo.
E-car sales in Switzerland
In 2020, almost 19,500 purely electric vehicles were redeemed in Switzerland. This corresponds to a market share of 8.2 percent (2019: 4.2%). Overall, alternative drives, i.e. hybrid, electric, gas and hydrogen models, even achieved 28.2 percent (2019: 13.1%).
Top 10 electric car registrations in Switzerland 2020
Tesla Model 3 and Renault Zoe sell best with us. graphic: technikbog.ch
When it comes to fully electric cars, Model 3, which costs around 50,000 francs, has a market share of 26 percent. Tesla's best seller found around 5,000 buyers throughout the year, Renault's Zoe almost 3,000. Third place goes to Hyundai's Kona.
VW's new ID.3 is already fourth among the best-selling e-cars.
The Stromer, which costs around 40,000 francs, was redeemed around 1,000 times in the fourth quarter of 2020.
In total, almost every third electric car here is a Tesla.
The Renault-Nissan and Volkswagen groups follow at a considerable distance.
Market share based on pure e-cars, i.e. without hybrids and plug-in hybrids. graphic: technikblog
The Swiss e-car market is currently dominated by Tesla, Renault and Volkswagen. If you add the Volkswagen brands VW, Škoda, Audi, Seat and Porsche together, the Germans are on par with the Renault-Nissan group.
In the fast-growing e-car market, it is very likely that many things will look different in just twelve months: Mercedes, Opel, Dacia and others are launching new models for almost every wallet this year. With the Spring Electric, the Renault brand Dacia even wants to offer the cheapest electric car in Europe to date.
The base price should be around 20,000 francs.
With Spring Electric, Dacia will bring its first purely electrically powered car to the streets in 2021. Image: Dacia
"Electric drives will certainly continue to grow in 2021, albeit not as strongly as last year," predicts Auto Switzerland media spokesman Christoph Wolnik. One of the reasons for this is the slightly lower number of new models being launched in comparison to 2020.
More about electric cars
THANK YOU FOR THE ♥
Would you like to support watson and journalism? Learn more
(You will be redirected to complete the payment)
Nobe – the cutest electric car in the world
"I feel sick" – Toggi and Baroni in the Polestar test drive
You might also be interested in:
Subscribe to our newsletter


[ source link ]
https://www.watson.ch/digital/leben/561849133-das-sind-die-beliebtesten-elektroautos-ein-modell-faehrt-allen-davon

popular electric cars model drives