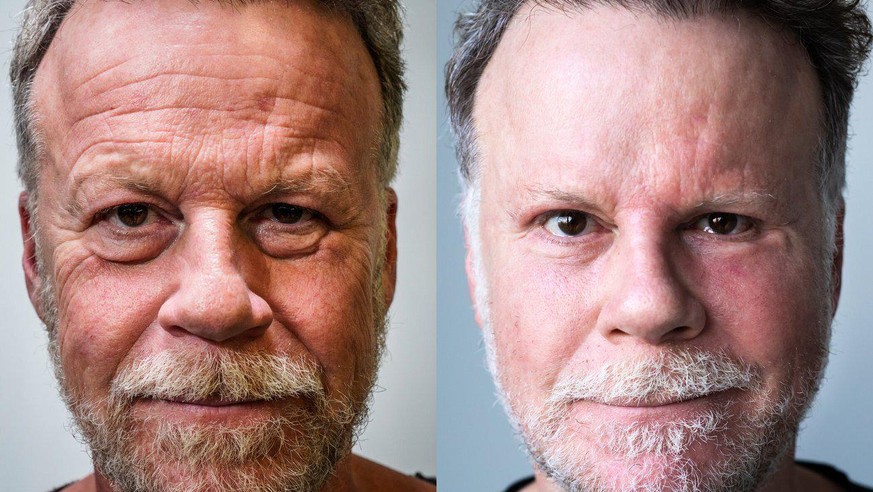 Jenke von Wilmsdorff can be seen here before and after the operations. Image: ProSieben / Bene Müller
"Would I do that again?": Jenke von Wilmsdorff shows three months after the operation how his face looks today
Jenke von Wilmsdorff has been particularly known for his extreme self-experiments since 2012. At the end of 2020, the TV journalist caused a sensation with his experiment: In 100 days, he wanted to achieve the result of looking 20 years younger. The program was called "Jenke.
The Beauty Experiment" on ProSieben. To do this, he endured around 60 interventions.
The special thing about it: one half of the face was only treated cosmetically, the other surgically with the help of cosmetic surgery. Later, the former was surgically aligned with the other.
At the beginning of February, the 55-year-old spoke to "Red" presenter Viviane Geppert for the first time about how things have happened to him since then: "Nine weeks ago my face was a mask. Here and there it is still fixed. I hope it always is getting better." Now Jenke has taken around an hour for his fans on Instagram and told, among other things, what he now thinks about the experiment, what he regrets and whether he would do it again.
Jenke von Wilmsdorff speaks openly about how he is now
First, Jenke von Wilmsdorff explained that the interventions were more than four months ago, and on November 10th the last half of the face was operated on. In the meantime, the face would look more and more normal:
"
The cosmetic surgeon who did it also said that you really should have waited five or six months before you let me in front of a camera again in order to get the best result. But that wasn't the point. It was It wasn't about me disappearing for six months and suddenly standing in front of you like a fountain of youth or let's call it the German Robert Redford. It was about showing exactly this way, that in the first few days you look like shit like that an inflated frog. And that for quite a long time, even if you've had as much done as I did. "
He just exaggerated with the experiment because he wanted to compensate for everything in a short period of time. With the exception of a facelift, he has done everything the market has to offer to achieve the result. Jenke clarified to Jenke the reasons for this drastic step: "Personally, I didn't want to improve or optimize myself, I just wanted to see what was possible with all these massive interventions."
The specific questions were therefore what cosmetics can do and when you become addicted.
Jenke von Wilmsdorff shows how he looks now. instagram / jenke von wilmsdorff
Commenting on his previous appearance, Jenke said: "I wasn't looking to rejuvenate myself privately. Ironically, I'm 55 now, of course I look in the mirror occasionally and did that before the experiment. But all of these I was familiar with wrinkles on my face. " And further:
Because of the experiments, he always went on a journey and discovered things that he didn't know about before. And that's how it was with this beauty experiment. When a follower said that he liked it better before, he said:
"I am a fan of open words.
The re are many who say that I liked them better before. My mother, for example. I thought my mother in her early 80s no longer saw it so clearly. That she now has a television in the living room, which is as big as a basketball court, had escaped me. That means, she saw everything, she could look into my nose. She was shocked that her dear, sweet, little Jenke suddenly looked completely different , like a worn-out Hollywood star who just overdid it. "
Jenke explains whether he would do the experiment again
But today she recovered from the shock. "Now everything is getting better and now she's happy again. But I could have prepared my mother a little better for it"he admitted. When asked whether he would do the experiment again, he openly replied: "I never ask myself the question, because then I do an experiment, tell the story, have researched everything and then I devote myself to the new topic. Now I have I, of course, have the experience I didn't have before. With the experiences I did not have before, I would not have some of these interventions performed again. But I don't need it either. That'll keep my face for the next 50 years. "
The n a subscriber wanted to know if he was happy with his face. Jenke then explained: "I'm getting happier with my face, let's put it this way. It really gets better and better. I know that the surgeon is right when she said to me that you will be with your face by the summer at the latest be happy and everything will be completely flexible and look natural again.
The wrinkles become less and everything looks fresher. It takes all. It wasn't that long ago when you consider that it really was all severed.
The re will be cut. "
After months, he also felt the parts of his face again. Now it's much better again. His conclusion was therefore: "I find it much more natural now and I feel more familiar with myself again." For Jenke it is clear that he does not condemn people who undertake such treatments, everyone has to decide for himself. "You can do that without others having the right to express themselves negatively about it." He would also like wrinkles.
Since the experiments are so intense and extreme and stress him physically and mentally, Jenke is always happy when they are through. But he would do it all voluntarily and only in a minimal cycle of two pieces a year. He is happy to have this experience. By the way, there will be more supplies in a few months. "We are shooting now so that in May we can broadcast not just one program, but several."
The re will be two different formats, one of which will be a new experiment, according to the TV journalist.
(games)


[ source link ]
https://www.watson.de/unterhaltung/stars/881644712-jenke-zeigt-drei-monate-nach-op-wie-sein-gesicht-jetzt-aussieht

months operation Jenke shows face