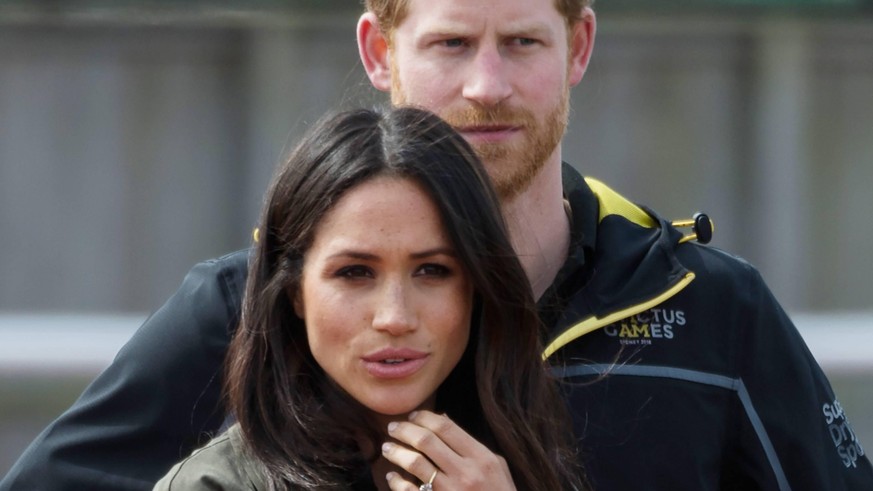 Meghan and Harry now live far from the British crown. Image: IMAGO / ZUMA Press
Source reveals: Meghan is only in contact with this royal
Massive allegations of bullying are currently circulating against Meghan. According to a report in the "Times", two assistants of the former actress are said to have dropped out in 2018 because of the immense pressure she had put on. Buckingham Palace announced enlightenment and made it clear: "The staff who were employed at the time, including those who left the household, will be invited for interviews to see what can be learned from the matter."
Compared to the "People" magazine, a spokesman for Harry and Meghan vehemently denied the allegations: "The Duchess is sad about this latest attack on her person, especially as someone who has been the target of bullying and is vehemently committed to supporting those who have experienced pain and trauma. "
In the interview with Oprah Winfrey, which was broadcast in full on March 7, Meghan also attacked Buckingham Palace directly. In the conversation, Harry's wife said that she did not know how the royal family could expect, "that after all this time we will simply continue to be silent when 'The Company' is actively involved in constantly spreading falsehoods about us." An insider has now revealed to "Us Weekly" that Meghan is still in contact with only one royal from the royal family.
Meghan remains connected to this royal
The relationship between the prince couple and the royal family seems to be broken. The unveiling interview on Sunday in particular caused a tense atmosphere in the palace in advance. The "Mirror" released a statement from a royal source after the interview was announced, saying that the royal family were "very nervous" about what the couple would say as they no longer have control over their affairs.
Now it became clear that the fear was not unfounded, because Harry and Meghan spoke in the conversation with Oprah Winfrey about explosive issues from the royal family. The enormous pressure came up, the palace was called a golden cage and accusations of racism were loud. Meghan stated: "During the months that I was pregnant, there were conversations about how dark the child's skin would be and how it would appear on the outside." The two felt abandoned by the royal family.
The then "Suits" actress should only have one reference person with the Royals, as another source told "Us Weekly". This meant that Meghan and Princess Eugenie, Harry's cousin, "remain friends". Although they are very different, they are still in exchange. Pregnancy in particular would bind the two together. Meghan is currently expecting her second child and Eugenie became the mother of a son for the first time in February of this year. Incidentally, in the same month Meghan announced that she was expecting children again after suffering a miscarriage in 2020.
The source continues: "Eugenie really is the only member of the royal family Meghan is still close to." By the way, they both got married in St. George's Chapel in Windsor Castle in 2018. Harry is also said to be particularly close to his cousin. They have been closest friends since childhood. The book "Finding Freedom" also states: "Like Harry, Eugenie is loyal, honest and great fun. The two had many evenings together in London." The 36-year-old has great confidence in her. Meghan now seems to have that too.
Since the royal retreat, the couple and baby Archie have lived in Meghan's homeland, California, after a short stay in Canada. Since then they have been living there financially independently. In 2020, they signed a multi-million dollar deal with Netflix. They are also working with Spotify on their own podcast series. So they have completely broken away from the royal family.
(games)


[ source link ]
https://www.watson.de/unterhaltung/royals/131410338-eine-quelle-enthuellt-meghan-hat-nur-noch-zu-einem-koenigshaus-mitglied-kontakt

source reveals Meghan contact member royal family