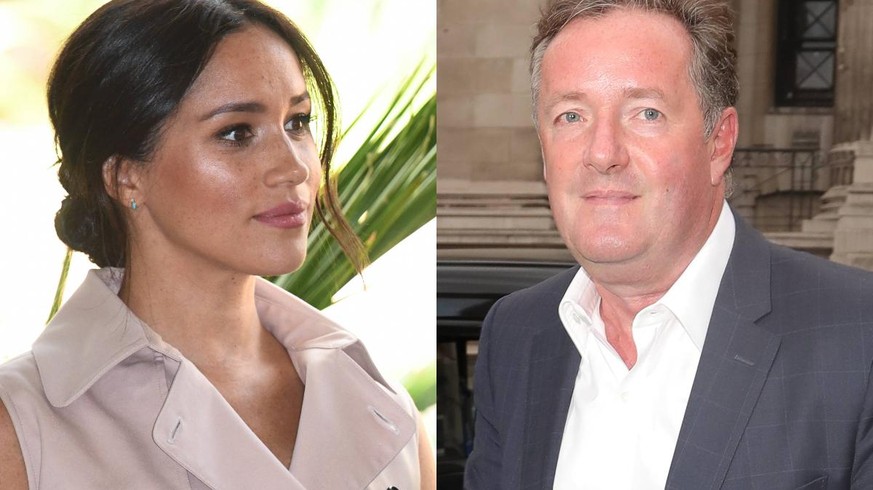 Meghan and Piers Morgan have already met personally. Bild: IMAGO/ PA Images/ IMAGO/ Matrix
After Meghan scandal: moderator Piers Morgan speaks up
Millions tuned in when Harry and Meghan gave Oprah Winfrey a two-hour interview in early March. In it, the couple made serious allegations against the royal family and lamented a lack of support from them. The former actress was also plunged into a serious psychological crisis due to the negative continuous reporting. "I just didn't want to live anymore. And that was a very clear, real and scary constant thought," said the 39-year-old.
There were also allegations of racism against the royals. Meghan said she had conversations with Archie during her pregnancy about how "dark" her child's skin would be. The Queen said in a statement that, despite partly different points of view, she was "sad" about Meghan's and Harry's grief and the questions raised, "particularly those related to racism", are "worrying". William said on a visit to a London school: "We are not a racist family."
One reaction to the disclosure interview received a lot of attention – the angry speech by English host Piers Morgan in which he attacked Meghan. In the morning magazine on ITV, he said: "I'm sorry, I don't believe a word she's saying. I wouldn't even believe her if she read the weather forecast to me." More than 41,000 complaints about his statements caused Morgan to lose his moderation job on "Good Morning Britain". One of them came from the victim herself. Now the moderator explained how it could come to this – and why he still does not believe Meghan.
Harry and Meghan can be seen here in the interview with Oprah. Bild: Joe Pugliese / Harpo Productions / PA Media / dpa
This is how Piers Morgan thinks about his appearance now
Piers Morgan's departure from the show was preceded by an exchange of blows with his co-host Alex Beresford, who said to him: "As far as I know, you have a personal relationship with Meghan Markle, or had one, and she booted you out." Meghan has every right to do so, emphasized Beresford. But he still does not stop "pulling on her". After this criticism, Morgan stormed out of the studio in front of the camera.
As a reminder, Piers Morgan is known for his belligerence and gained dubious notoriety as a fierce critic of Duchess Meghan. Since the former "Suits" actress is said to have broken off contact with Morgan in 2016, there has been an ice age. The two are said to have met in a London pub on the evening when Meghan later met Harry for the first time. After that, however, Morgan never heard from her again, he later reported on a TV show.
Regarding the confrontation with the co-host, he said in the "Daily Mail": "When we started the show, I was tired and excited. Alex Beresford seemed just as tense and launched a very personal attack." And further:
"I don't mind outside guests trying to make a name for themselves by hitting me like that, but I wouldn't have expected someone on my own team, especially someone I've helped out whenever they want asked me for advice about his career. When I realized I could say something I would regret, I decided to leave the studio to cool off. "
Today he thinks differently about the momentous reaction and now said: "I knew it didn't look good. And when I think about it, I shouldn't have." By the way, this was how his resignation came about: "In the late afternoon, Kevin Lygo, the ITV television director, with whom I had spoken several times since yesterday, called to say that we were now on the edge of the cliff and that either I would apologize or leave 'Goodmorning Britain'. "
Piers Morgan took a lot of criticism for his performance. Image: dpa / Jonathan Brady
But an apology was out of the question for him. He justified this as follows: "I didn't want to apologize for not believing Meghan Markle because the truth is, I don't believe Meghan Markle. And in a free, democratic society, I should be allowed to disbelieve someone and say that I don't believe them. Isn't that the essence of freedom of expression? If I said, I believe Meghan now, I would lie to the audience and do exactly what I accused her of doing. "
Morgan also stated that the longer the interview lasted, the less he could relieve her of what was being said. This included the private wedding with the Archbishop of Canterbury that Meghan had never Googled Harry or the serious accusations of racism that the two raised. According to Morgan, the couple wanted to deliberately inflict maximum damage on the royals. In addition, the moderator spoke of a lie. He also firmly rejected racism allegations against himself:
"It didn't matter that I never said anything racist about her or that my only comments were to say repeatedly how great it was for a biracial woman to marry into the royal family. It seems that questioning Meghans forked 'truth' is now a racist hate crime. "
The 55-year-old also has a clear opinion about Meghan's mental health and the allegedly denied help of the royal palace and finally said: "Then why didn't Harry give her the urgent help she needed? He is a member of one of the UK's largest mental health charities and has proudly spoken in the past of getting discreet help for yourself. " All of this prompted him to openly express doubts about the credibility of Meghan's statements.
His final conclusion was: "It was the fieriest episode of 'Good Morning Britain', but also very raw, real TV. It's what we do best: passionately debating the news, as families, friends, and work colleagues will no doubt do about the interview today. "
(games)


[ source link ]
https://www.watson.de/unterhaltung/royals/452007061-nach-meghan-eklat-gefeuerter-moderator-piers-morgan-mit-klarer-ansage-zu-tv-ende

Meghan scandal Fired presenter Piers Morgan clear announcement