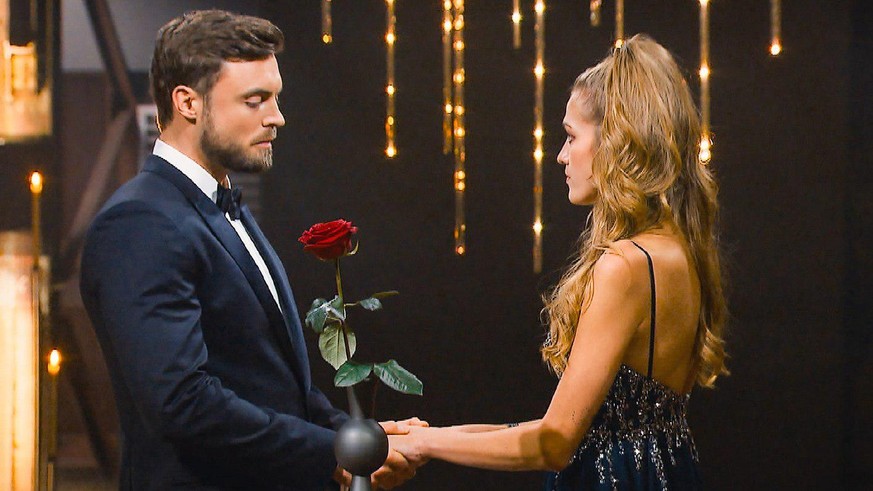 Bachelor Niko gave Mimi the last rose in the final, but it wasn't enough for more. Image: TVNow
Winner Mimi admits: Bachelor Niko didn't even stay overnight
This year's Bachelor Niko Griesert had his winner Mimi flashed off after his dome show season. It was actually the office clerk who got the last rose from Niko on the RTL show. After some back and forth with her rival Michèle, the bachelor had decided on her.
But there was no happy ending with Mimi, at the reunion show "After the Last Rose" with Frauke Ludowig it quickly turned out that Niko and Mimi did not become a couple. And that despite the fact that he whispered to her in the final: "You are my dream woman, my home, my Mimi". The dream woman quickly turned into a dream best friend, as Mimi now revealed in an interview on "rtl.de".
Bachelor Niko gave Mimi a basket after the final
What exactly happened between her and the Bachelor after the TV cameras were off is sobering from Mimi's perspective. Visibly broken, she admitted in conversation:
"It happened relatively quickly that it was only friendly for him and yes, what should you say when someone who actually promises you: 'We'll go home now and have a good time' and what he did in the final just said. And then I come home and it's like a slap in the face. "
Because when she got home, Niko rarely contacted her – on Whatsapp, in rare conversations, it was ostensibly about the RTL program and not her love. Mimi described disappointed: "It was never about private. It was more about the season, about the episodes: 'How did you like the episode?' Rather so superficial. "
The two only saw each other once after filming – but the 30-year-old also attached great importance to their platonic connection. Apparently, Niko had been able to exclude himself so clearly that something could have happened to him and Mimi, so that he even accepted several hours of driving time in order not to have to stay overnight with her. Mimi remembered:
The 26-year-old thought it was a shame because Niko hadn't allowed their relationship to have a chance. Even before the finale, there had been chaos in the "Bachelor" season, because Michèle, who had actually been eliminated, brought Niko back without further ado, only to give her another basket in the last broadcast and to choose Mimi.
That is why the native of Hesse tried everything to help Niko in his emotional confusion. He told her first that he needed time to process everything. Mimi then wrote him a letter: "That I support him and I will help him, but he has to let me and we can somehow manage it together." But their sad conclusion was ultimately: "Didn't bring anything."
(cfl)


[ source link ]
https://www.watson.de/unterhaltung/tv/800258669-bachelor-siegerin-mimi-gesteht-bittere-abfuhr-niko-blieb-nicht-mal-ueber-nacht

Bachelor winner Mimi admits bitter rejection Niko didnt stay overnight