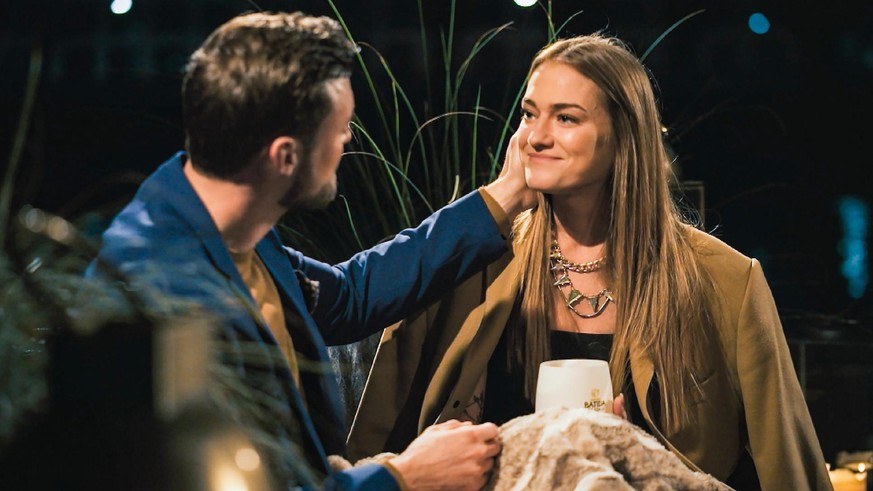 Bachelor Niko Griesert and the winner Mimi did not become a couple. Image: RTL / screenshot
Interview
"Bachelor" winner Mimi with a clear message to Niko: "Should think ten times for the next decision"
Mimi Gwozdz received the last rose from this year's Bachelor Niko Griesert. What was supposed to be the beginning of a love story ended pretty quickly in chaos – and that even before the last cut flower was awarded.
Before that, Niko brought back Michèle de Roos, who had previously been eliminated, only to give her a basket and decide in favor of Mimi. "You are my dream woman, my home, my Mimi", he told the 26-year-old in the final show, only to find out a short time later that he primarily felt friendship for her.
In an interview with watson, she now reveals how Mimi is now about Niko, what she advises him for the future in terms of decision-making and whether there is perhaps a new man at her side.
watson: After the final, things went differently for you and Niko than you probably had hoped for. How do you feel about Niko now?
Mimi Gwozdz: I would say that we are at peace with each other. I wouldn't call it a friendship now, but we do have contact every now and then.
Do you take Niko's back and forth, his inner turmoil from the show?
I do believe that his position as "The Bachelor" was sometimes more difficult than you can imagine. However, he should be aware of the effects his decisions have and what this can trigger on other people.
What do you think of the rumors that Niko and Michèle should be a couple after all?
It's actually hard for me to imagine that they are actually a couple. However, I do believe that they currently want to get to know each other in "real life".
How do you feel about Michèle now? During the show, you usually weren't very good at talking to her.
After the big reunion, I contacted her and apologized for the words I chose during the show as I realized they were quite hurtful.
How was it when you found out that Stephie was replaced again in the final? What did you think?
I was incredibly surprised. I was just thinking how bad she must be …
Are you still friends with Stephie?
Na klar!
How was the Bachelor's time for you in general? Do you regret your participation?
I don't regret participating at all. I enjoyed every moment and every experience and I am happy to have met such great people.
When you saw the "Bachelor" season, were there any scenes that you experienced very differently on site? Were you irritated by certain scenes or were you surprised at some of the statements or behavior of others?
It is an absolutely exceptional situation in which you find yourself at this time. That's why I believe that every reaction or behavior was justified because it's about feelings – and you can't always control them.
If you could say something to Niko in retrospect, what would it be?
If he should ever get into a situation in which he has to make an important decision, I would advise him to think about it ten times so that he can stand behind his decision and be happy with it.
Do you have a new man by your side in real life by now?
Of course, I first have to collect myself and concentrate on my own life. I need time to be able to completely finish the subject before I can get involved with a new man.


[ source link ]
https://www.watson.de/unterhaltung/interview/706473614-bachelor-siegerin-mimi-mit-klarer-ansage-an-niko-griesert

Bachelor winner Mimi clear announcement Niko Griesert