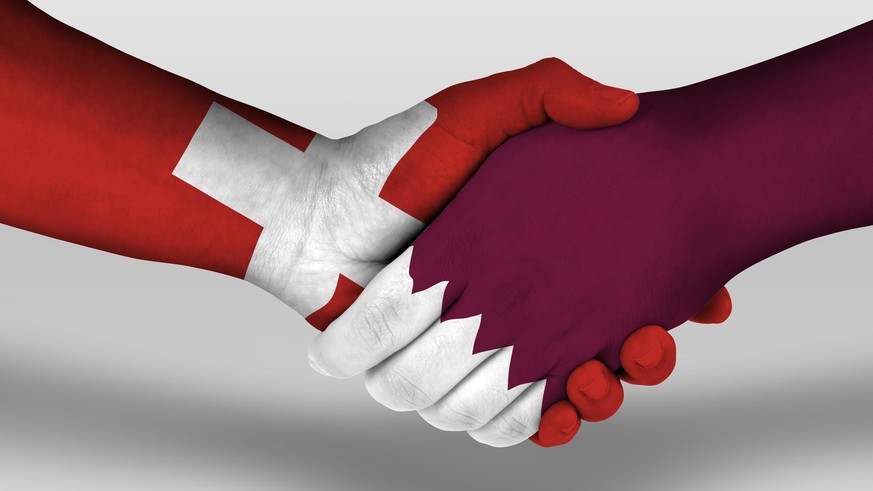 The Norwegians with BVB striker Erling Haaland were the team that got the ball rolling. Image: keystone
"Rely on dialogue" – boycott of the 2022 World Cup not an issue for the Swiss Football Association
Norway, Germany, the Netherlands or Denmark – several national football teams have recently protested against the human rights situation in Qatar. The 2022 World Cup, for which qualifying matches are currently taking place, will be held in the desert state.
At the moment, messages on T-shirts are primarily used to draw attention to misconduct, but a possible boycott of the world championships is also discussed here and there. This is not an issue at the top of the Swiss association.
Before the national team's international match against Lithuania in St.Gallen (8.45 p.m., in the live ticker), the President of the Swiss Football Association, Dominique Blanc, commented on the topic on the association's website. "We count on dialogue and not on boycott," he made clear.
Association President Dominique Blanc (left) in an interview with national coach Vladimir Petkovic in June 2020. Image: keystone
"We believe that the best way to defend our values, those of football and those of Switzerland, is to be present and to use them in dialogue," said Blanc. He also emphasized: "Participating in an event anywhere in the world does not mean that we support immoral or illegal practices."
However, the information available to the association shows that the situation in Qatar has improved in recent years, which Amnesty International has also confirmed. "The organization of the World Cup can contribute to such improvements, as a country is exposed to the light of the whole world. For us, football should be used to promote human rights. " (R.A.M)
More on the subject:
THANK YOU FOR THE ♥
Would you like to support watson and journalism? Learn more
(You will be redirected to complete the payment)
When swastikas become messages of peace
Swiss national players on racism
You might also be interested in:
Subscribe to our newsletter


[ source link ]
https://www.watson.ch/sport/fussball/928474687-boykott-der-wm-2022-fuer-den-schweizer-fussballverband-kein-thema

Boycott World Cup issue Swiss Football Association