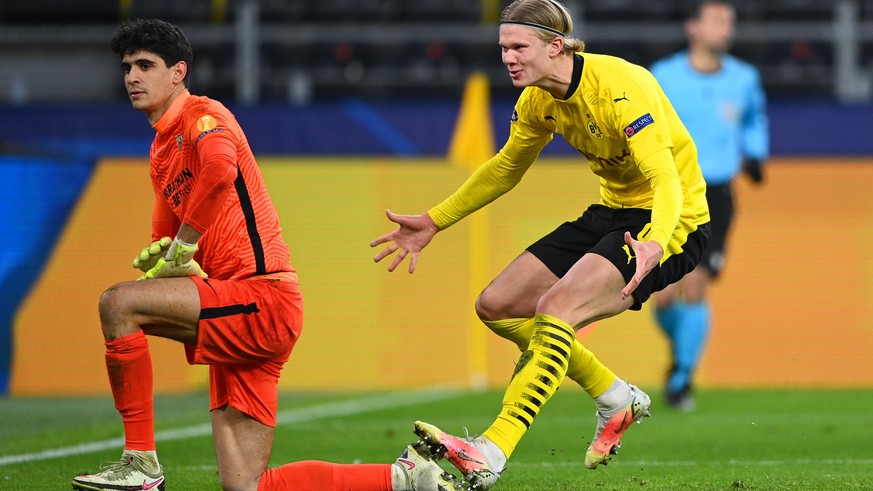 Liveticker
Juve struggles in extra time – Haaland shoots BVB into the quarter-finals
Dortmund – Sevilla 2:2; HS: 3:2
Borussia Dortmund made it into the quarter-finals of the Champions League for the first time since 2017. The Germans defend their 3-2 advantage from the first leg thanks to a 2-2 at home. Erling Haaland scores both Dortmund goals.
Dortmund could once again rely on their Norwegian top scorer: The Bundesliga sixth defended the 3-2 upholstery from the first leg with little style. But thanks to the 20-year-old exceptional striker, there was no real nerve game. Haaland refined Dortmund's first successful combination in the 35th minute to make it 1-0 and thus relaxed the situation from Dortmund's Safe.
Haaland scores 1-0 for Dortmund. Video: streamable
After the break, Haaland was at the beginning and end of a six-minute, strange interlude. First, Haaland's 2-0 win was canceled in the 48th minute due to a foul and the striker was awarded a penalty. Seville goalkeeper Bono stopped the attempt and the margin.
When his teammates were already on the counterattack, the Turkish referee Cakir intervened again: Bono had moved off the goal line too early, which is why Haaland was allowed to start a second time from the penalty spot and in the 54th minute finally made his 20th championship victory. League goal (in the 14th game) scored.
Haaland increased the penalty to 2-0 for BVB. Video: streamable
The Haaland penalties at a glance:
The provocation of Seville goalkeeper Bono after his 10th Champions League goal of the season would not have been necessary. Haaland rightly saw the yellow card.
Seville was never discouraged even after the 2-0 draw. The two goals by Youssef En-Nesyri (69th and 96th) were not enough to win the game they deserved.
En-Nesyri reduced the penalty for Sevilla to 1: 2. Video: streamable
The 2-2 in stoppage time by En-Nesyri. Video: streamable
The Spaniards played forward with a lot of vigor and repeatedly pushed Dortmund far back for minutes. The Germans made no sovereign impression without the convalescent Manuel Akani and the injured Jadon Sancho and Giovanni Reyna. But in the end Dortmund couldn't care less – they had Haaland
Dortmund – Sevilla 2:2 (1:0)
SR Cakir (TUR).
Tore: 35. Haaland 1: 0. 54. Haaland (Foulpenalty) 2: 0. 68. En-Nesyri (Foulpenalty) 2: 1. 96. En-Nesyri 2: 2.
Dortmund: Hitz; Morey (95th Meunier), Can, Hummels, Schulz (89th Zagadou); Dahoud, Delaney, Bellingham; Hazard (66. Passlack), Haaland, Reus.
Sevilla: Bond; Jesus Navas, Koundé, Diego Carlos, Acuña; Jordan (60. Gomez), Fernando (86. Rakitic), Oscar (79. Torres), Ocampos (60. De Jong), En-Nesyri, Suso (86. El Haddadi).
Remarks: Dortmund without Bürki (replacement), Akanji, Schmelzer, Reyna, Witsel and Sancho (all injured). Sevilla without Vidal (injured). (pre / sda)
THANK YOU FOR THE ♥
Would you like to support watson and journalism? Learn more
(You will be redirected to complete the payment)
The biggest Champions League comeback since 1993
No football fans in the office, please!
You might also be interested in:
Subscribe to our newsletter


[ source link ]
https://www.watson.ch/sport/liveticker/178669021-champions-league-das-duell-juventus-gegen-porto-im-liveticker

Champions League duel Juventus Porto live ticker