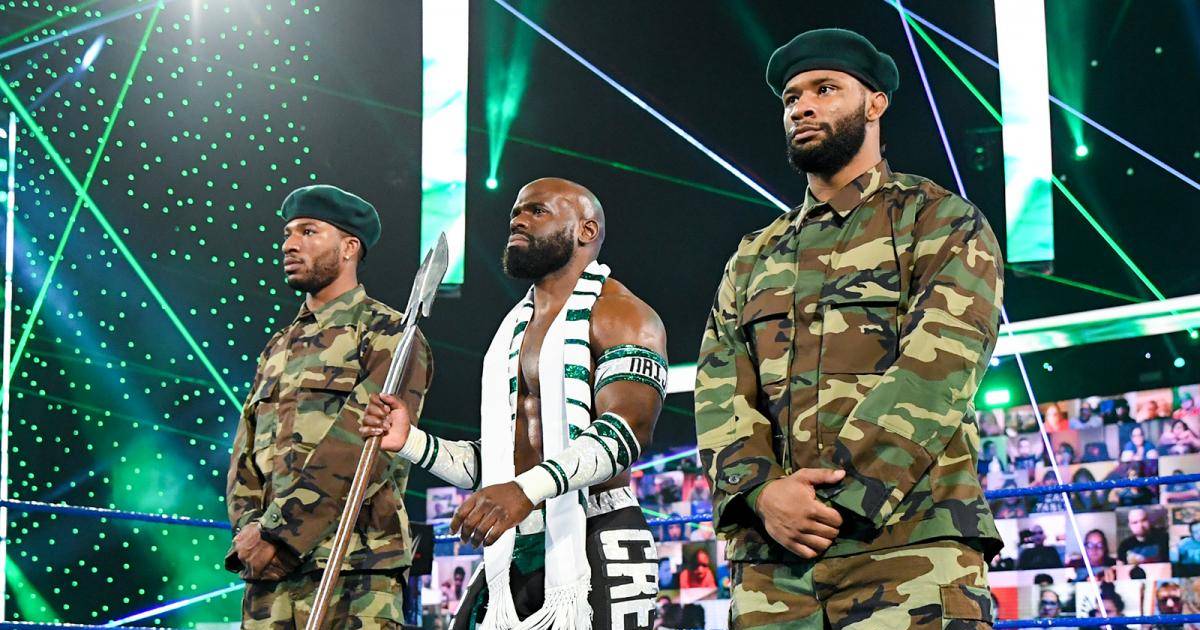 Former US champion Apollo Crews makes a character restart as a villain at WWE – which causes discussion among fans of the wrestling league.
On the TV show Friday Night SmackDown, the 33-year-old solidified his "heel turn", which he had made official two weeks ago with an attack on Intercontinental Champion Big E – and deepened the new emphasis on his Nigerian origins.
Crews showed up at SmackDown with tribal leader symbols and two helpers dressed in soldier uniforms. In an address to Big E and the audience, he explained, as he did last week, that it was a mistake that he wanted to adapt in America.
He was no longer ashamed of his roots, he was now drawing strength from them, he was now a true African American (another blow to Big E), speaking in his actual voice and no longer asking for what was due to him, he was demanding it. Crews demanded a title match from Big E in this sense and threatened that he would subdue him and make him "a broken man".
Apollo Crews suddenly speaks with an accent
The Sacramento-born Crews (civil: Sesugh Uhaa) is actually the son of Nigerian parents, his appearance is reminiscent of African dictators or warlords – and quickly led to debates among fans on social media whether the new gimmick was a success or in his use of African clichés is a border crossing.
There has been particular controversy over the fact that Crews' "true voice" is an imitation of an African accent after speaking perfect English.
Many fans were reminded of the wrong Jamaican accent with which Kofi Kingston – Big Es partner in The New Day group – once spoke at WWE, which Kingston, who is actually from Ghana, sees himself as an aberration today.
Daniel Bryan earns a title match against Roman Reigns at Fastlane
Meanwhile, the focus of the show was still the title feud between Universal Champion Roman Reigns and Daniel Bryan, who was ingloriously defeated at No Escape two weeks ago.
Bryan opened the show with an emotional speech in which he stated that winning the title against Reigns and the associated WrestleMania match against Royal Rumble winner Edge was possibly his last chance to headline the biggest WWE show and that he would do it all gonna do to use them.
In a steel cage match against Reigns' nephew Jey Uso and Bryan at the end of the show then got the chance to earn the title match at the Fastlane show in two weeks – and seized it by forcing Uso to surrender with the Yes Lock.
Murphy back
A slightly strange comeback after weeks of absence came from Murphy, who offered Seth Rollins – from whom he had actually already broken away in the feud against the Mysterio family – help in his dispute with Cesaro.
However, Rollins gave Murphy the cold shoulder and Murphy lost a match against Cesaro.
The other highlights:
– After their loss to Street Profits last week, King Corbin declined to team up with Sami Zayn again. Instead, he challenged Montez Ford in an individual match – and defeated him with the help of a distraction from Zayn. In a subsequent match between Zayn and Ford's partner Angelo Dawkins, Corbin did not repay the favor and Zayn lost.
– A match between Rumble winner Bianca Belair and Shayna Baszler was once again marred by the dynamic between SmackDown women's champ Sasha Banks and Carmella's "Sommelier" Reginald. Despite the distraction, Belair defeats Baszler and then urges Banks to make sure that Reginald – previously fired by an angry Carmella for being "obsessed" with Banks – is out of their way. Banks slapped Reginald and told him to stay away from her. Belair and Banks challenge Baszler and Nia Jax for the tag team titles at Fastlane, before Belair reaches for Banks singles titles at WrestleMania. Reginald's motivation in this situation is still unclear.
The results of WWE Friday Night SmackDown on March 5, 2021:
King Corbin defeats Montez Ford
Angelo Dawkins defeats Sami Zayn
Dominik Mysterio defeats Chad Gable
Bianca Belair defeats Shayna Baszler
Cesaro defeats Murphy
Steel Cage Match: Daniel Bryan defeats Jey Uso


[ source link ]
https://www.sport1.de/kampfsport/wrestling/2021/03/wwe-smackdown-kontroverse-neue-rolle-fuer-apollo-crews

Controversial role Apollo crews