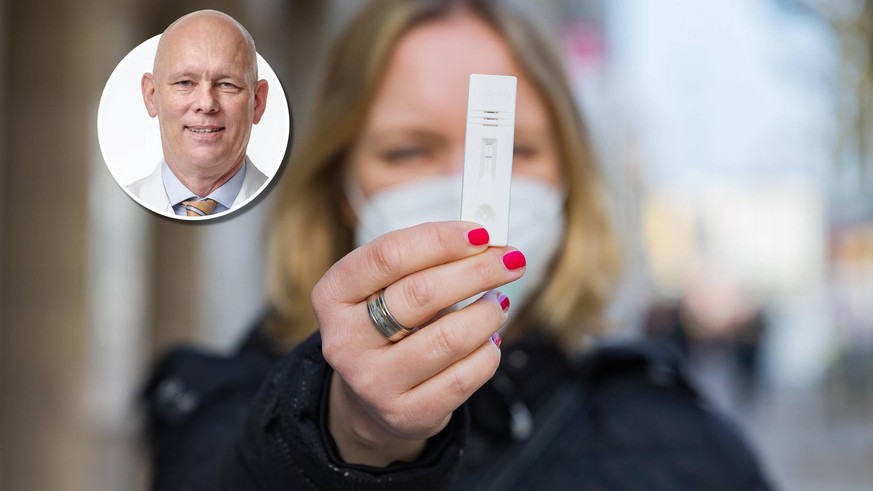 Out of lockdown in 8 days? This Thurgauer has a plan

The lockdown in Switzerland could be ended within 8 days. This is what the Thurgau doctor Thomas Krech claims. We explain here how this should work with 20 million tests.
Thomas Krech is convinced that the vaccinations alone will not be enough to pave the way out of the pandemic. For this reason, the doctor and entrepreneur from Thurgau has developed a test concept. Today the NZZ and the trade newspaper report on his project. Krech's company Misanto carries out a larger part of the corona tests in Thurgau.
Krech suggests testing the entire population of Switzerland within a short period of time – twice. Rapid tests for at home and sophisticated logistics should make this possible.
Krech heads the Misanto medical center in Frauenfeld and is an expert in telemedicine. Image: pd
This is what Krech's eight-day plan looks like:
Tag 0
On day 0, every citizen should have a quick test delivered to their home by post. A total of 10 million tests are sent. According to Krech, the pharmaceutical company Roche would be able to deliver the required millions of rapid tests within a reasonable period of time. Swiss Post has also confirmed that delivery to all Swiss households is logistically feasible.
Tag 1
People carry out the test themselves at home. The problem: The self-test required for this is not yet approved in Switzerland. However, according to its own information, the Federal Office of Public Health is working on such an approval. Krech aims at tests in which the sampling via the front nasal area is sufficient.
The self-test should be straightforward and easy to perform. Image: keystone
The results, which are available after around 15 minutes, are then recorded digitally. People who tested positive must isolate themselves immediately, people in the same household must be quarantined. Krech expects around 50,000 positive results.
Tag 2
All those who received a positive result from the rapid test on the first day should do a PCR test the next day. This is justified by the lower reliability of the self-tests. In this way, it can be avoided that false positives have to go into isolation. The tubes for the PCR spit test should also be sent home to avoid any risk of infection.
You don't have to go to a test center for the spit tests. Image: keystone
Day 3, 4 and 5
Anyone who has a positive result in the PCR test for the second time must remain in isolation – 10 days in total. Here Krech estimates the number at 40,000-50,000 people.
Then the game repeats itself: On the 4th day the entire population receives a second rapid test sent home and on the 5th day everyone tests themselves. Why is this second test necessary? In the first test, it is possible that people who are already infected will receive a negative result because the virus cannot be detected at an early stage.
>> Coronavirus: All news in the live ticker
Day 6 and 7
Days 6 and 7 are again identical to days 1 and 2. Those who tested positive go into isolation and carry out an additional PCR test on the following day. If this result is also positive, they must remain in isolation. Krech estimates the number of people who tested double positive at the time to be 8,000.
Tag 8
After all, the 8th day is the day that we all long for with great longing: it should bring the end of the lockdown. Krech explains to the trade newspaper:
"After repeated testing of the entire population, the situation then arises that all contagious citizens are in isolation and therefore there is no longer any risk of infection from them. This means that the economy, schools and universities can be reopened without restrictions. "
But for Switzerland to remain a corona-free zone, all those entering would have to do a quick test at the border crossings. Krecht also suggests that commuting cross-border commuters should be tested every five days.
But important: This whole plan only works if a sufficient number of households participate, because the testing is done on a voluntary basis.
Krech estimates the total cost to be a one-off CHF 400 million. In addition, the checks at the border would cost an estimated 10 million francs – per day. (saw)
THANK YOU FOR THE ♥
Would you like to support watson and journalism? Learn more
(You will be redirected to complete the payment)
"Stay at home!": Corona in Switzerland in quotes
"Corona shits a": One night at the Stadelhofen train station
You might also be interested in:
Subscribe to our newsletter


[ source link ]
https://www.watson.ch/schweiz/coronavirus/687993898-coronavirus-in-8-tagen-aus-dem-lockdown-der-plan

Coronavirus lockdown days plan