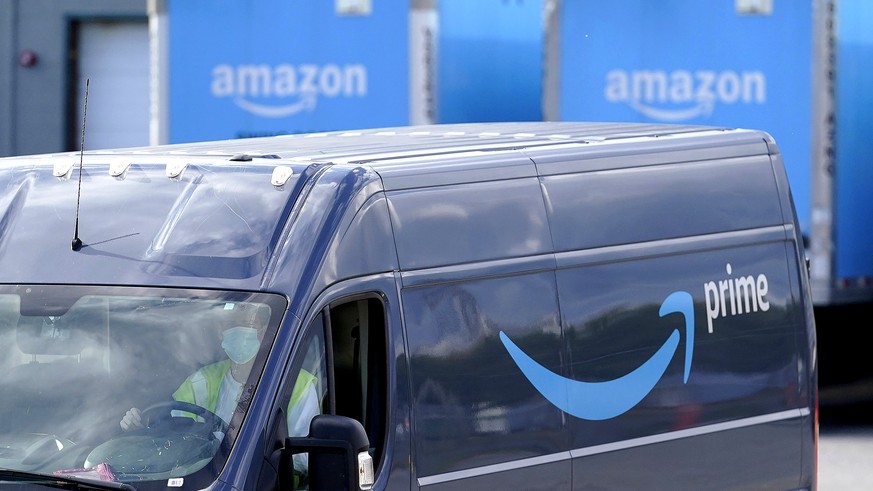 Amazon is threatening employees in the USA who do not go to the toilet but relieve themselves in the van with the dismissal. Leaked documents reveal this. archive Image: keystone
Amazon couriers urinate in bottles – the company denies it
The PR department of the US group denied the questionable occurrences, then journalists leaked confidential documents.
What happened?
On Thursday, Amazon denied allegations by a US MP on Twitter that his employed drivers had too few toilet breaks and had to urinate in PET bottles due to time pressure.
Several US journalists, however, testified to precisely such events, which were due to the immense time pressure. And then published Investigative Reporter Ken Klippenstein internal documents for the online medium The Intercept, which are supposed to prove that Amazon had known about the problem for months.
A January document labeled "Amazon Confidential" describes various violations by Amazon employees, including "public urination" and "public defecation". The document was made available to The Intercept by an Amazon employee in Pittsburgh, Pennsylvania. This was assured anonymity in order to protect him from reprisals.
The problem was so widespread because of the high pressure to meet certain quotas that managers often mentioned it in meetings and emails. In some cases, drivers would even have relieved themselves in bags – and these were found in vehicles after the shift change.
How did it start
The trigger for the Twitter battle, which has been spreading since Thursday, was a message of the new Amazon boss Dave Clark. In it, this Amazon himself referred to as "Bernie Sanders among employers".
Then the US politician Mark Pocan (Democrats, Wisconsin) attacked the Amazon boss:
"Paying workers $ 15 an hour doesn't make you a 'progressive employer' if you obstruct unions and let workers urinate in water bottles."
Amazon's official PR account rejected this:
"You don't really think anyone pees in bottles, do you? If that were true, no one would work for us. The truth is, we have over a million incredible employees around the world who take pride in what they do and have excellent wages and healthcare from day one. "
As if that weren't enough, US Senator Elizabeth Warren from Massachusetts was also attacked via the official Amazon Twitter account when she condemned Amazon for exploiting "loopholes and tax havens to pay almost no taxes". Amazon's PR department shot back by saying that Warren was making the tax laws, the company was just following them.
The politician countered via Twitter, saying that Amazon's own lawyers and lobbyists "wrote the loopholes" that the company was exploiting.
The internet reacts
It was probably at this point in time that Amazon realized that it was not very smart to get involved in a public Twitter contest with lawmakers who were trying to hold tech giants accountable.
Fast Company stated that Amazon did not respond to Warren's last tweet. That didn't stop other Twitter users from responding.
Senator Warren is considered an intrepid politician who stands up for the common people:
A bitterly angry meme was circulating:
And of course there were also suggestions for a new company logo …
Screenshot: Twitter
The Twitter drama took place in the USA, while the company was trying to make positive headlines on this side of the Atlantic by creating new jobs.
PS: Amazon Germany spokesman Stephan Eichenseher told golem.de on request: "Very clearly: If you have to go to the toilet, you go to the toilet. Anyone who claims otherwise has never been to an Amazon logistics center. "
swell
(dsc)
New Zealand declares war on Insta photos – and advertises multifacetedness
Video: watson
THANK YOU FOR THE ♥
Would you like to support watson and journalism? Learn more
(You will be redirected to complete the payment)
The best fun reviews on Amazon
This is what online shopping would look like in "real life"
You might also be interested in:
Subscribe to our newsletter


[ source link ]
https://www.watson.ch/digital/wirtschaft/761715354-aus-zeitdruck-amazon-kuriere-urinieren-in-flaschen-und-k-in-tueten

Due time pressure Amazon couriers urinate bottles bags